The iconic "grunge look" makeup trend from the mid-1980s to 90s has made a comeback and is once again trending. If you're looking to recreate this style, we've got you covered! In this post, we've rounded up the best Korean cosmetics to help you recreate the perfect soft grunge look. To clarify, the "grunge look" we are describing in this post is a soft yet edgy makeup style with subtle hints of pastel colors. So, whether you're a makeup enthusiast or just looking to switch things up, try out these products to elevate your makeup game.
Here are some images that will help you visualize the Korean soft grunge look.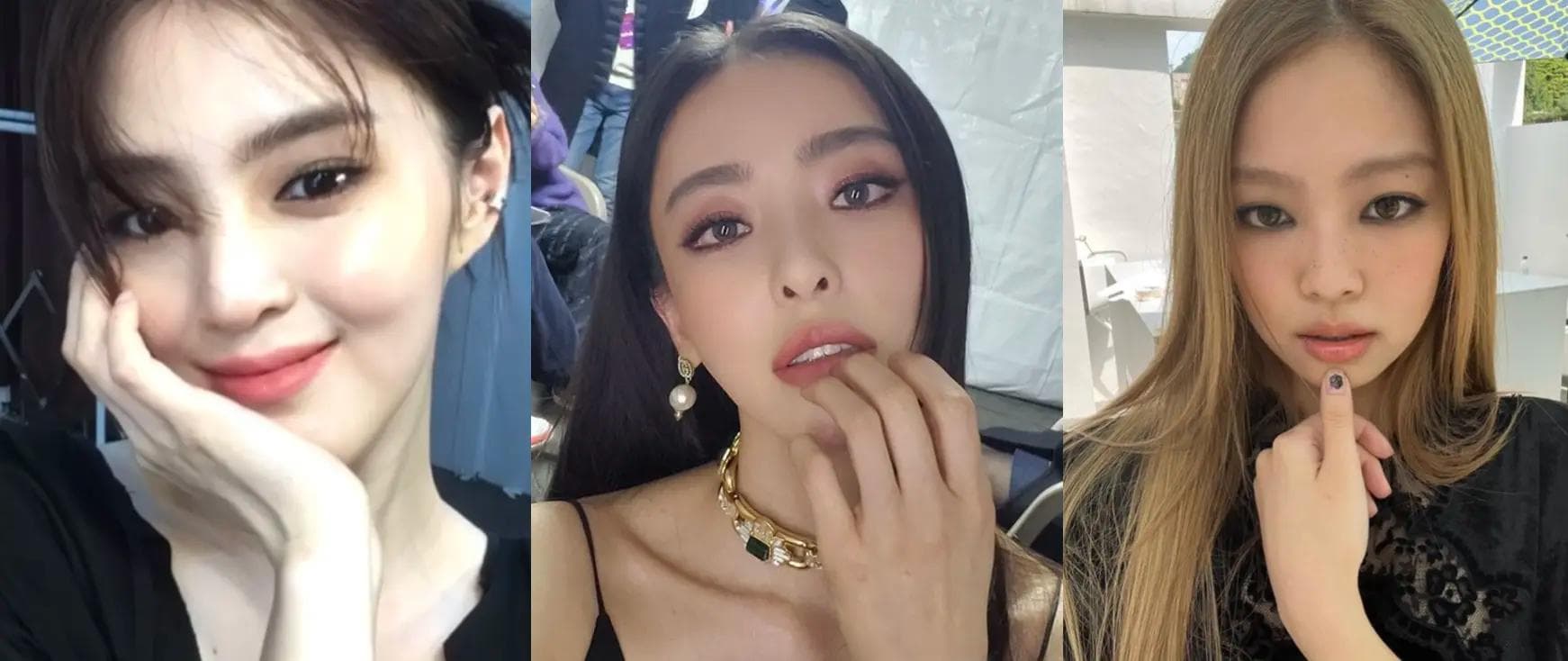 Source: 1) Han So-Hee Instagram [@xeesoxee]; 2) Lee Da-Hee Instagram [@dahee0315]; 3) Jennie Instagram [@jennierubyjane]
What is grunge makeup?
The grunge makeup style is all about creating smokey, deep eyes with heavy mascara and dark lipstick, finished off with a matte touch. When you think of grunge makeup, think: the Avril Lavigne vibe. The dominant colors are typically brown, burgundy, gray, and black, which give the classic grunge look a strong and edgy feel compared to general smokey makeup. 
However, when it comes to using makeup products from Korean brands to achieve this classic 90s grunge look, it can be a bit of a challenge. Eyeshadow palettes from Korean brands tend to come in softer tones, so layering your colors is key to achieving that deep, dark look.
On the other hand, incorporating Korean eyeshadow palettes into the soft grunge makeup look can really enhance the overall aesthetics. So, don't be afraid to experiment and mix things up to achieve your desired look.
You can check out Cosmopolitan's article for some inspirations on "grunge look" makeup ideas.
Eye makeup plays a vital role for rocking that grunge look. That's why we've put together a list of top Korean eye makeup products to help you rock that style. And if you're in search of a reliable sunscreen to use as a makeup base, we also have some Korean sunscreen recommendations for you.
Eyeshadow Palettes
KRW 33,000 | Palette | 12 Colors | Contains glitter eyeshadows | Available at Olive Young
The Hakit Holy Moly Palette is your go-to makeup for a bold and vibrant look. With 6 unique varieties to choose from, each palette boasts 12 stunning colors that are sure to turn heads. The best part? The more you layer these shadows, the more vibrant the colors become. But it's not just about the long-lasting wear — the eyeshadow particles in these palettes are incredibly fine, giving your eyes a clear, watercolor touch.
If you're a fan of cold shades with a pinkish, red hue, then the Plum Dive palette is definitely for you. Ideal for those with spring or winter undertones, this palette offers a refreshing alternative to the traditional brown grunge look. And let's be real. While brown may be a staple for grunge looks, it's not always the best choice for those with cool undertones.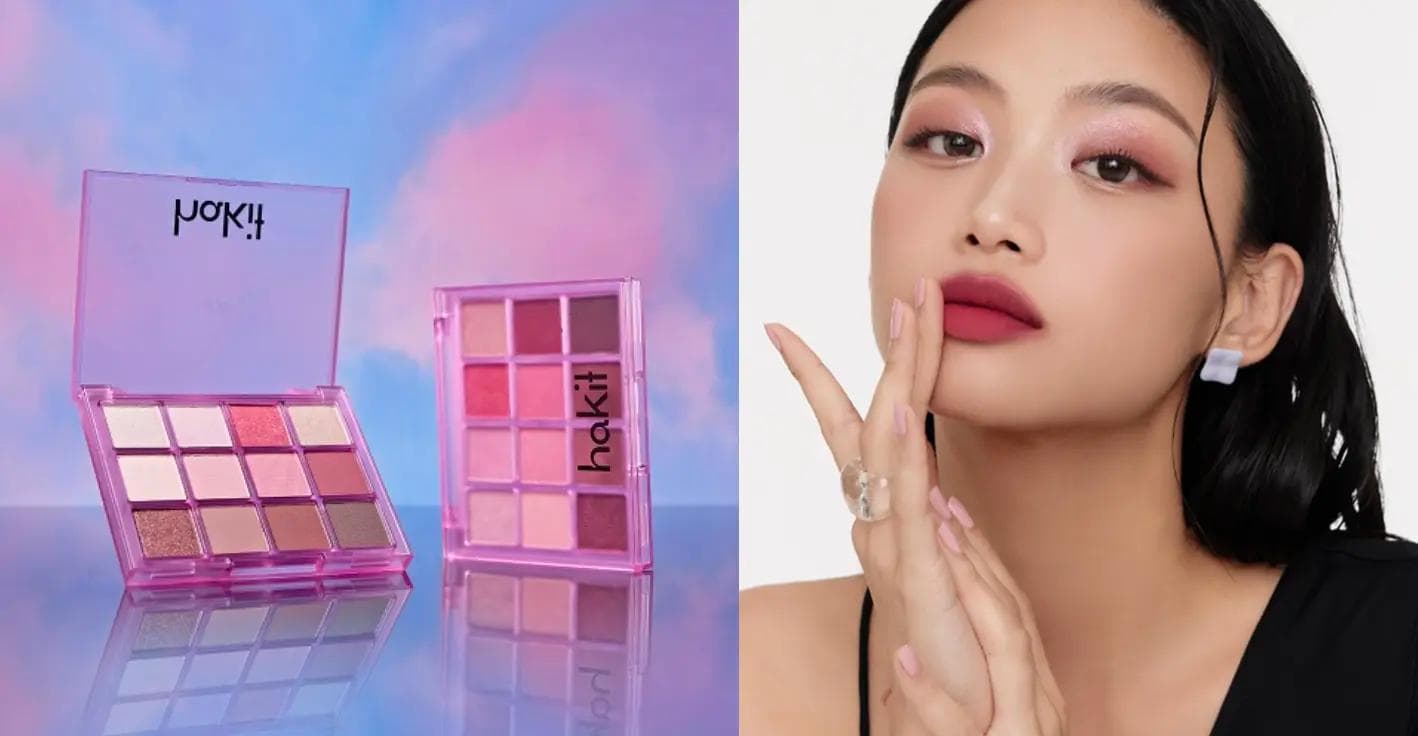 Source: Adapted from HAKIT.
Have you ever found yourself looking sick and yellow when you wear warm, brownish clothes? Well, switching to cooler shades could fix the problem. While makeup is undoubtedly essential in achieving the grunge look, it's more about attitude and making a statement. Choosing colors that make you standout is key. If you're unsure which colors suit you best, consider your undertones. Those with warm undertones might want to check out their Fall In Brown Version.
And if you're not quite sure what your personal color is, don't worry! There are plenty of apps out there, such as ColorWise, that can help you get a better idea of what colors will complement your skin tone.
KRW 49,000 | Palette | 3 Versions | 12 Colors per Palette | Contains glitter eyeshadows | Available at Olive Young
Looking to recreate the perfect grunge look makeup? This 3CE New Take Eyeshadow Palette has three unique versions to choose from. Each palette offers a mix of basic shadows for everyday wear, along with vibrant and bold colors. Not only is the palette useful for recreating the soft grunge makeup, but it will also add a touch of excitement to your daily makeup routine. Personally, I'm in love with the "Raw Neutrals" version (check out the second image). The metallic muted brown shades strike the perfect balance between warm and cool tones.
You can also use this palette in place of your eyeliner for a seamless blend. For even more guidance on how to make the most of this palette, check out the "easy layering color system" on their product page.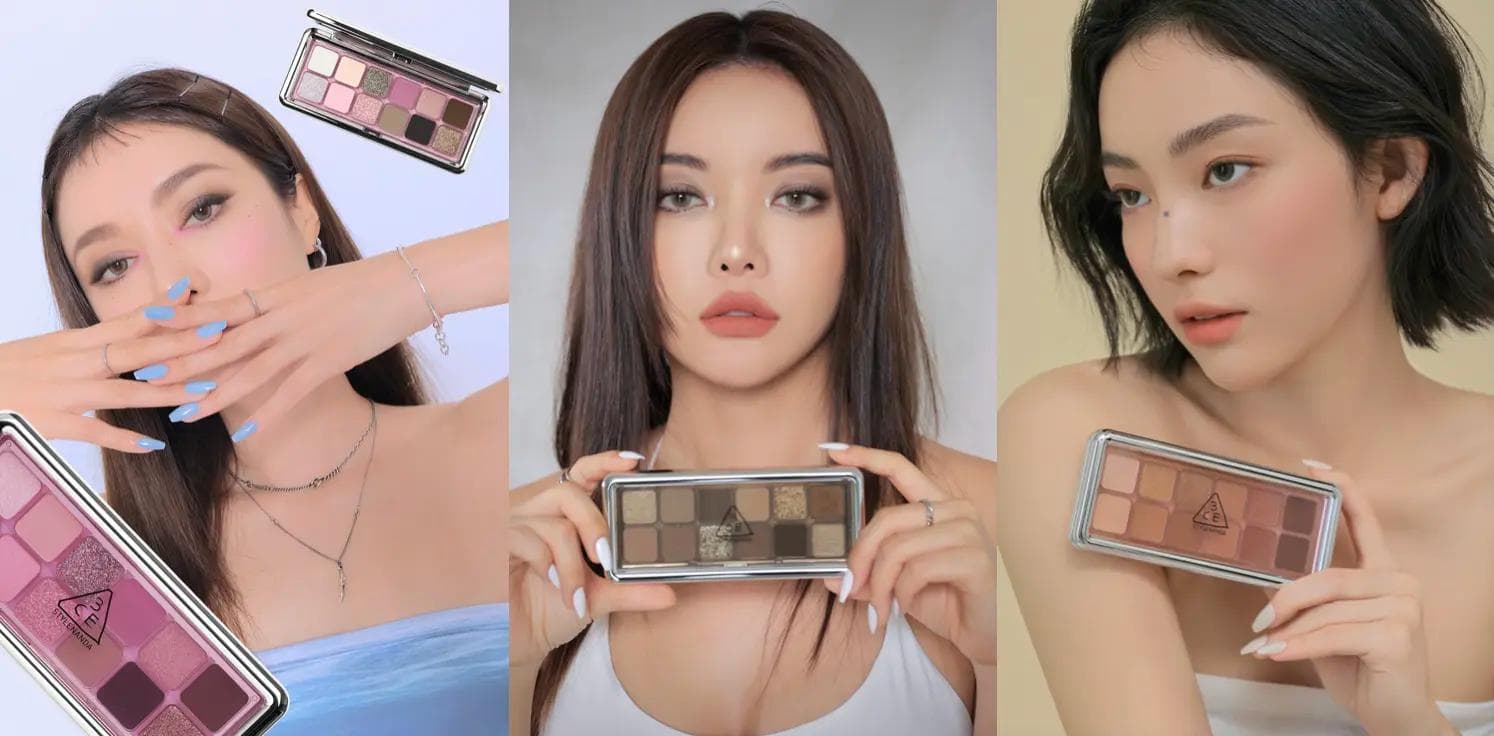 Source: Adapted from 3CE.
Introducing the lesser-known yet exceptional brand, Revecen, catering to makeup professionals who prioritize quality and color variety. While Revecen offers its own eyeshadow palettes, we've introduced their single eyeshadows in this post so that you can mix-and-match to make your own unique style. Remember, when it comes to grunge makeup, your attitude and statement are paramount, so feel free to get creative and personal.
Now, investing in single eyeshadows may seem pricier, but they offer more value than the colors that sit untouched in the corner of your eyeshadow palette. (We all have them, don't we?)
Source: Adapted from REVECEN.
KRW 26,000 | Palette | 3 Versions | 10 Colors per Palette | Contains glitter eyeshadows | Available at Olive Young
This Etude House Play Color Eyes palette has soft shades that are great to use as the base shadow for grunge look makeup. Each palette has a good balance of color and texture that blends in really well, either on its own or with other shadows. Of course, the Brown Sugar version is your best pick if you prefer the subtle, soft grunge makeup.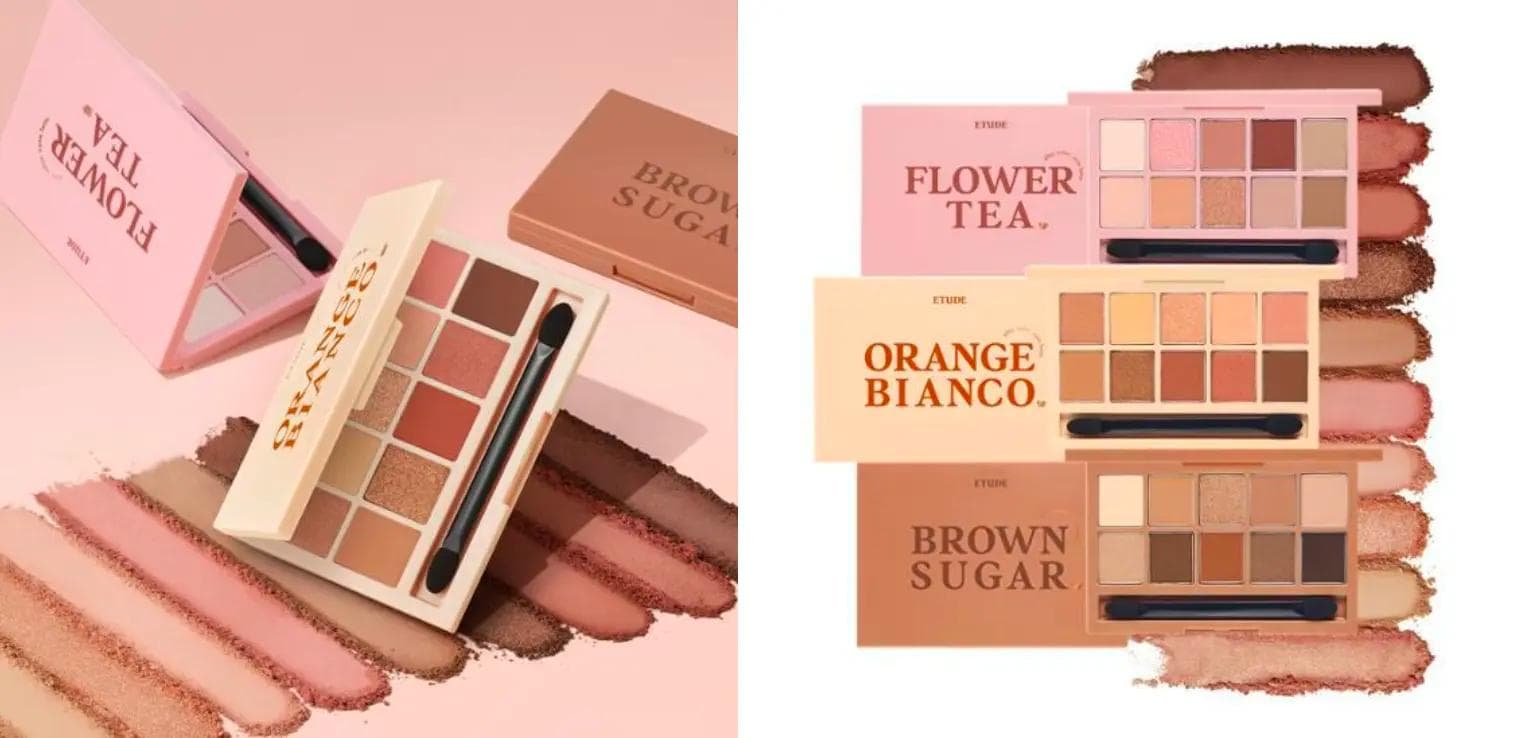 Source: Adapted from ETUDE HOUSE.
KRW 25,000 | Palette | 3 Versions | 4 Colors per Palette | Available at Olive Young
The Lilybyred Mood It Palette features a range of soft shades that are perfect for daily wear and as a base shadow for the grunge look. Although it's got only 4 colors, the texture of these shadows blend seamlessly giving a flawless finish. It's a safe choice for those who don't want to go full out with their makeup.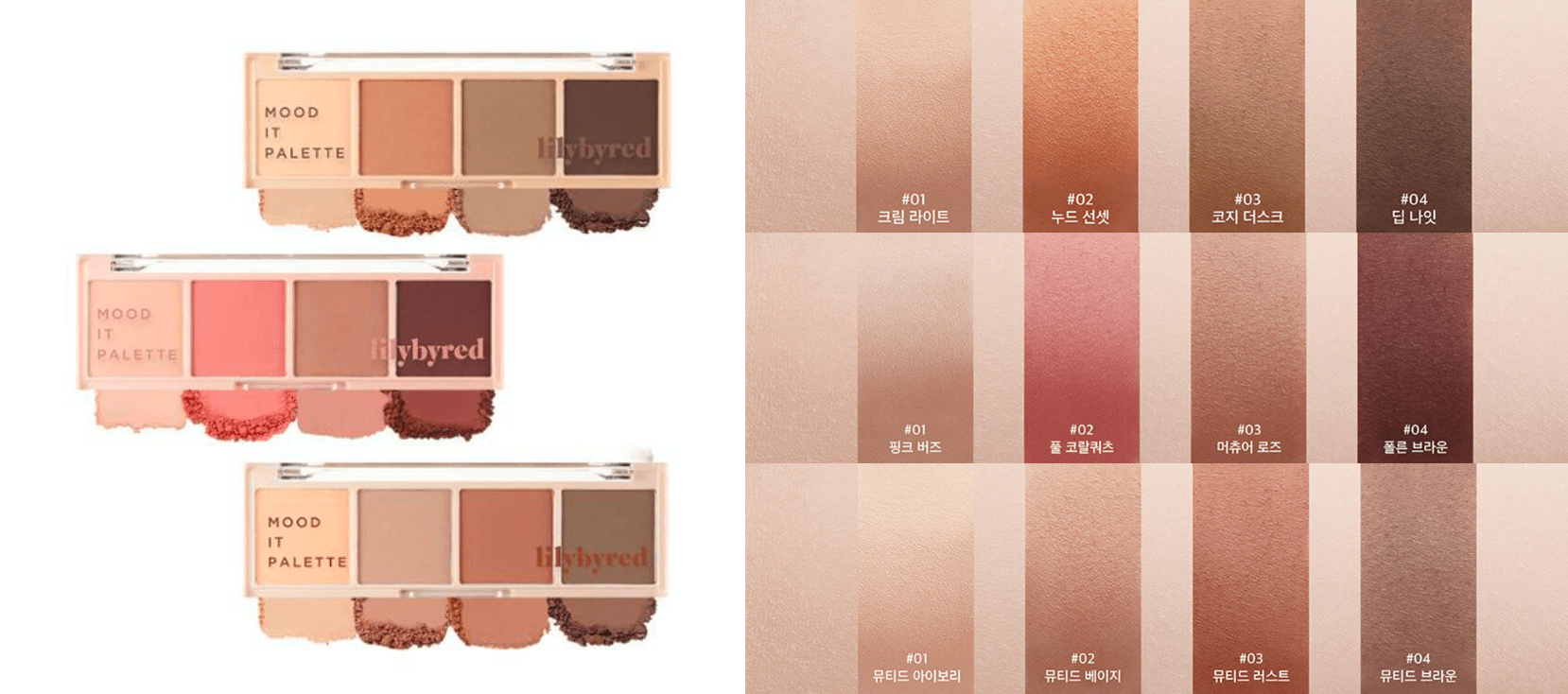 Source: Adapted from LILYBYRED.
KRW 25,000 | Palette | 8 Colors | Warm, Calm Shades | Available at Olive Young
The Farmer Assorted Grain version of the BBIA Final Shadow Palette is inspired by harvests and features warm eyeshadow colors that are based on crops. It's perfect for those who have Muted/Soft Autumn as their personal color, or for those who want to rock a moody, grunge look on a daily basis. However, it's important to note that some reviews have found this palette to be quite powdery, so if you're sensitive to powdery eyeshadows, you may want to keep this in mind.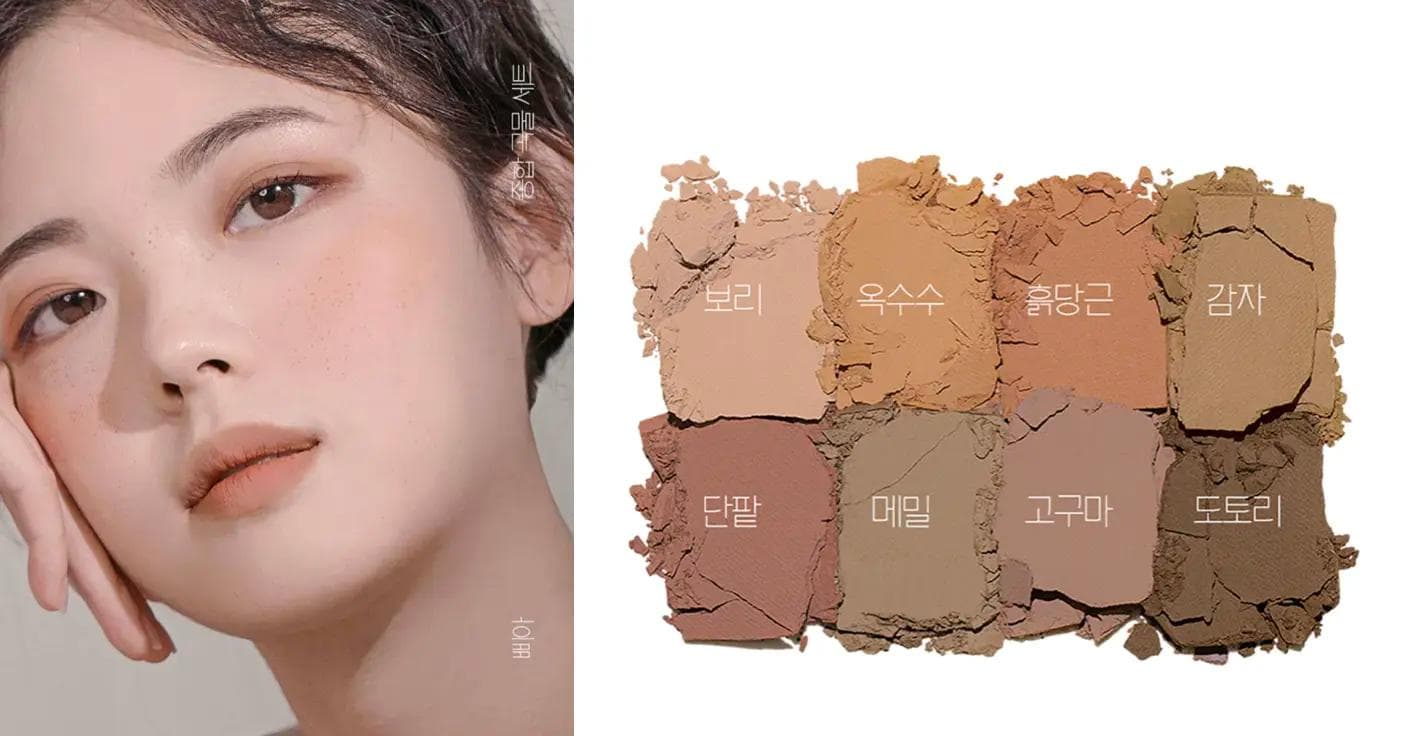 Source: Adapted from BBIA.
KRW 35,000 | Palette | 4 Versions | 12 Colors per Palette | Contains glitter eyeshadows | Available at Olive Young
The Holika Holika Piece Matching Eyeshadow Palette is a must-have addition to any makeup collection. With its buttery and soft texture, this eyeshadow palette glides on effortlessly for a slick and smooth finish. This award-winning palette was given first place in the 2018 Glowpick Consumer Beauty Awards and has remained a classic choice ever since. The Amazing Night version, in particular, is noteworthy for its ability to recreate the edgy grunge look. Featuring a combination of gentle, light shades and deep, dark colors, this Korean eyeshadow palette has everything you need to create a variety of bold and beautiful looks.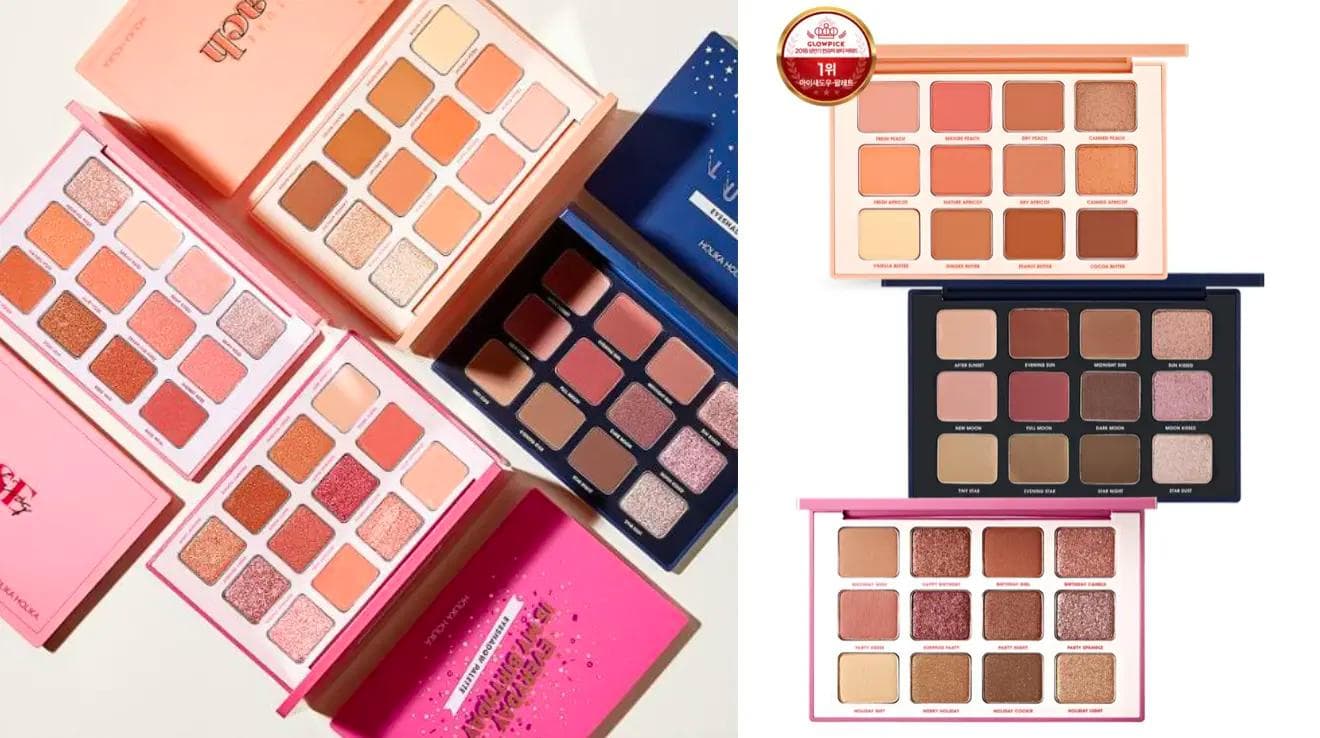 Source: Adapted from HOLIKA HOLIKA.
KRW 48,000 | Palette | 9 Colors | Contains glitter eyeshadows
The Dear Dahlia Timeless Bloom Collection draws inspiration from the exquisite beauty of dahlia petals. This thoughtfully curated eyeshadow palette combines velvety matte shades and silky metallic glitters to create a perfectly balanced look. The formula is carefully crafted for seamless blending, resulting in an effortless, grunge look makeup.
What sets Dear Dahlia apart is their commitment to inclusivity. They showcase how their eyeshadows look on different skin tones, which is a rarity among Korean makeup brands. It's a valuable resource that will help you visualize and achieve your desired grunge look.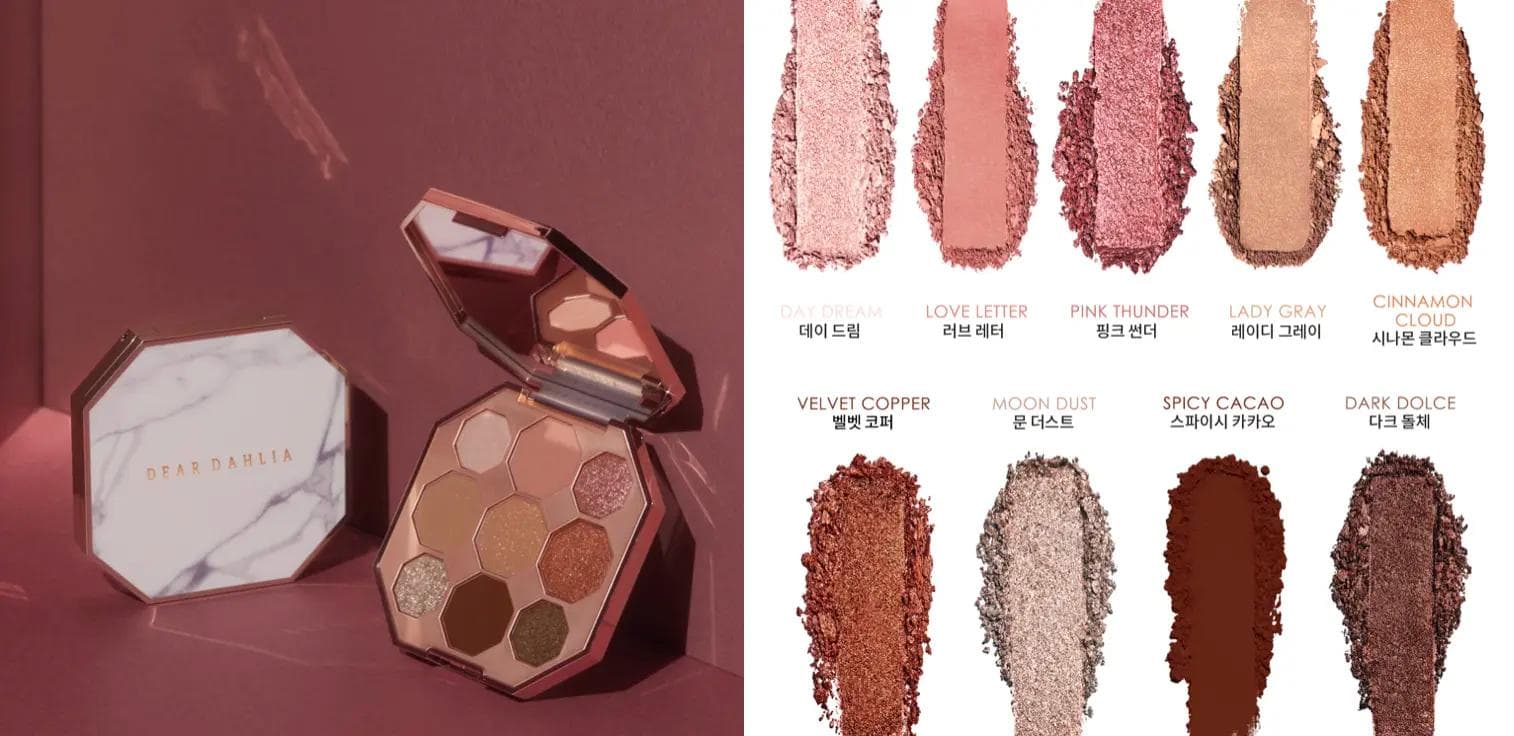 Source: Adapted from DEAR DAHLIA

Korean Buddies provides personal shopping services and strives to provide a seamless online experience when buying products from Korea. All you need to do is list everything you want to buy and our experienced team will do the shopping, inquiring, packing and shipping for you. You can sit back and relax after placing your order (check out our instant quote page — completely free to use and highly accurate).
Not a member? Sign up to get started.
Have any questions? Contact us at support@koreanbuddies.com and one of our friendly team members will get back to you soon.