10 Best Korean Mugwort Masks and Creams
Korean mugwort ("ssuk") is one of those ingredients that strongly remind people of Skinfood's slogan:  "Don't eat! Yield to your skin." It is a very common yet extraordinary plant that has a long history in Korean culture that dates back even to the myth of Dangun. Some skin enthusiasts even ground the leaves and spread the paste on their face, and some used mugwort decoction to wash their face and body back in the days.
Was it because it worked wonders? No one knows how mugwort became a remedy for basically any skin problem. It's so common to find in skin care now that you can even find Korean saunas ("jjimjilbangs") offering mugwort pools.
What is mugwort?
Mugwort is a perennial plant in the genus Artemisia that has long been used for medicinal purposes and as a food ingredient. It is rich in cineol, sesquiterpene lactones, calcium, iron, minerals, vitamins A, B1, B2, C, and many, many more. Of all its benefits, it is especially known for improving blood circulation, promoting gut health, boosting immunity, and alleviating menstrual symptoms and irregularity.
How does mugwort benefit the skin?
Much scientific evidence credits mugwort for its powerful anti-inflammatory and antioxidant effects. It is especially known for alleviating skin problems, specifically inflammatory skin conditions, as it helps enhance the expression of skin barrier proteins.
Due to its calming and soothing benefits, the plant helps lower facial skin temperature and reduces redness. Korean mugwort is often used as a topical therapeutic agent for relieving itching caused by eczema, hypertrophic and keloid scars.
But why Korean mugwort?
The geographical location of Korea enables mugworts to grow under many advantageous environmental conditions. Most Korean mugworts grow in the mountains or under the exposure of sea winds, away from chemical fertilizers and pesticides. And because the plant grows under a pollution-free environment, it is perfect for applying on the skin. Experts also believe that mugworts that grow against sea breezes are richer in vitamins and minerals, so products that use mugwort from regions like the Ganghwa Island are highly evaluated.
There are more than 40 kinds of mugworts, of which, the most common types of mugwort that is used for skin care are Injin-ssuk (Artemisia iwayomogi), Yak-ssuk (Artemisia princeps), and Gaeddong-ssuk (Artemisia annua). We will be specifying the species as we go through the 10 best Korean mugwort products for skin care!
10 Best Korean Mugwort Masks and Creams
※ Please note that the prices stated below are the standard retail prices and do not take into account any discounts or promotions that may be available. It is common for these products to be discounted, so you will be able to find them at a lower price point.
38,000 KRW | Dermatologist Tested | Non-comedogenic Formula | Certified by Vegan Korea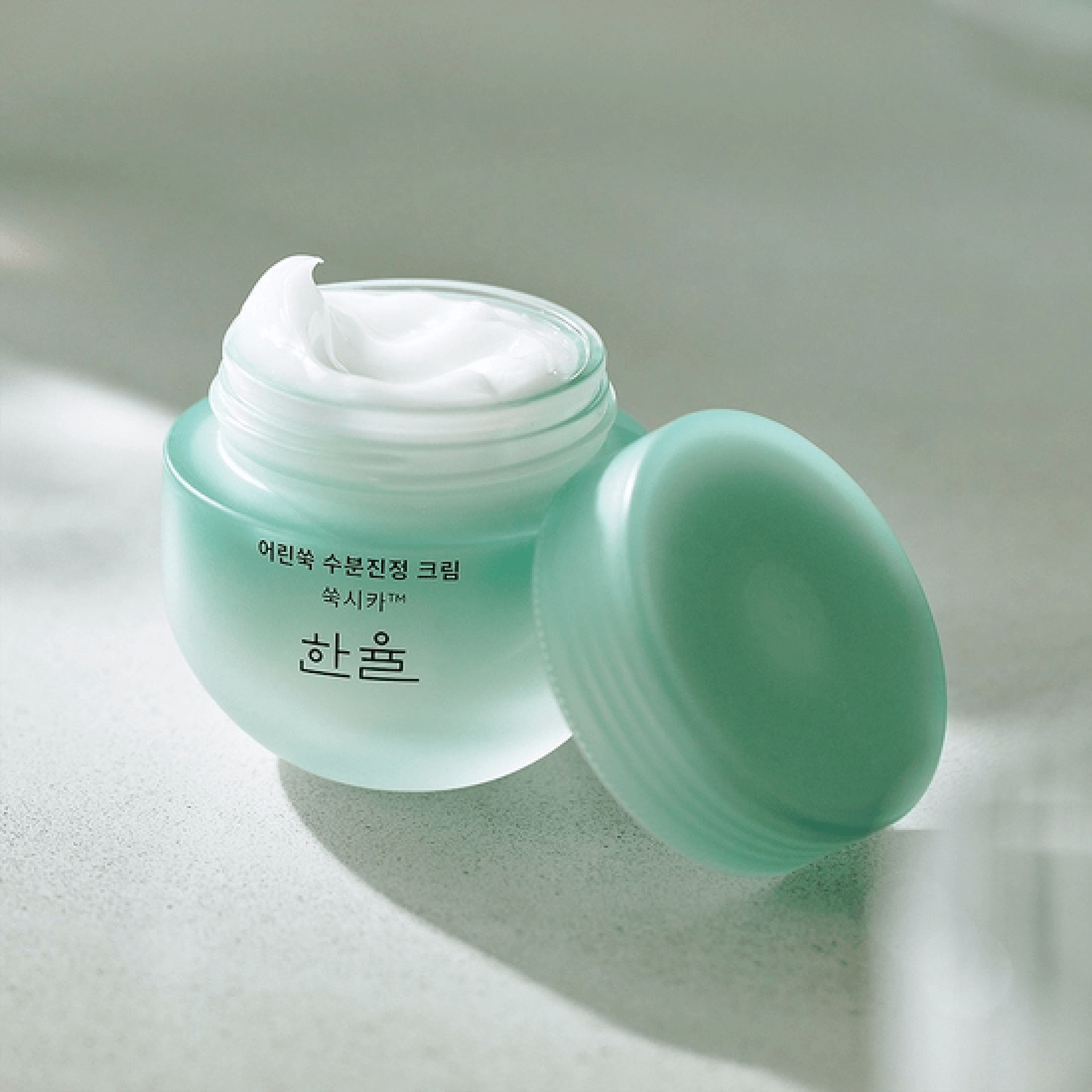 The Hanyul Pure Artemisia Calming Water Cream is an effective cream for addressing facial redness, especially during transitional seasons when your skin becomes sensitive. Through extensive research spanning over 34 years, Hanyul has developed a unique formula that surpasses Centella asiatica in providing immediate relief to the skin. By reducing skin temperature, enhancing hydration, and improving absorption, this Artemisia cream strengthens the skin's protective barrier and helps to balance natural oil and water levels. The cream's ssuk-cica formula incorporates Ganghwa Yak-ssuk, which originates from Korean mugworts grown in the fertile Ganghwa region.
24,000 KRW | Dermatologist Tested | Certified by EVE Vegan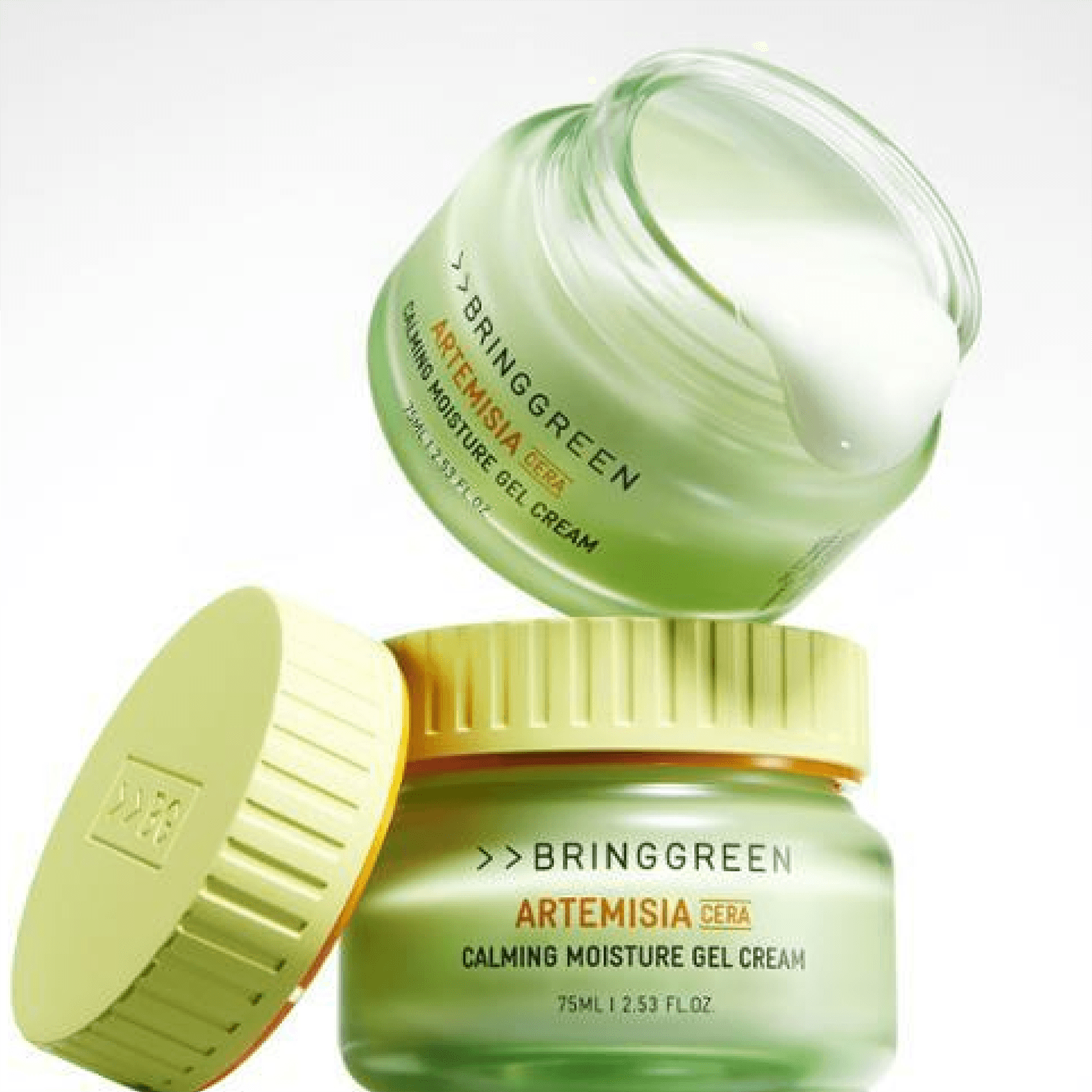 The BringGreen Artemisia Calming Moisture Repair Cream is an excellent remedy for rapid moisturization and relief, thanks to its unique blend of Sacheol-ssuk (Artemisia capillaris) and ceramide. Sacheol-ssuk, another species of Korean mugwort, has a robust growth cycle and can adapt to various harsh environments, earning it the nickname "Sacheol (사철 = four seasons)." Its deep roots allow it to retain moisture efficiently, making it an ideal ingredient for hydration-intensive skincare routines. BringGreen's Cream uses mugwort sourced from the "Herbal City of Yeongcheon," a reputable facility that distributes high-quality medicinal herbs.
32,000 KRW | Dermatologist Tested | Contains 73.55% Mugwort Extract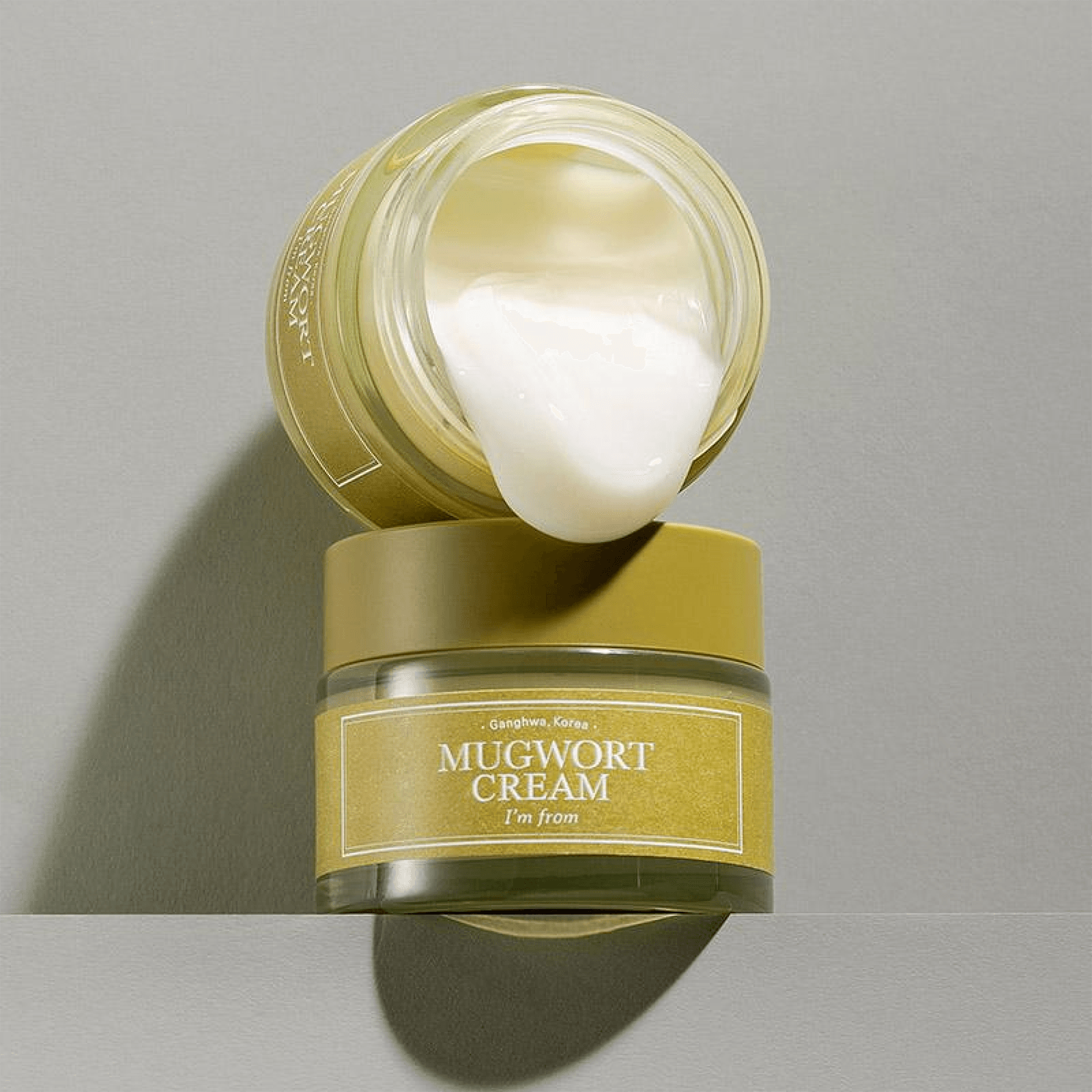 If you're already familiar with Korean mugwort creams, you may have heard of the highly reputed I'm From Mugwort Cream. The cream stands out for its high concentration of Korean mugwort extract, which is obtained through a cold-pressed method. This cream is distinct because it incorporates 73.55% Ganghwa Yak-ssuk (Artemisia princeps) extract. I'm From prioritizes using top-notch Korean mugwort, as their values are rooted in transparency and honesty regarding the ingredients they incorporate in their products. They believe that beauty is tied to the use of clean and safe ingredients in skincare regimens.
64,000 KRW | Two-in-One Cream | Dermatologist Tested | Contains 50% Mugwort Extract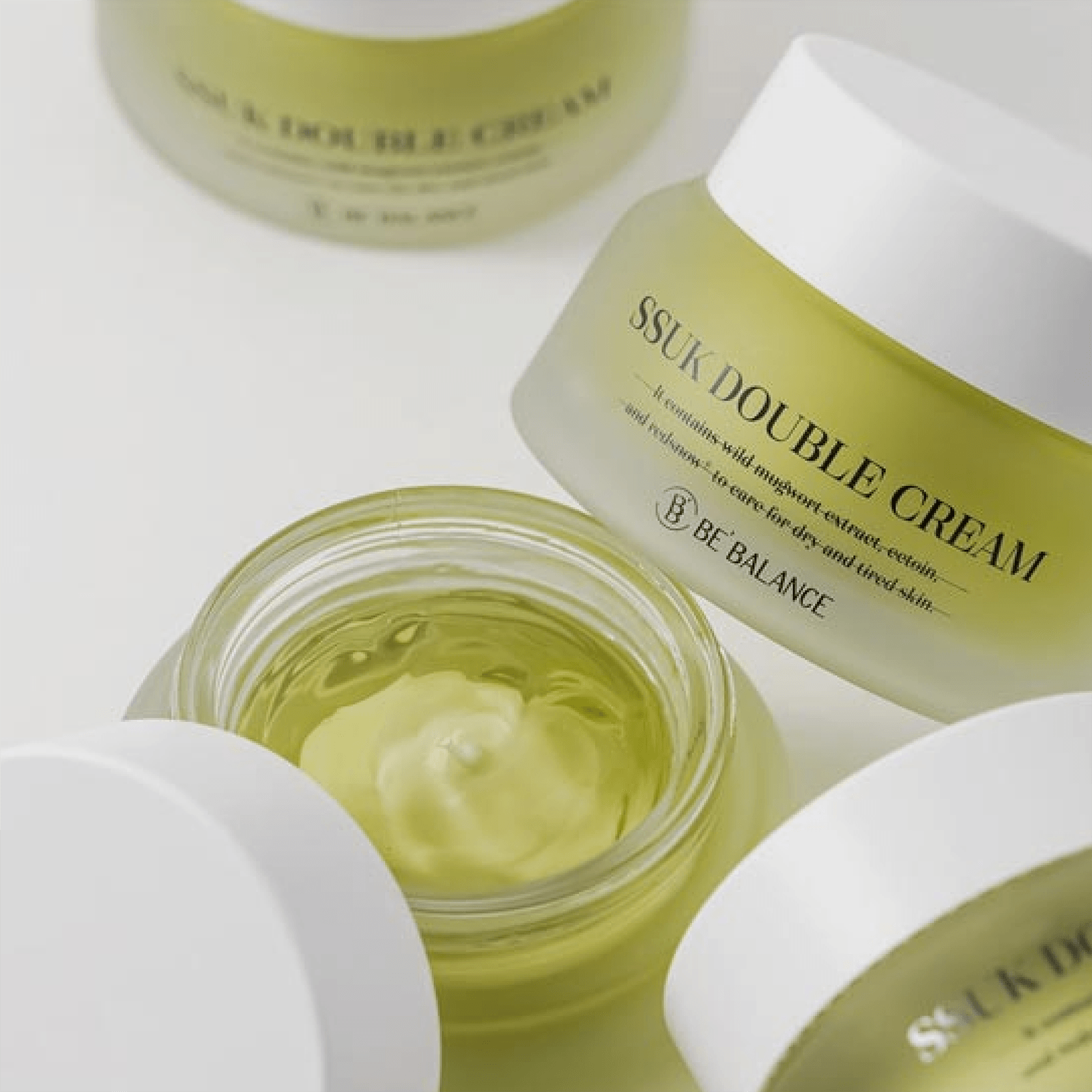 The Be Balance Ssuk Double Cream offers a unique and customizable experience by allowing users to tailor their cream according to their daily skincare needs. The cream features a Korean mugwort (Sacheol-ssuk) serum, which strengthens and soothes the skin. Additionally, it includes a booster cream that enhances the skin's ability to absorb moisture and nutrients. Be Balance has also included four different herb extracts — Lavender, Rosemary, Oregano, and Thyme — to further enhance skin immunity, reduce inflammation, and combat signs of aging. This cream provides a versatile solution for various skincare concerns.
42,000 KRW | Dermatologist Tested | Contains 25% Mugwort Extract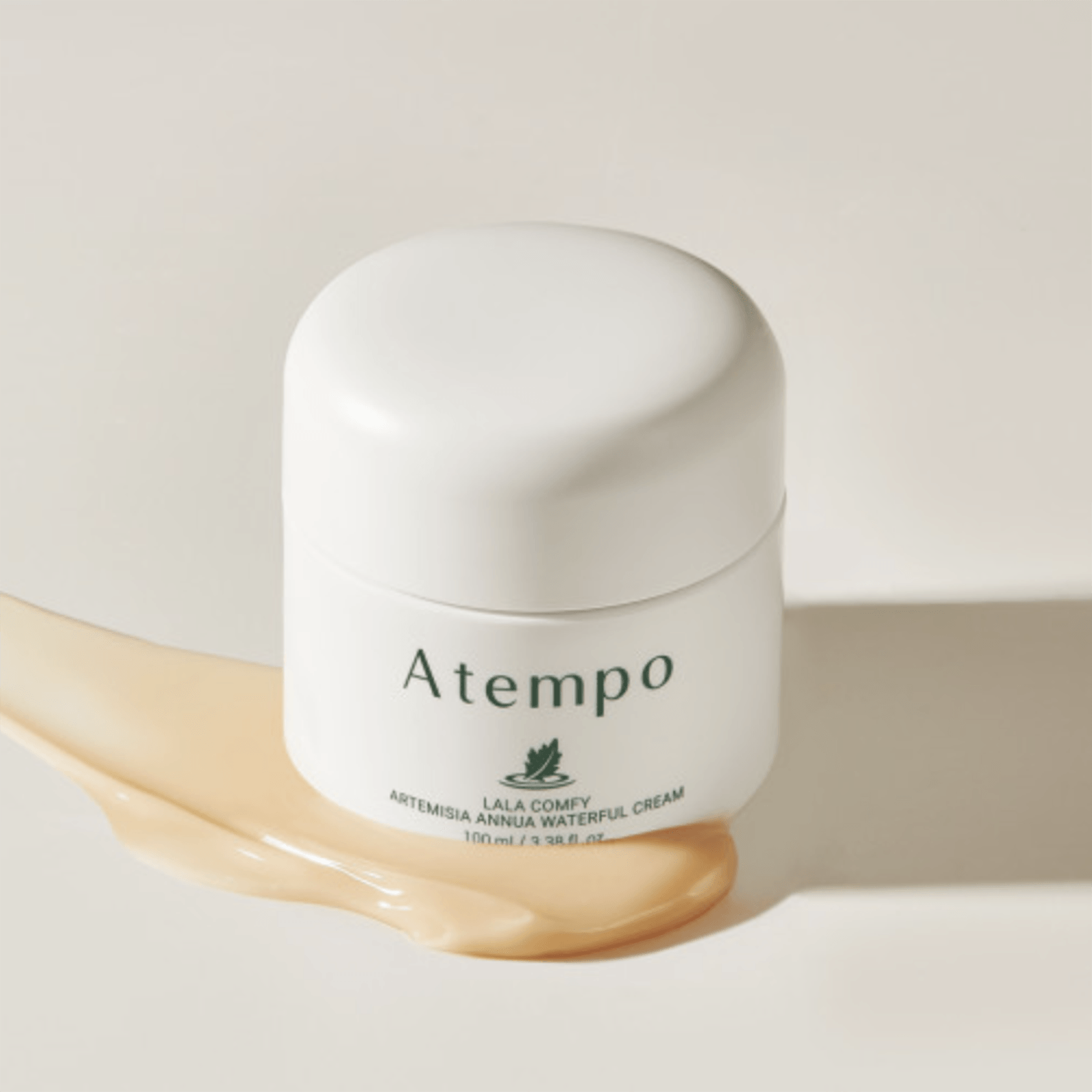 This Atempo Artemisia Annua Cream is not widely known, but it is highly regarded by its enthusiasts. It features a remarkable 264,850 ppm of Artemisia annua sourced from the pristine Ganghwa regions, where pollution is minimal and the soil is fertile. What sets this cream apart is its inclusion of prickly pear, a powerful ingredient that offers lasting hydration and enhances the skin's natural moisture retention capabilities. Those with dry skin often rave about how this Korean mugwort cream effectively balances oil and water levels in the skin.
3,000 KRW per sheet mask | Dermatologist Tested
On days when your skin is extremely irritated, there is nothing better than a high-quality calming sheet mask. It's reassuring to know that the mask you're using has been meticulously crafted with superior ingredients that have been handpicked and processed carefully to make the most of every drop. The Round Lab Mugwort Calming Sheet Mask is made using Korean mugwort that flourishes amid the fresh sea breeze of Geomun-do, along with madecassoside that offers immediate relief to inflamed and irritated skin. The watery texture of this mask makes it easy to absorb quickly, and its calming effects are long-lasting, making it a treat that your skin will truly appreciate.
4,000 KRW per sheet mask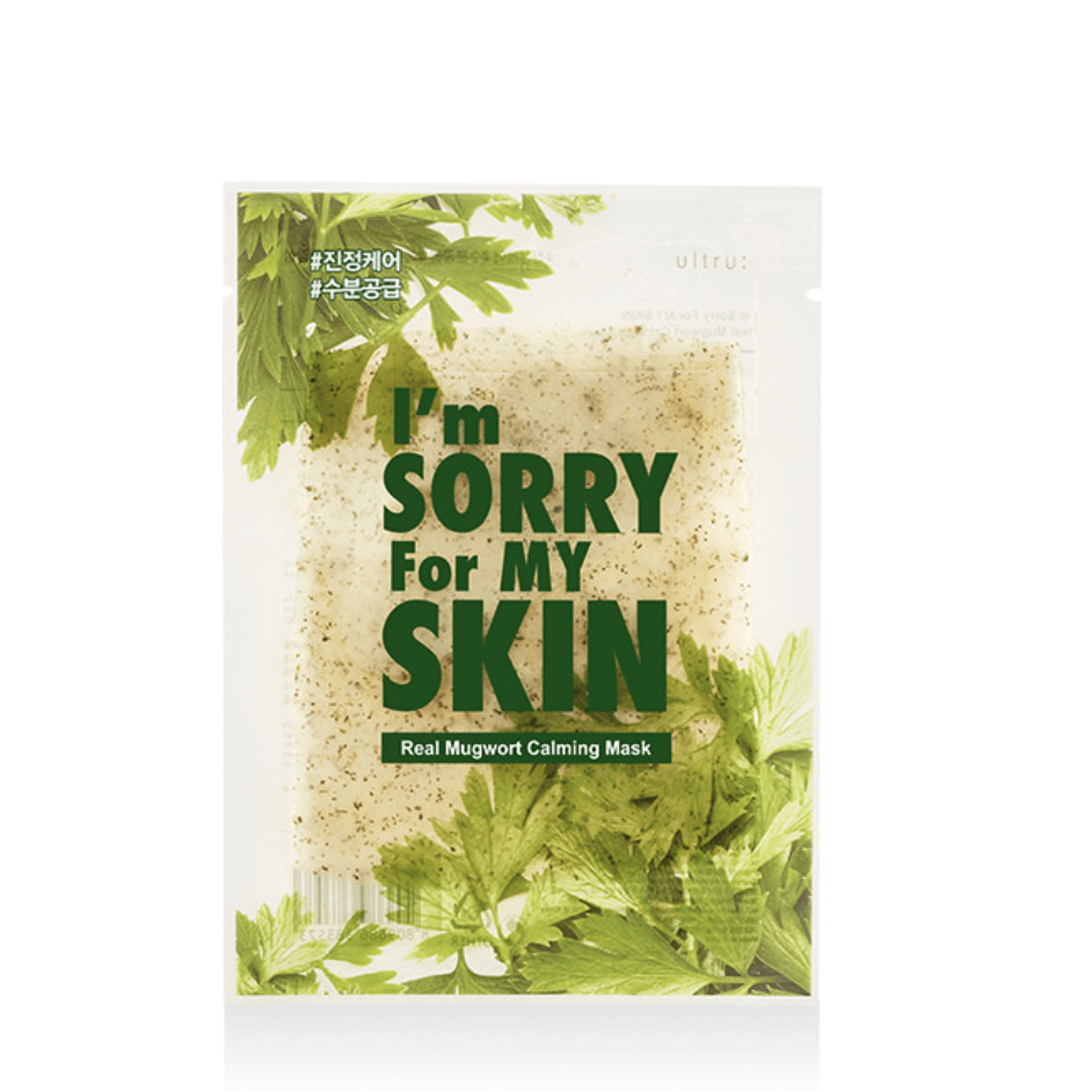 Are you in search of an authentic Korean mugwort mask? If so, this sheet mask may be the perfect fit for you. It contains genuine dried mugwort and concentrated plant-based extracts like kelp and false daisy. This mask is designed for individuals with irritated or sensitive skin. It also utilizes Saccharomyces Ferment Filtrate to provide your skin with amino acids, essential nutrients, and antioxidants, promoting better absorption of the mask's essence. Additionally, the sheet itself is made from plant-based hanji using tencel fiber, a breathable material that effectively retains moisture.
35,000 KRW | Wash-off Face Mask | Dermatologist Tested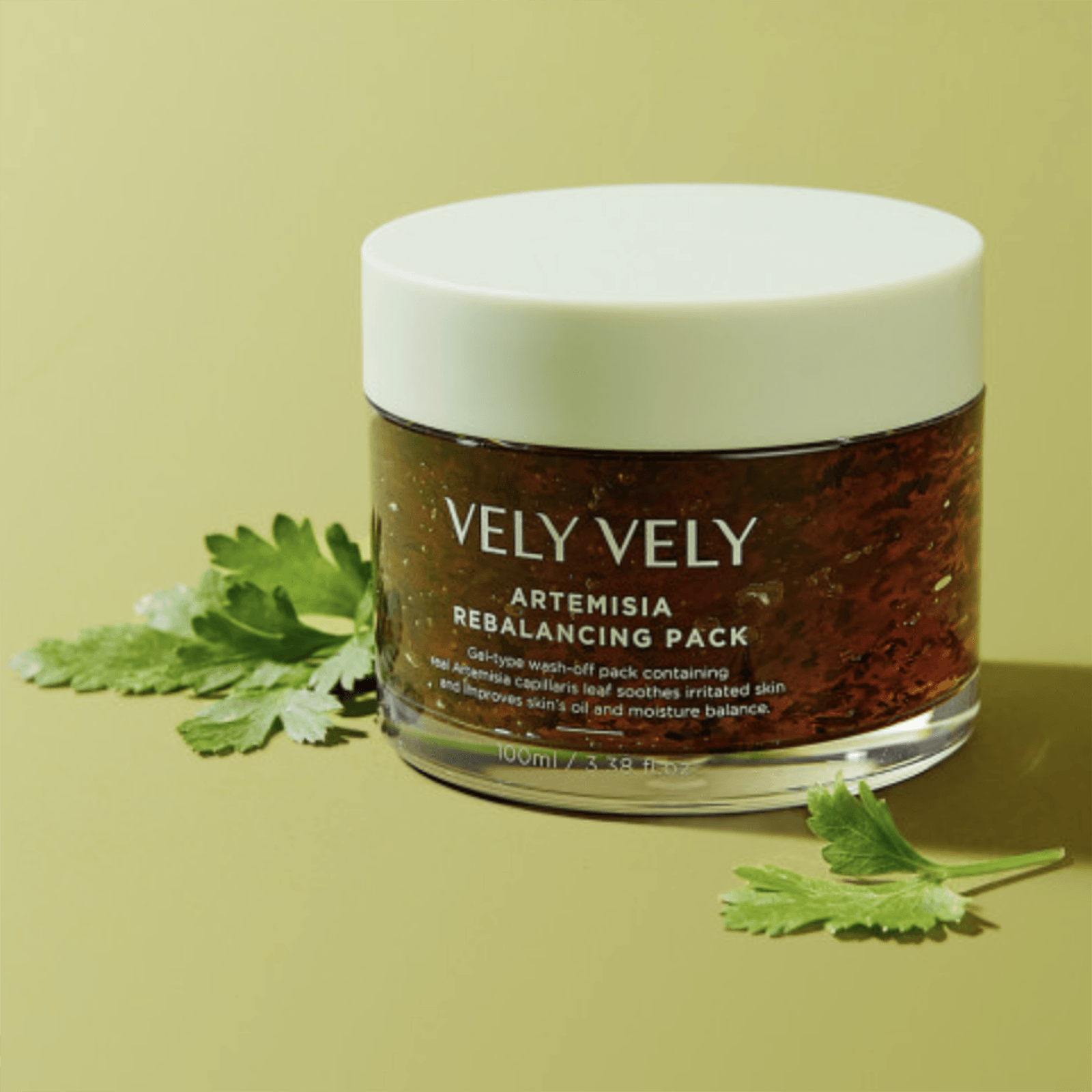 The Vely Vely Artemisia Rebalancing Pack is a highly convenient and shower-friendly facial mask, specifically designed for individuals with hypersensitive skin. It's an excellent alternative for those who suffer from irritation even when using sheet masks. This wash-off pack contains a potent concentration of multifarious Korean mugwort species sourced from the most fertile regions of Korea, including Sacheol-ssuk (Artemisia capillaris), Sajuari-ssuk (Artemisia princeps), and Gaeddong-ssuk (Artemisia annua). You can enjoy the benefits of various Korean mugworts in one amazing mask. Additionally, this mask formula contains coix seed extract and honeysuckle extract to give your skin an extra boost.
28,000 KRW | Dermatologist Tested | Contains 70% Gaeddong-ssuk extract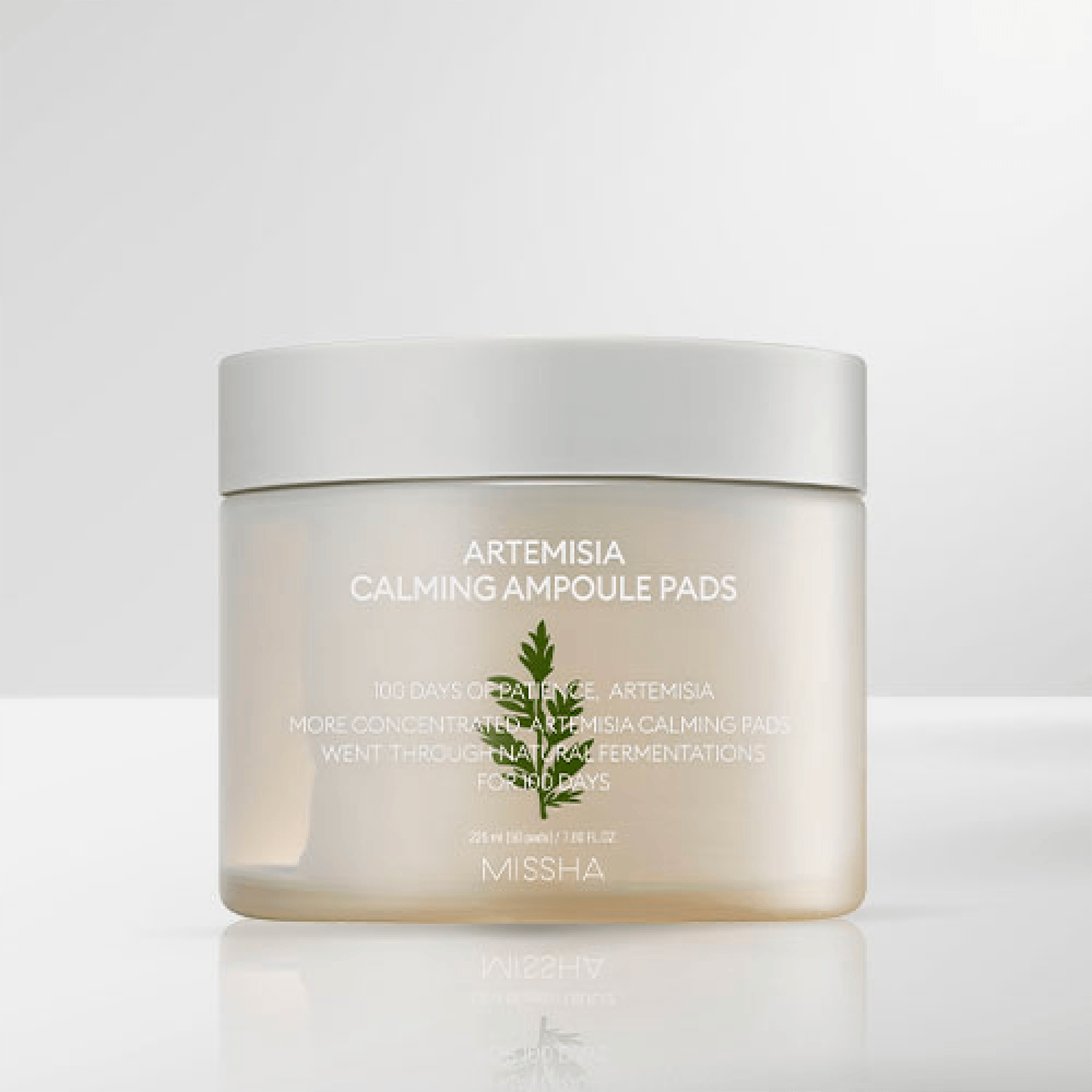 Missha's Artemisia collection is highly sought after in Korean mugwort products, and the Artemisia Calming Ampoule Pads are particularly effective in moisturizing and soothing sensitive skin. Not only does this product utilize Artemisia annua sourced from the Ganghwa region, but it also employs a special processing technique to preserve all the active ingredients. By using these pads as a sheet mask, you can experience greater relief for your skin compared to using Centella asiatica. Furthermore, your skin is given added protection with three additional layers of trehalose, betaine, and allantoin.
40,000 KRW | Dermatologist Tested | Whitening | Wrinkle Improvement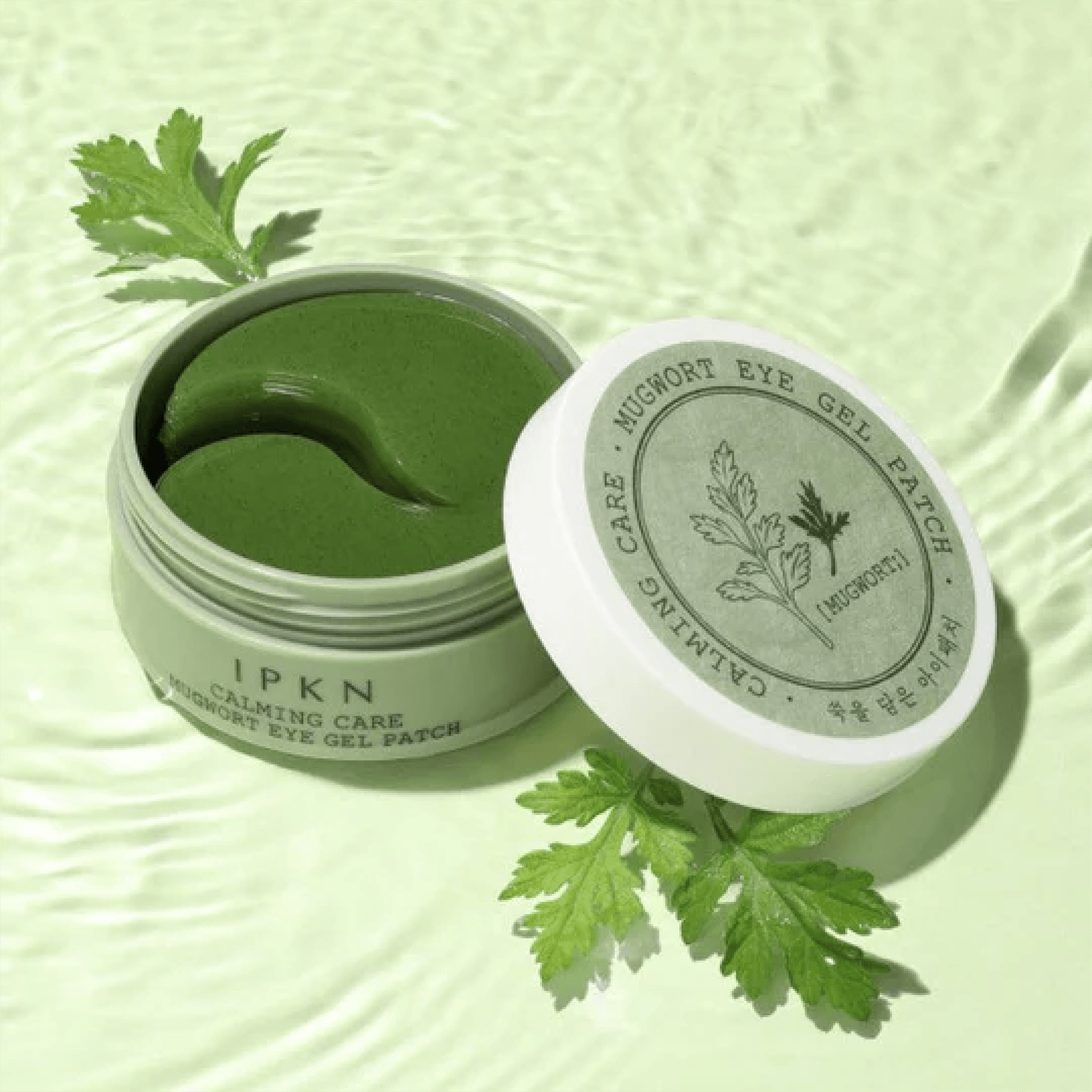 The IPKN Calming Care Mugwort Eye Gel Patch is the ultimate remedy for alleviating irritated and coarse skin around your eyes and smile lines. Made with marine algae, this gel patch offers a wealth of metabolites along with the advantages of Korean mugwort cultivated on Ganghwa Island. What's more, it is an eco-friendly product that is fully biodegradable. Let's not overlook that this eye gel patch is loaded with IPKN's exceptional skin care formula, Houttuynia cordata extract, and triple hyaluronic acid — a highly effective solution for rejuvenating your skin.
Why You Should Incorporate Mugwort Into Your Skincare Routine
Mugwort is a potent ingredient that not only battles acne but also provides relief and soothing for facial redness. It's truly astonishing how there's a gap between its use in herbal medicine and skin care, because missing out on the amazing benefits it can offer to your skin is such a bummer. The best part is, people rarely experience any allergic or adverse reactions to this common plant, making it the perfect starting point for skin enthusiasts who are eager to upgrade their skin care routine.
KoreanBuddies provides personal shopping services and strives to provide a seamless online experience when buying products from Korea. All you need to do is list everything you want to buy and our experienced team will do the shopping, inquiring, packing and shipping for you. You can sit back and relax after placing your order (check out our instant quote page — completely free to use and highly accurate).
Not a member? Sign up to get started.
Have any questions? Contact us at support@koreanbuddies.com and one of our friendly team members will get back to you soon.