Welcome to the Kakao Friends Shop!
Come and meet Korea's No.1 character, the lovable and friendly Kakao Friends.
Whether you're an adult, a kid, or somewhere in between, you'll be sure to find something special here. From apparel to accessories, you can find the perfect item to show off your love for these cute and cuddly friends. So come on over and shop with us today - you won't be disappointed!
Do you know KakaoTalk, the most popular Korean messenger application? Kakao Friends first made their debut as an emoticon in KakaoTalk and have become a symbol of the brand. They are now beloved by adults everywhere!
It's no surprise that people have fallen in love with these cute characters. But now, they've been reborn and become even more exciting with their stories being used as the basis for awesome content and products. So why not get involved and join in the fun? Let's explore all the possibilities these characters have to offer!
Kakao Friends
Let me introduce you to the world-famous Kakao Friends characters in Korea. These cute and lovable characters have become a symbol of friendship and connection in Korea. From the adorable Ryan to the mischievous Muzi, these characters have captured the hearts of people.
Ryan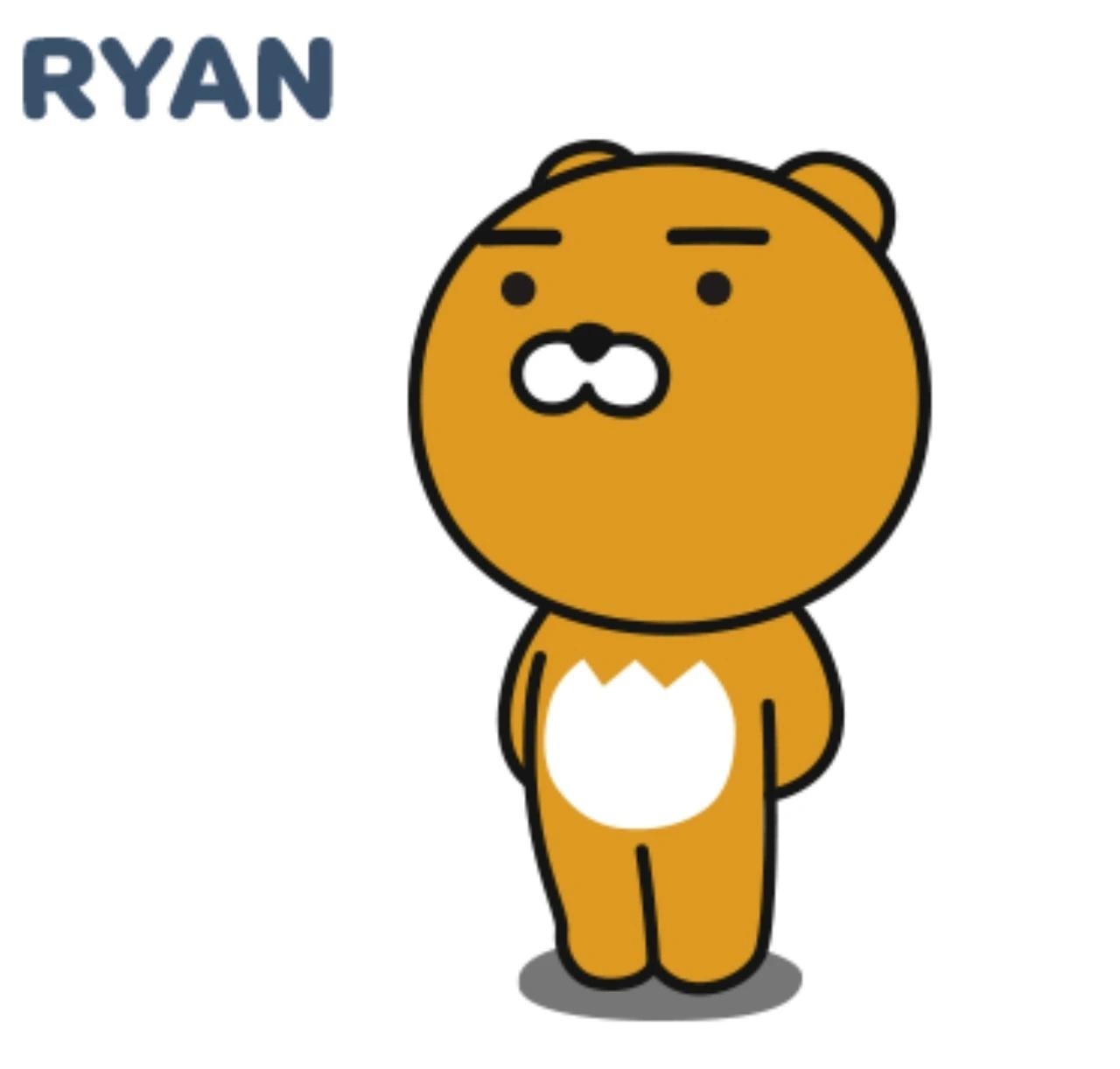 Meet Ryan, one of the most popular Kakao Friends! He may look like a bear at first glance, but he's actually a lion without a mane. Despite his blunt expression, Ryan is very considerate and a warm leader.
He was born to be the rightful heir to the throne of Dongdung Island, but he felt confused about his identity as his appearance differed from that of others in his family. Rather than accepting his position as the king, he chose to explore the world and set off on an adventure.
We think Ryan is an awesome character that adults of all ages can relate to. His story is inspiring, and his journey is filled with excitement and possibilities. We hope you join us in our admiration of this friendly lion!
Apeach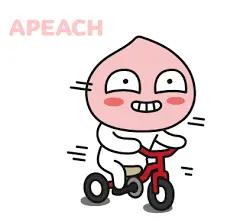 Apeach was born on a peach farm and he loves to play pranks! He's full of energy and never fails to bring a smile to your face with his hilarious facial expressions. Plus, all Apeach-related products are sure to make you happy with their soft, pink color - perfect for those who love pink! So, why not have a little fun and add some Apeach to your life today? With his friendly and upbeat personality, Apeach will surely bring extra joy to your day.
Chunsik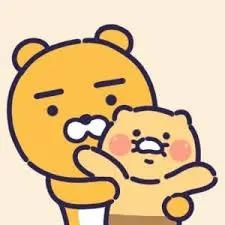 Ryan has been popular for a long time, but there's another character who has been rapidly emerging recently: Chunsik! One day, Ryan found an abandoned cat on the street and took him in. He named the cat Chunsik, and the furry friend has a unique appetite for sweet potatoes instead of regular cat food. Ryan is now sharing their story as a webtoon on his Instagram! He's taking great care of Chunsik and they make the perfect pair. So if you're looking for an uplifting story, follow Ryan's Instagram and enjoy the adventures of Chunsik!
Visit Kakao Friends Shop to find your favorite characters and pick up some cute character products! With the official online store of Kakao Friends products, you can discover plenty of fun and unique items that add friendship and fun to your home. Plus, our friendly team is here to help you get the perfect gift for yourself or a friend. So, what are you waiting for? Check out the shop and find the perfect Kakao Friends item for you today!
Products Recommendation
Pillow cushion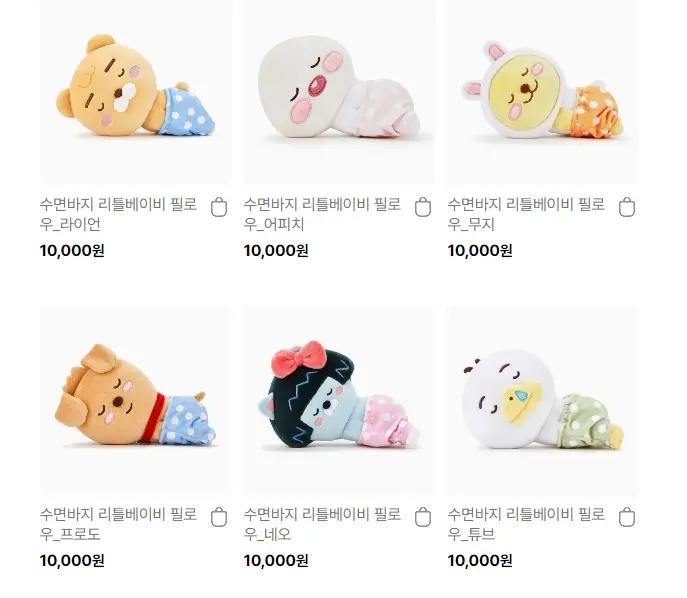 The Little Baby Pillow in the picture above is the newest addition to the Little Baby series of Kakao Friends characters! This adorable character pillow is the perfect companion for cuddling up to watch a movie or taking a nap. Not only will it fill your home with its adorable cuteness, but also it will provide you with a cozy and comfortable cushion for your head. Plus, with seven different Kakao characters to choose from, you can find the perfect one to fit your style. So why not get one today and enjoy its comfort and cuteness!

Phone Case
If you're looking for a cute phone case that's sure to make you smile, then you've come to the right place! At this online shopping mall, you can find a wide range of phone cases decorated with your favorite Kakao Friends characters. The image above is from the Oh Happy Peach Day series and new designs are released regularly, so make sure to check them out! With so many fun and adorable styles to choose from, you're sure to find the perfect phone case to express your unique style. Plus, they make excellent gifts for all your friends! So don't wait - shop now and let the fun begin!
Toothbrush sterilizer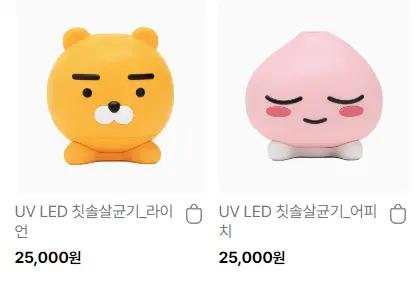 At Kakao Friends Shop, we have something practical and special for your life! In addition to our selection of decorative items like dolls and phone cases, you can also find practical products like toothbrush sterilizers shaped in the likeness of your favorite Kakao Friends. We also offer a range of collaborative items, such as makeup brushes, bathroom slippers, stainless steel tumblers, and other unique Korean stationery items. Come visit us and see what unique and practical items we have to help make your life a little bit easier!

Korean Buddies provides personal shopping services and strives to provide a seamless online experience when buying products from Korea. All you need to do is list everything you want to buy, and our experienced team will do the shopping, inquiring, packing, and shipping for you. You can sit back and relax after placing your order (check out our instant quote page — completely free to use and highly accurate).
Not a member? Sign up to get started.
Have any questions? Contact us at support@koreanbuddies.com and one of our friendly team members will get back to you soon.