Say Hello To Your New Skin with Korean Sheet Masks
K-beauty has been on trend for its clear and natural-looking cosmetics and Korean skincare is mainly the one attracting many foreign customers.
The first and the easiest way to give your skin a boost at your home is through a face mask. Feel your transparent and glossy skin effortlessly in the cheapest method with KoreanBuddies! Face packs are usually cheap and not heavy, making the international shipping fee very low. So, it is an excellent choice to get started with Korean skincare and to fill your box before getting it delivered to your house.
Don't know what it is good for? Don't know how to use it? Don't know where to buy it? No worries at all! KoreanBuddies are here to explain all of this to you!
Benefits of facial mask pack
Facial pack for dry skin
Facial packs are especially effective to dry skin since they can supply various nutrients and moisture to the skin. When your skin is chapped due to dry weather or if it is lusterless and dry because of your everyday stress, this is the right time to hydrate your skin with a facial pack. Give elasticity to your face and keep it resilient.
Facial pack for oily skin
Some face masks are designed for oily skin, too. There are many people having trouble dealing with acne and facial flushing. In addition, face packs soothe the excessive heat in your face. A face pack in summer is also good if you have sunburn since your face needs to take a rest.
If you have oily skin, carefully cleanse your face with soap or a cleansing foam before putting on the facial pack to prevent sebum from sticking to your face.
How to use a face pack
A face pack is a wet paper-type sheet in the shape of a face. You just need to follow these 4 very simple steps to make your skin glow!
After washing your face, put on toner to smooth the skin texture.
Take out the mask, and remove the film, if any.
Gently attach the sheet around the eyes and mouth to adhere well to the skin.
Remove the sheet after 10-20 minutes and pat the remaining essence or cream on the skin, including your body, for absorption.
Usually, one pack a day is desirable but set the time and frequency according to your skin. Also, do not reuse the leftover essence in an empty bottle, as there is a risk of contamination.

Where can I buy sheet masks?
There are many different facial packs in Korea in various brands. Let us introduce to you some of the most popular ones.
NEAF NEAF Soothing Calm Mask & Soothing Calm Toner Pad
NEAF NEAF is very popular for its facial masks. Even people with sensitive skin can use it every day without worrying about irritating their skin. It soothes the skin and manages pores effectively at the same time.
Neaf Series No.1 Cool Moist Mask
It calms the skin by lowering the skin temperature and provides moisture to tired and flaky skin, and it is suitable for oily skin.
Neaf Series No.2 Soothing Calm Mask
It calms the dead skin cells of rough and sensitive skin, which is good for dry skin.
NEAF NEAF launched its famous facial packs in a soothing calm toner pad version. The toner pad has the same ingredients as its facial pack but is smaller, making it even more convenient. You can easily organize your skin texture before wearing makeup on a busy morning in just 3-5 minutes.
It had a launching promotion and sold toner pads plus ten more sheets at a discounted price. It was extremely popular and got out of stock soon. However, we, KoreanBuddies, have the toner pads in our warehouse. So if you're still interested in this item, get in touch with our staff!

2. Olive Young Facial Packs
Olive Young is the most representative cosmetics shop in Korea with many brands in it. It is the best website for Korean makeup and Korean skincare. Let us meet some of the most popular brands in Olive Young.
Mediheal Face Masks
Mediheal has established itself as a representative skincare brand in Korea by deeply investigating facial packs for the past ten years. The items from this brand help your skin to absorb moisture quickly, so they are good to use before an important day. In addition, some items of Mediheal are eco-friendly as they have completed vegan certification.
These facial packs are 20,000KRW for ten sheets but often go on more than 50% sale. So you can use a facial pack at home for only 1~2 USD which makes it great value for money. They are definitely a favorite for Korean people and with the long experience in face masks, their quality is always guaranteed. Explore the latest sheet masks and more products at the Olive Young Mediheal page.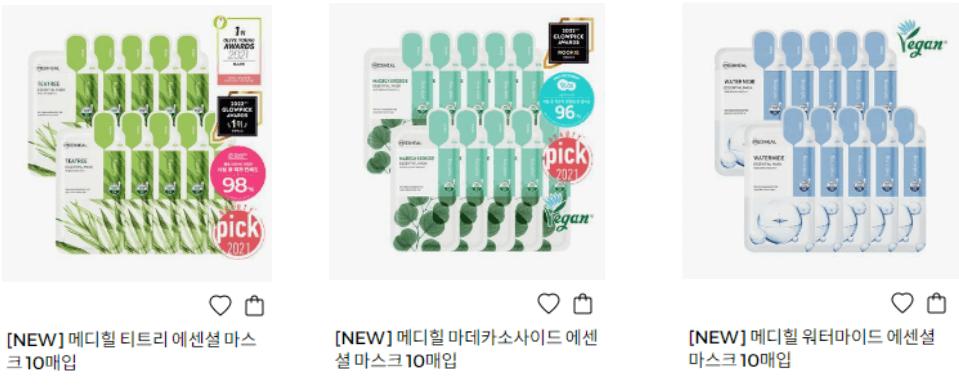 Dr.G
Dr.G deeply sympathizes with those with skin concerns and has become a brand recognized for its expertise through continuous research on skin science. It makes all kinds of keratin, moisturizing, and UV care items for healthy skin.
Royal black snail cream mask is famous for its springy and dewy texture. If you are stressed from the heat in your face, cool down your face with a Red Blemish cool soothing mask. A soothing pad with aloe is also a great choice if you want intensive care on a specific part of the face rather than the entire face.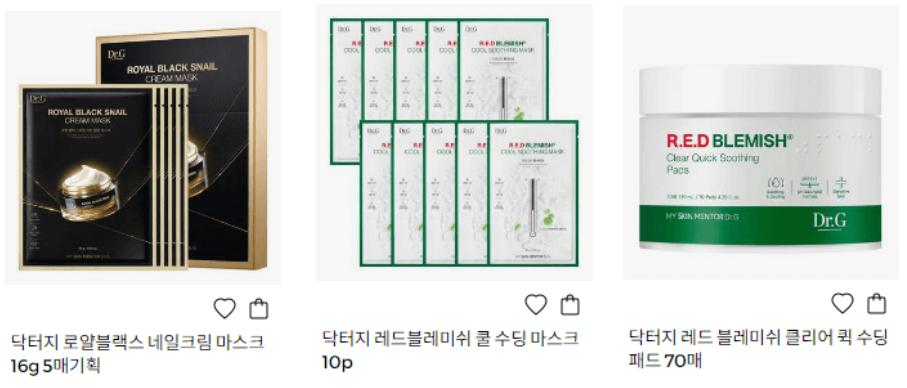 allNATURAL 다자연
Houttuynia Cordata Mask Sheet with 12,000,000 sales took the first place in the sheet mask category for customers on Hwahae, Korea's No.1 cosmetic review app for three consecutive years. Ingredients from fresh houttuynia cordata are extracted and melted on an eco-friendly sheet, making it the most popular mask sheet in OliveYoung. There are many items using this ingredient, such as mask sheet, toner pad, and care serum, so you can choose this type of cosmetics appropriate for various usages.
Wanna see more brands?
You can check the best facial masks of Olive Young on their dedicated mask pack section.
Please find other skincare products or Korean makeup cosmetics on the same website. If you want to learn more about ordering Olive Young items or Korean skincare steps to make your skin shine, visit our Olive Young shopping guide for more information.