Where to Buy the Best Modern Hanbok Dresses Online
Shopping for modern hanbok dresses just got easier! Here's a list of the top 8 online stores for finding unique and stylish hanbok dresses that don't sacrifice quality. Whether for a special occasion, or simply as a fashion statement, buying a hanbok can be an exciting experience. Before shopping for the perfect hanbok, you can read our Korean Hanbok Shopping Guide to learn the basics of the dress.
Leesle is a modern hanbok brand that is captivating international audiences, and was the first hanbok brand to hit Milan Fashion Week. According to Vogue, Leesle was founded when head designer Hwang Yi-seul realized that the traditional Korean dress accounted for only 1% of the Korean fashion industry. Her passion and dedication for preserving the cultural heritage drove her to design a truly contemporary and casual look that blends in seamlessly to today's fashion scene.
By collaborating with K-POP artists and dance crews, Leesle has been able to showcase that hanboks are not only beautiful and stylish, but has also proven just how comfortable and unrestricted hanboks are — even when engaging in dynamic activities!
At Leesle, you'll find a wide range of hanbok styles, from two-piece modernized hanbok dresses that can be mixed and matched (see below) to hoodies and sweatshirts. Plus, their English website is easy to navigate and highly informative so you'll undoubtedly find the perfect look.
Source: 1) Dancheong Top [Black]; 2) Dancheong Waist Skirt [Black]; 3) 1 & 2 worn as a two-piece outfit (left to right). Adapted from Leesle.
With the unparalleled success of BLACKPINK's "How You Like That" music video, Danha has drawn global attention and admiration. But who would have guessed that the modernized hanboks worn by Jennie and Rosé were in fact reinterpretations of men's traditional clothing?
Not only does Danha take Korean tradition and modernize it with jaw-dropping designs, but their modern hanbok dresses embrace sustainability, with upcycled fabrics, eco-friendly materials, and packaging.
Danha has showcased their collections in prestigious fashion events, such as the 2019 Vancouver Fashion Week and the 2022 Paris Fashion Week. You can check out all their collections at their website, which supports an English version. Additionally, they have helpful instructions on how to choose and coordinate your hanboks in the best way.
You can find Danha products at Musinsa as well, so you can spice up your shopping cart with more variety when shopping for Korean fashion at the largest online fashion store in Korea.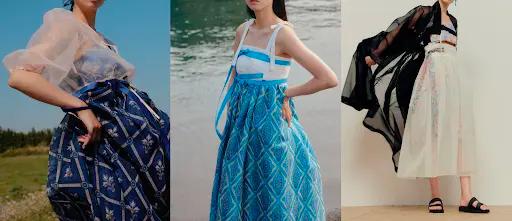 Source: 1) Round Collar Bolero Cardigan [Pink]*; 2) Turtle Patterned Dress; 3) Black Long Cheollik Coat** (left to right). Adapted from Danha.
*Has been worn over a Foliage Scrolled Patterned Dress.
**Has been matched with a Phoenix Patterned Crop Top, Gungbo Skirt [Pink], and Flower Ribbon Hanbok Skirt.
Teterot Salon is a contemporary hanbok brand that blends traditional styling with contemporary comfort. You'll be delighted to know that they create fashionable everyday wear that will leave you feeling confident and relaxed. Teterot Salon takes their motto of "building on tradition to create everyday wear that modern people can feel comfortable in" seriously. Plus, no need to worry about design being neglected either — their posh, fashion-forward outfits can be styled in different ways. Yes, that includes their modern hanbok dresses as well, so you can rest assured that Teterot Salon has you covered.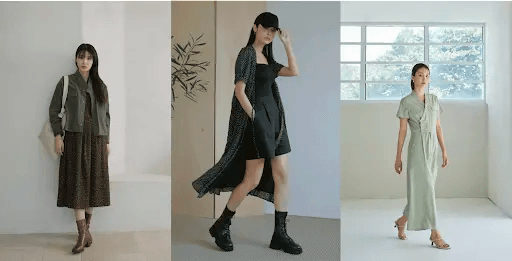 Source: 1) Hanbok Dress (F/W season); 2) Black Sesame Dress; 3) Sannolu Yellow Green Jumpsuit (left to right). Adapted from Teterot Salon.
If you're looking to bring a touch of modern, feminine style to your wardrobe, Soosulhwa's premium hanbok dresses are the perfect choice. Lovely dresses that feature beautiful laces, floral patterns, sheer fabrics, and romantic silhouettes will remind you of delicate flowers blowing gently in the wind. Whether you prefer high waisted skirts, A-line skirts, or even pintuck skirts, Soosulhwa has a modern hanbok dress for you.
Although the Soosulhwa website is available in English, product names, page details, and size information have not yet been translated. However, you'll have no trouble exploring their breath-taking range of modern hanboks, and we promise you won't be disappointed.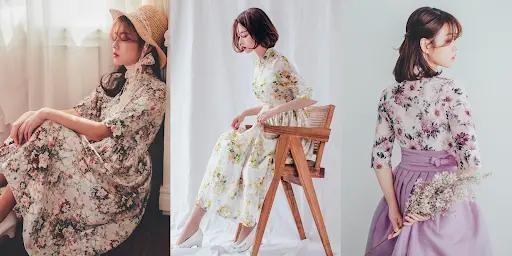 Source: 1) 선물 철릭원피스; 2) 맑음 철릭원피스; 3) 꽃걸음 철릭 원피스 (left to right). Adapted from Soosulhwa.
Chicline is a popular one-stop fashion shopping mall for the modern woman, not to mention the best destination for wedding guest dresses. They've got a wide range of beautiful Korean women's fashion that will give you that elegant chic look. They also sell aesthetic modern hanbok dresses, which is surprising considering they are not a hanbok brand. Unfortunately, their modern hanboks aren't made in Korea so you won't get the full cultural experience, however, it will provide a more affordable alternative to other brands.
A bit of a downside is that their English website does not work (as of date writing this list), but don't worry, their site is still easy to navigate and should not compromise your shopping experience.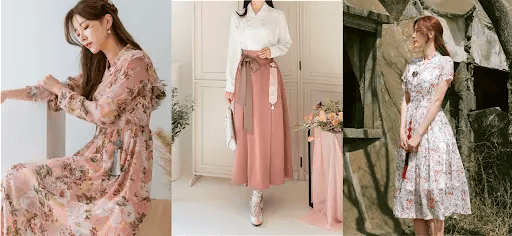 Source: 1) 다원꽃 철릭원피스 ; 2) 난이 배색 스트랩 새틴 플레어 스커트; 3) 꽃별 원피스 (left to right). Adapted from Chicline.
Tchai Kim is a hanbok brand led by fashion designer Kim Young-Jin, one of the most well-known hanbok designers in the industry. She has been the costume director for many cultural works, including the beloved drama "Mister Sunshine." With her expertise and passion for hanbok, she brings a unique and fashionable touch to the timeless look.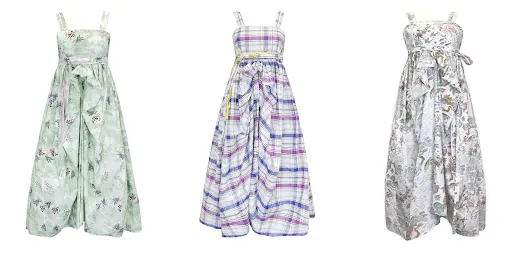 Source: 1) 거들썬드레스 부케; 2) 거들썬드레스 체크퍼플 3) 거들썬드레스 수궁가 (left to right). Adapted from Tchai Kim.
Thread and Needle is one of the best-selling female hanbok brands in Naver Smart Store, and has been spotted on TV shows and dramas. Actress Kim Hee-Jung wore their Cheollik dresses often on the MBC drama "The Second Husband." Crafted with soft, vibrant colors, exquisite laces, and quality fabrics, their elegant dresses will give you a gentle, feminine look.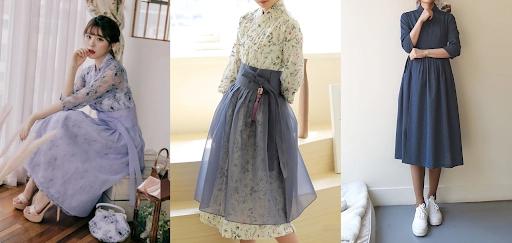 Source: 1) 생활한복 레이스 철릭원피스 아리아 라벤더; 2) 여름생활한복 철릭원피스 칠부 향기가득; 3) 여름생활한복 기품 네이비 철릭원피스 (left to right). Adapted from Thread and Needle.
The founders of Min Hanbok are proud to bring you over 20 years of expertise in the hanbok industry. With their meticulous designs, they've crafted the perfect hanboks for women — from traditional and wedding hanboks to modern hanbok dresses. Their modernized cheollik dresses will remind you of a feminine tweed jacket layered over an A-line dress. Min Hanbok accepts requests for specific sizes at no additional cost, such as reducing sleeve or skirt length, and even custom-tailored hanboks.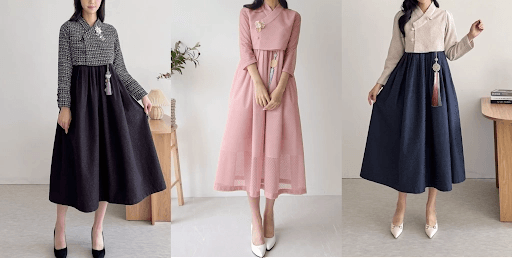 Did you like our recommendations? Share them with your friends! We'll come back with a list of more hanbok brands. In the meantime, you can keep a lookout for our other shopping guides.
Korean Buddies provides personal shopping services and strives to provide a seamless online experience when buying products from Korea. All you need to do is list everything you want to buy, and our experienced team will do the shopping, inquiring, packing, and shipping for you. You can sit back and relax after placing your order (check out our instant quote page — completely free to use and highly accurate).
Not a member? Sign up to get started.
Have any questions? Contact us at support@koreanbuddies.com and one of our friendly team members will get back to you soon.