Olive Young is by far the biggest retailer of health & beauty products in Korea. Starting in 1999 with a store in Gangnam, it quickly became the number one in the market and now with over 1200 stores, you can find Olive Young stores in every corner of Korea.
On the Olive Young website, you can find anything you might be looking for when it comes to Korean skincare and Korean makeup.
Think of any Korean beauty brand, Olive Young's website probably sells it. Brands such as Cosrx, Mediheal, Etude, Peripera, Dr. Jart, Laneige, and Banila co. among dozens of others.
When shopping at the Olive Young Korean website, you will have access to a greater selection of products at competitive prices and ready for shipping in a matter of a few days.
Korean skincare
When first approaching Korean skincare, you might be overwhelmed by the variety of products available. A special feature of Korean skincare is in fact the 10-step skincare routine to help you keep your skin radiant and toned.
Let's take a look at the 10 steps and find the right products for each of them on the Olive Young website!
Oil cleanser
Double cleansing is one of the main characteristics of Korean skincare. Applying an oil cleaner to start with ensures that you will remove all traces of makeup, sunscreen, and dirt.
Foam cleanser
After rinsing off, cleansing with a foam or gel cleanser will get rid of the excess oil and leave your skin feeling clean and fresh.
Exfoliant
While exfoliating with a peeling product is not something you need to do every day, using a peeling gel at least 2 times a week will remove all the dead skin and unclog your pores, making your skin softer and brighter.
Toner
Toners are products with a water-like consistency that are designed to rehydrate your skin and prepare it for better absorption of the products that follow.
Essence
Essences are at the center of the Korean skincare regimen because they are packed with hydrating and nutritious ingredients formulated to soothe your skin and protect it against aging.
Serum
Serums are similar to essences, but they are generally thicker in consistency and target specific skin concerns (could be for example acne, dark spots, wrinkles) thanks to their higher concentration of specific active ingredients.
Sheet mask
Probably the first thing that comes to mind when thinking about Korean skincare is actually sheet masks. Available in all sorts of variations, these masks are full of vitamins and nutrients that give your skin that soft and hydrated look.
Eye cream
The skin around the eyes is really sensitive compared to the rest of the face so eye creams are specially developed to prevent puffiness, dark circles, and wrinkles.
Moisturizer
A good quality moisturizer is always a must-have for people with all skin types. Don't forget to apply it at the end of your routine to make sure all the moisture from the previous products gets locked in the skin.
SPF
Finally, Korean people are known to be very good at protecting their skin against sun damage, so applying sunscreen before going out is a key step to keeping the skin looking young. Sunscreens in Korea are generally very high quality and affordable while at the same time being really comfortable and light on the skin.
On top of these 10 types of skincare essentials, there are many more products you can explore on the website as the Korean beauty industry is constantly innovating and coming out with new items.
Korean makeup
Korean makeup might still be less known overseas compared to skincare, but it is quickly growing in popularity thanks to its unique style. Koreans in fact tend to prefer makeup that gives the skin a glowing and youthful look that enhances their natural features.
Want to try out the Korean makeup style? Olive Young has all you need to get you started in the makeup section of their website. Here are our 3 suggestions for Korean makeup items you should check out and add to your collection.
Cushion foundation
Cushion foundations are a k-beauty product that allows you to apply foundation more easily. They are generally lighter weight than western foundations, so they will feel less heavy on your skin. They are also easy to carry around and they have mirrors inside the packaging, so you can easily retouch your makeup base on the go wherever you are. You can find many types of cushion foundations, from the most glowy to the more matte ones so you choose what suits your preference and skin type. Shop for cushion foundations that suit you best!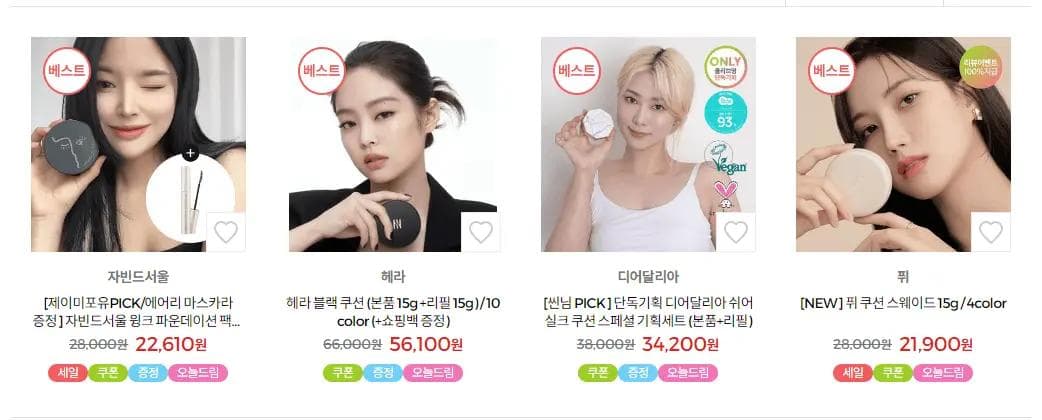 Lip tints
In Korea, rather than lipsticks, you will see lip tints dominating the market for lip makeup products. Lip tints are long-lasting, but their effect is more natural and subtle. And let's not forget their super cute and practical packaging. From glossy ones to velvet finish ones, you can explore all the options with ease. Koreans love creating a lip gradient look by making the inner parts of the lips darker than the outsides, which is perfect to create an even cuter and more natural-looking makeup.

Eye shadow palettes
You can definitely find a large variety of eyeshadows from many Western brands. Still, Korean eyeshadow palettes are a great addition to your makeup collection if you are a fan of neutral tones. As you can see on their online catalog as well, Korean eye makeup tends to use only a careful selection of colors, mostly in the brown/pink range. This makes their eyeshadow palettes perfect for an effortless everyday casual look for school and work.

Sounds good but don't know where to start?
Too many products to choose from and not sure what to get? You can get an idea of the popular products right now in Korea by going to the ranking page on Olive Young's website. Here, you can check out the best-selling products in real time and also see which items are getting the best reviews from customers. Check the ranking page to make sure you're not missing out on new popular releases or special sales.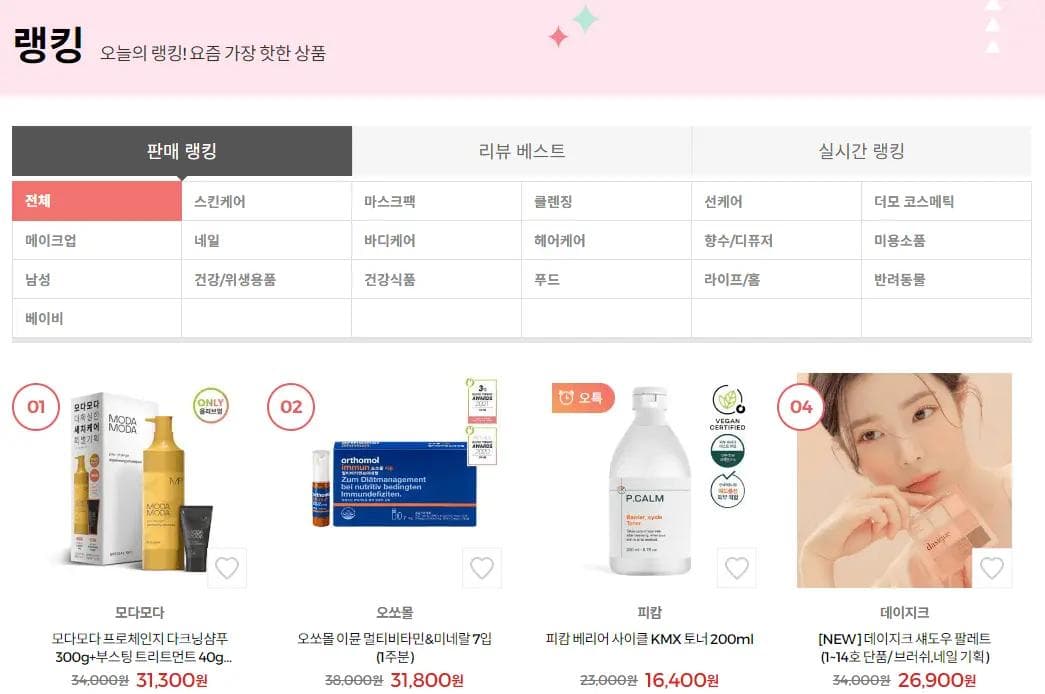 If you wanna know more about the world of K-Beauty and get inspired, take a look at the website of our customer The Monodist. Here you can find reviews and information on many k-beauty items which can be useful to choose the best products for your needs.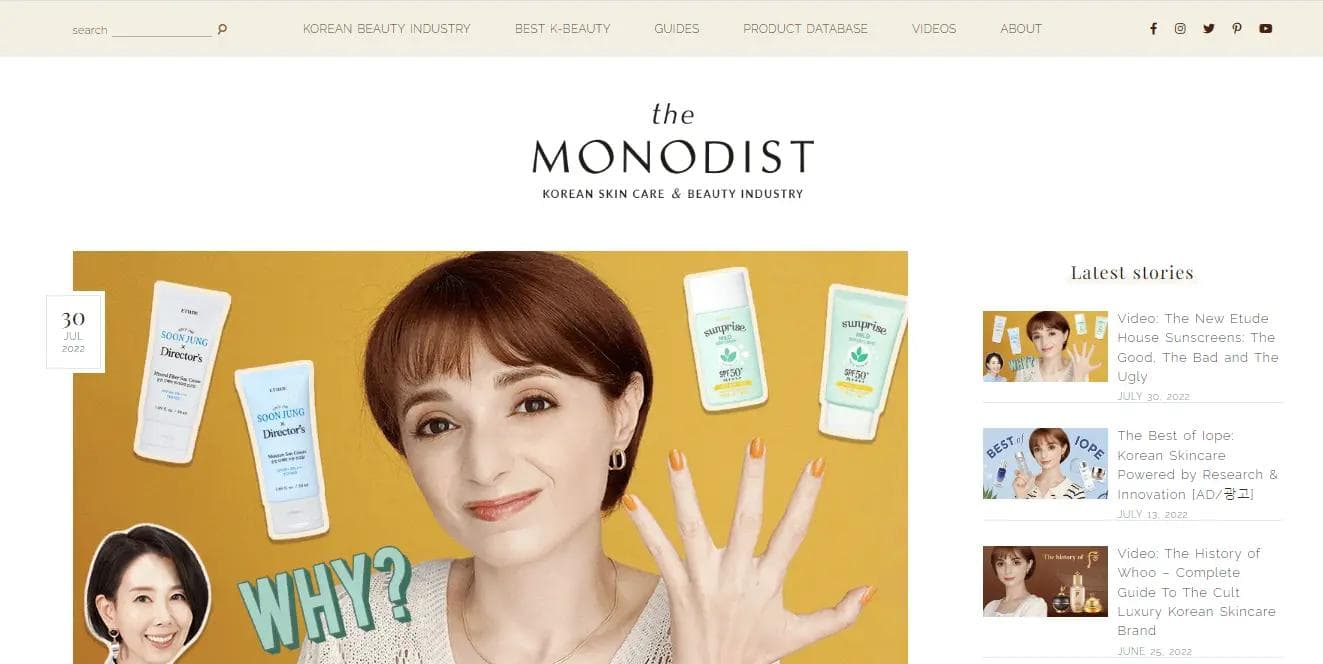 On top of that, she also compiled a list of the Korean beauty vocabulary which can help you navigate Olive Young's Korean website.
At Korean Buddies, we can order cosmetics from Olive Young Korea and ship them directly to your home. Try our instant quote page which is superbly accurate and you will need to be signed up to place orders with us so be sure to do so. We are ready to help you if you need any assistance in finding products or have any questions about our service.