Who is NERDY? The trendiest Korean streetwear is here
Streetwear continues to trend in the fashion scene in Korea and if you wanna get that Korean street style look, we are here to introduce one of the best brands around. NERDY is one of the most popular Korean street fashion brands among 20-somethings and has quickly gained traction thanks to its unique style and influential celebrity collaborations.
The NERDY Korea brand's creation takes inspiration from the New York street culture and the ideal of expressing everyone's individuality or, as they say, "make your way". Its name as well is inspired by nerds because according to the brand's founder "nerds are smart but unaware of the social standards so they create their own unique style"

Two of the main characteristics of the NERDY fashion style are oversized and colorful. As the oversized silhouette is trendy for the younger generation, NERDY as well has created a unique "nerdy fit" which makes their clothes loose-fitting and extra comfortable. As for being colorful, NERDY prides itself on using a wide range of colors that are not otherwise commonly seen in other streetwear. Delicate colors such as lilac, pink, and sky blue, which give their streetwear collections a more delicate and soft touch and make them more appealing to people who usually wear different styles.
NERDY caters to both men and women and their prices are also quite affordable if looking at other comparable brands. To make it even better, they often offer big discounts on their official website which you can take advantage of when shopping from Korea with us.
NERDY: A Korean celebrity favorite
Not only is NERDY trending in the streets of Seoul, but it has also become a big name in Korean fashion thanks to being able to attract famous Korean celebrities and idols for collaborations. In fact, the brand became more mainstream amongst Korean clothing brands after being worn by several influential celebrities. Out of these, we selected some NERDY outfits from BLACKPINK Jisoo, IU, and ZICO.
So if you're wondering where you can get the clothing Kpop wear, NERDY is one of the places to look out for. They are all wearing colorful and comfy NERDY tracksuits, one of the most popular items from the brand. Shop for tracksuits and get this effortless street style look.
2022 FW NERDYxTaeyeon collection
This year, it was Kpop star Taeyeon's turn to become the new face of the Korean streetwear brand and she collaborated to create the coolest FW collection. The collection includes all the staples of NERDY such as tracksuits, padded jackets, and hoodies. Shop the collection and get inspired by the Taeyeon lookbook to recreate her style.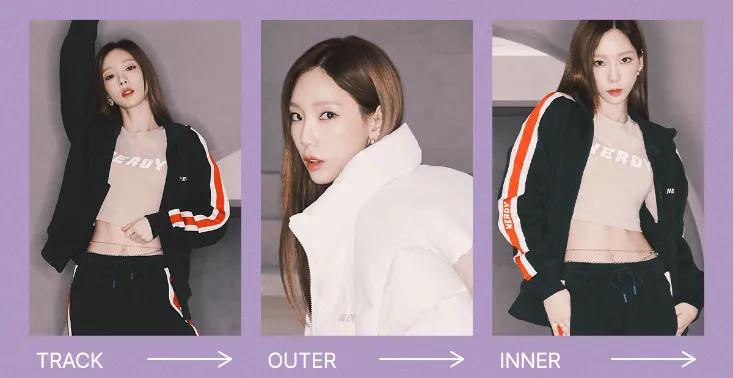 You can shop for NERDY at Musinsa's dedicated page as well. Musinsa is the biggest online clothing retailer in Korea so you can shop there for a lot of other Korean and international clothes brands. You can read more about Musinsa and how to order on their website in one of our previous articles.
So are you ready to upgrade your wardrobe with some new trendy clothes from Korea?
Korean Buddies are here to help you do just that. All you have to do is choose the items you want on the brand website and create an account on our website to place your order and start shopping with us. Before ordering, you can try making a quote for your order on our Get a Quote page. We are ready to help you if you need assistance or have questions about our service. this page to make an account and place your order with us. We will take care of the whole process until shipping it out to you.