The Best Productivity Planners to Buy From Korea (And Why)
Let me guess, you love organizing and planning but cannot seem to settle down with any digital productivity system that the productivity gurus are promoting on YouTube [that's me]. Or, you are just a stationery addict [that's also me]. Some of you may even need a little convincing before transitioning back to paper planners.
Whatever it may be, finding a planner that sticks with your routine is not as easy as it sounds. But hey, there is a reason for the saying "simple is the best" and paper planners beat digital planners in terms of simplicity. Of course, there are other benefits.
Why Are Paper Planners Superior To Digital Planners?
You reduce your screen time and stay away from potential distractions (yes, including those tempting notifications).
You will have a higher chance of achieving a written goal because you essentially reprocess important information and get a clearer picture of your goal when you write it down on paper.
Scribbling on paper reduces stress. Although planning is not equivalent to brain dumps (i.e., decluttering your thoughts on paper), using pen and paper for whatever purpose helps you take a breather.
Not everyone finds it easy to use digital planners, but planning on paper is classic.
But, Why Should You Buy Korean Stationery?
High-quality materials and design. Koreans have very high expectations for aesthetic products that come at a reasonable price. Due to this, stationery brands must surpass above-average standards before they can even compete in the market.
Cute stationery and cute characters. Korea is flooded with cute items, from cute colors to cute characters — you name it. Well, for one thing, Korean brands acknowledge that cute items bring about positive energy and that it does wonders (for their sales ( ͡° ͜ʖ ͡°)).
Easy to shop. Lots of choices. Korean stationery brands sell their products through large-scale online stationery stores, so it is easier to search for good stationery from a customer's point of view.
Now, without further ado, here are some of the best planners for productivity to buy from Korea. These products are available at 10x10: one of the largest stationery stores in Korea (visit our dedicated page for more information).
10-Minute Planner by MOTEMOTE (KRW 2,300 – 12,800)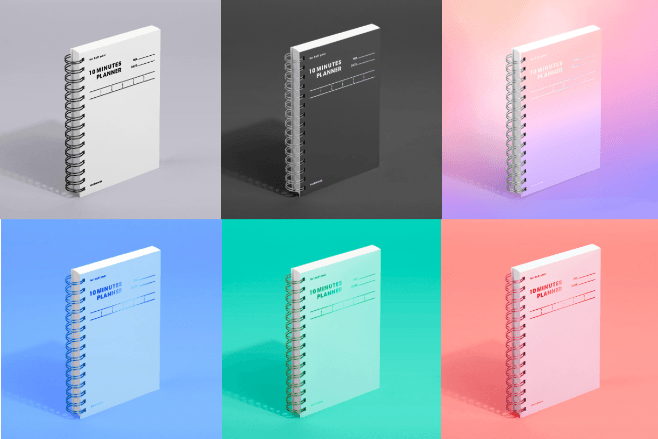 The Motemote 10-minute planner is by far the best-selling planner in Korea, especially among students. The beauty of this planner is that it helps you focus solely on one key goal and allows you to track the time spent on minor tasks required in reaching that goal. Motemote has removed all the junk that interferes with goal-oriented productivity and has retained the aesthetics of minimalism.
Now, one critical problem with to-do lists is that they are often overwhelming and vague. You may have noticed yourself ending up with too many items on the list and with some naughty to-dos that slip away unaccomplished. However, this goal planner splits the minor tasks into subdivisions so that you get more detail about the tasks, and a better picture of the time required to complete them.
This productivity planner is a good substitute for productivity timers and can be used to boost time management efforts per se by planning and tracking in 10-minute blocks. This will not only raise awareness and mindfulness of your goal but it will also increase your motivation.
The Motemote planner is available in four options:
31-day planner (KRW 2,300) to use as a daily planner.
100-day planner (KRW 6,300) for setting daily goals.
16-week planner (KRW 7,300) to use as a weekly planner.
6-month planner (KRW 12,800) for short-term projects and plans.
Gombu Standing Weekly Planner by RIHUN (KRW 12,000)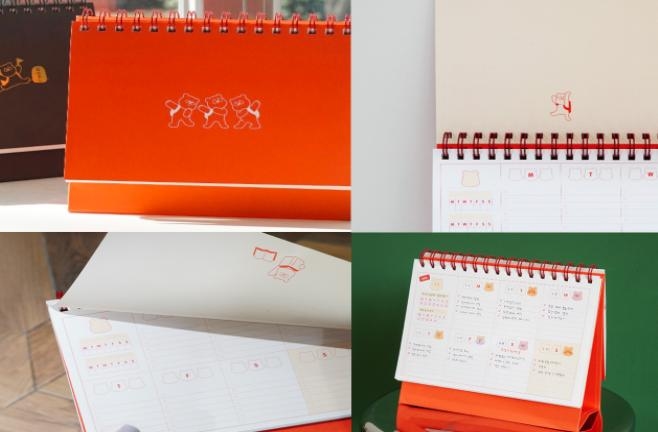 The Rihum Gombu Weekly Planner is the best weekly planner to track simple to-do lists. It stands up like a desk calendar, so you can place it aside where it is visible. If you are not fond of time blocking or tracking and only want a basic to-do planner, this product should well suit your needs. Plus, remember how I mentioned that scribbling on paper reduces stress? Great news, the planner pages are one-sided, which means that once you flip a page, the other side is free to use for brain dumps, doodles, or important notes.
The word "Gombu'' is a combination of the word "Bear (Gom 곰)" and "Study (Gongbu 공부). " Put together, it's a studying bear character! Rest assured, that does not mean that the planner is only useful for people who study. It is a cute planner that anyone can use — consider Gombu as your productivity buddy.
This weekly planner comes with a set of Gombu stickers, including character and index stickers. They are basic, so if you want to decorate and customize your planner even more, check out Rihun's Gombu stickers for extra variety.
Macaron Diary by MINUIT (KRW 26,000)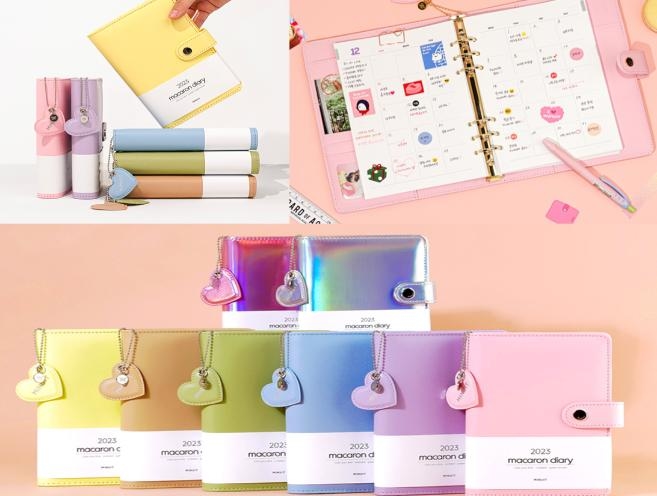 Do you still cherish your childhood dreams? Ever had that dream of riding a unicorn across the rainbow? This Minuit Macaron Diary reminds me of such fantasies. Aesthetically designed with soft pastel colors. This cute diary is perfect to use, both as a self-care journal and a productivity planner. It has its own mini pocket where you can store photo cards or business cards. It comes with a cute, matching keyring which adds onto the diary's cuteness.
To be honest, I'm not a fan of dated stationery. Nothing has felt more awkward than starting a new year diary when January is long gone. It is almost like starting a diet on Thursday. Fortunately, although this cute diary says it's for 2023, Minuit has been considerate on leaving the weekly pages undated (only the yearly page has a dated calendar). Moreover, you can swap their standard diary pages for their undated planner pages and note pages (plain white, plain color, grid, line, dot notes).
The Macaron Diary comes in 4 sizes and 8 colors (color availability varies with the size). See their product page for more details.
Sizes: A5, A6 Wide, A6, and A7.
Colors: Pink, purple, blue, avocado, yellow, milk tea, aurora silver, and aurora pink.
Step-up Diary by OBRECORD (KRW 13,800)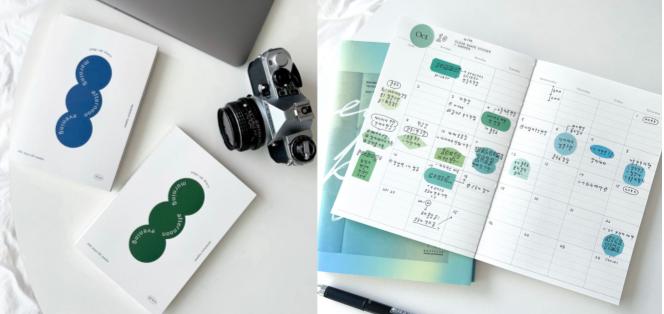 The Step-Up Diary is an undated diary that was created to promote self-growth and can be used as a planner for productivity. It is a daily and weekly planner for those who like writing and keeping things simple and on point. The yearly page is split into two columns, where you record your hobbies, goals, and results according to each month. You can use this section for self-reflection and for a detailed overview of what occurred over the year — perfect for mindfulness.
Obrecord has adequately mixed blank spaces and lined spaces so that you have plenty of room for customization. You will be limited to 6 to-dos per day, but as mentioned previously, you don't want a lengthy list!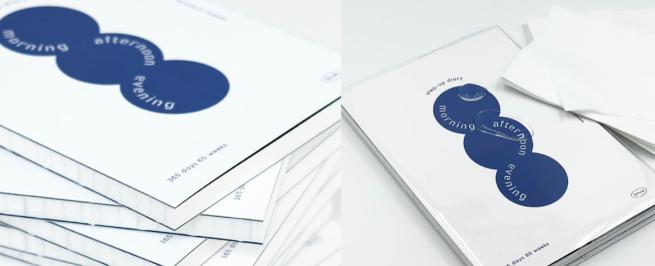 This diary is unique in that the book's spine is exposed and shows all the meticulous details of craftsmanship used for the bookbinding method. I know this sounds like a bizarre and insecure idea for some, but Obrecord has created a PVC Cover (KRW 1,500) for those who want extra protection.
! The PVC cover is not included with the diary.
These are just some of the best Korean planners for productivity. Feel free to browse for more at 10x10 or any other Korean stationery store!
Korean Buddies provides personal shopping services and strives to provide a seamless online experience when buying products from Korea. All you need to do is list everything you want to buy, and our experienced team will do the shopping, inquiring, packing, and shipping for you. You can sit back and relax after placing your order (check out our instant quote page — completely free to use and highly accurate).
Not a member? Sign up to get started.
Have any questions? Contact us at support@koreanbuddies.com and one of our friendly team members will get back to you soon.