Top 10 Best Korean Collagen Products For Skin
The Importance of Collagen for Skin Health
Collagen is like the scaffolding of your skin, providing structure and strength. It helps maintain the elasticity and firmness that keeps your skin looking youthful and supple. As we age, our natural collagen production starts to decline, leading to the appearance of fine lines, wrinkles, and sagging skin.
The good news is there are methods you can use to help sustain collagen production in the skin, such as taking collagen supplements and using skin care products as part of your daily routine. Now, there are mixed opinions on whether it's worth buying a collagen cream or any topical product. So, before we list out the 10 top Korean collagen items, let's look into this matter a bit more.
Does Topical Application of Collagen Help The Skin?
Even though collagen molecules are unable to penetrate the skin's surface due to their size, using skincare products that contain hydrolyzed collagen can yield positive results. Hydrolyzed collagen has been processed to break down into smaller fragments known as peptides.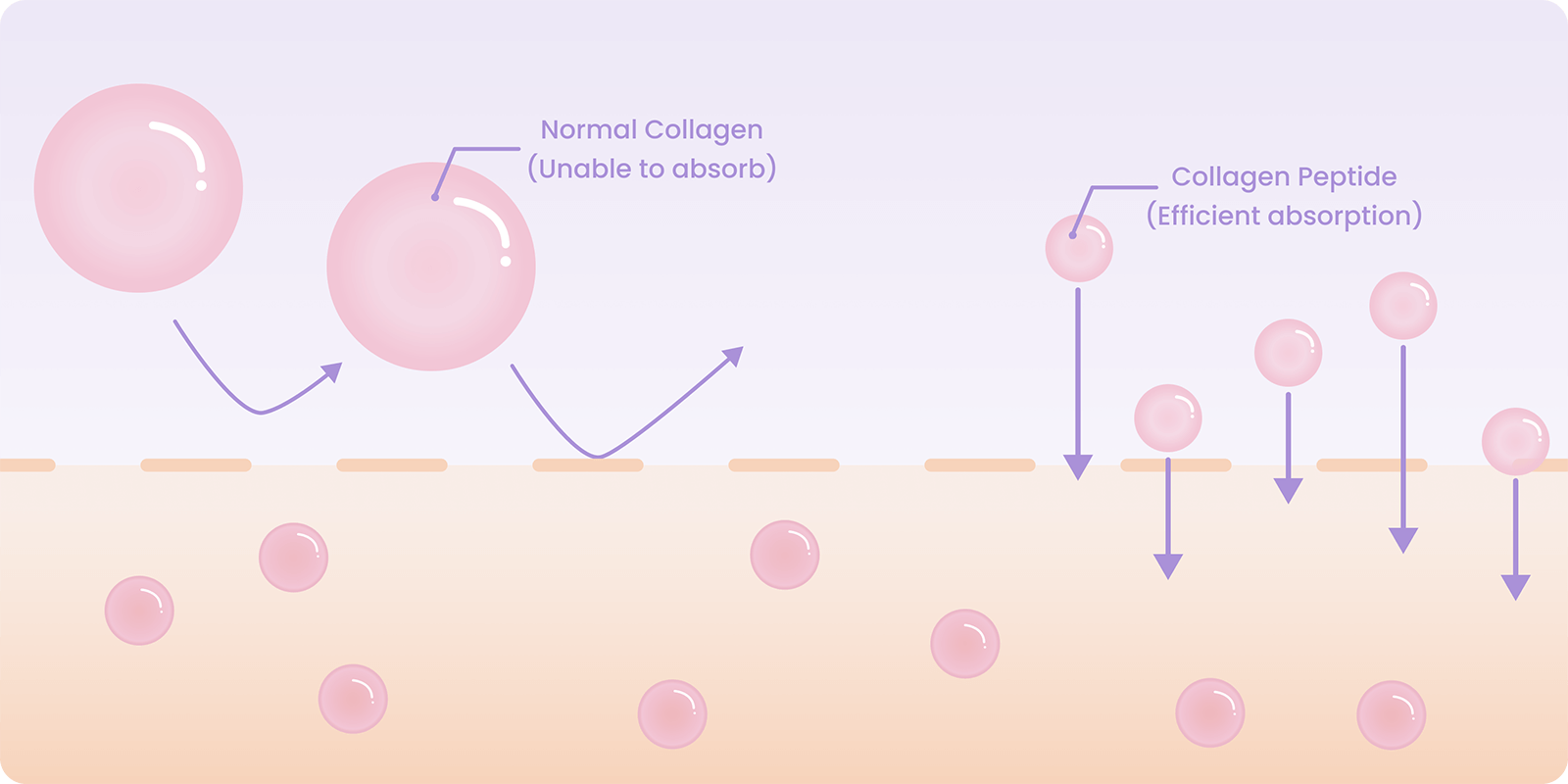 The lower the molecular weight of the collagen peptides, the deeper they can penetrate your skin, delivering nourishing benefits to the lower layers where it is needed most. They also provide more benefits in that they:
1. Have a higher water-binding capacity, helping to improve skin hydration and moisture retention.
2. Have a higher potential to smooth out uneven skin texture, reducing the appearance of fine lines, wrinkles, and rough patches.
3. Can protect skin against oxidative stress and premature skin aging.
It's important to note that the effectiveness of collagen skincare products may vary from person to person, and they work best when formulated with ingredients like retinol and niacinamide to stimulate collagen synthesis.
The Truth About The Collagen Market
The Korean collagen market is extremely saturated with products claiming to be beneficial, but only about 3.6% of the food and dietary supplement industry have been recognized as health functional foods. The skincare market doesn't differ much. That's why it's best to opt for brands that have undergone thorough research, with products that contain good amounts of low molecular collagen peptides.
To take the guesswork out of your search, we've found 10 of the best Korean collagen products, from supplements to skincare products.
The Top 10 Best Korean Collagen Products
Best Korean Collagen Supplement | Contains 3,270 mg of Fish Collagen Peptides | Low-molecular (512 Da) | Flavor: Crisp Apple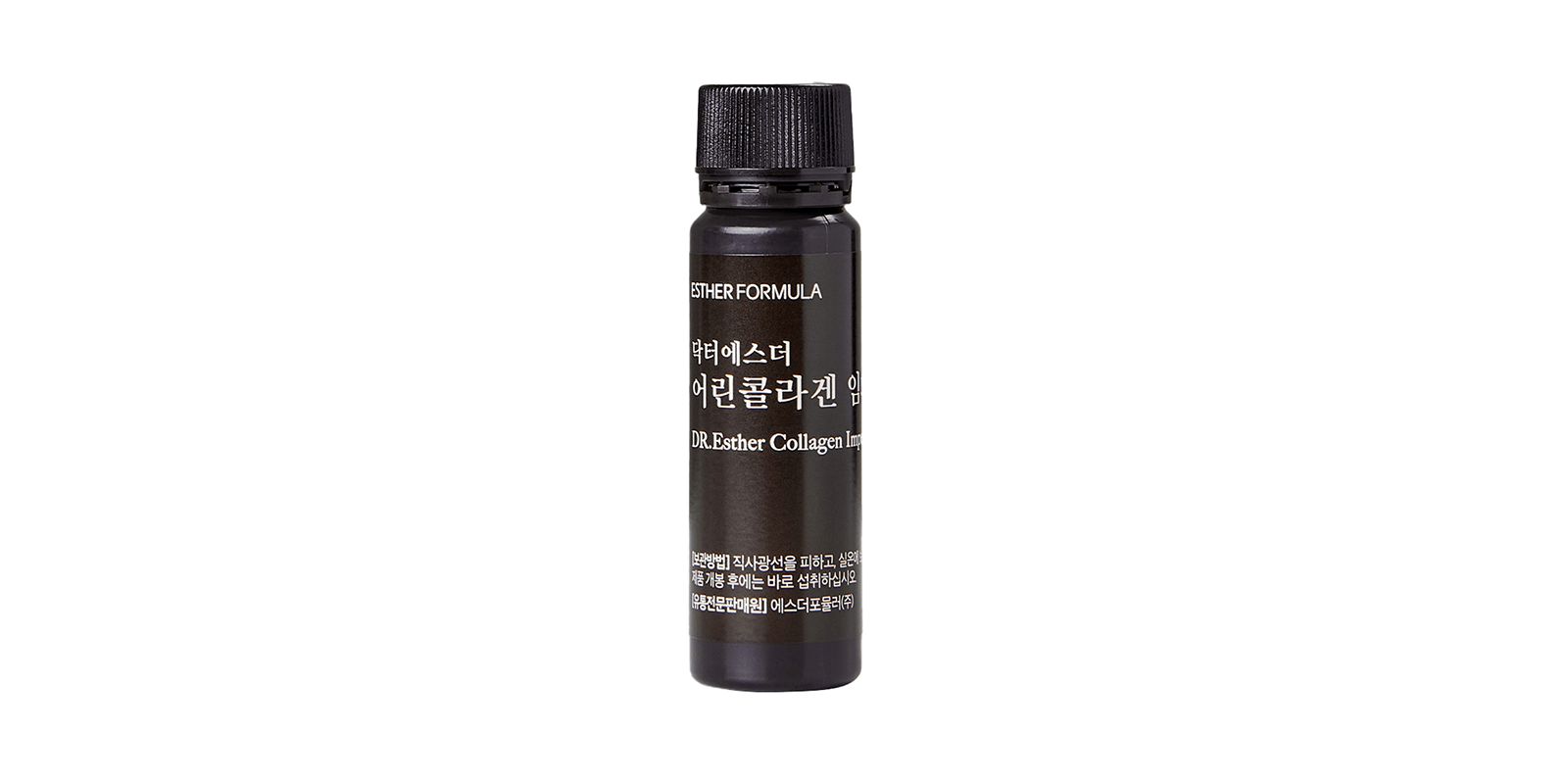 Dr. Esther's Collagen Imperial features a unique blend of 3,270 mg of fish collagen peptides (512 Da) with biotin, zinc, niacin, and vitamin B6 for optimal skin health. Moreover, it has undergone a rigorous 12-week clinical study that showed that taking high doses (3,300 mg) of fish collagen peptides led to considerable improvements in several areas of skin health—including increased hydration, enhanced elasticity, reduced wrinkles, and smoother skin. Despite it sitting on the pricier end, it makes sure that investing in your skin is worth every penny. If you are searching for a more affordable alternative, we recommend exploring Dr. Esther's Fish Collagen Peptide or stocking up in bulk at highly discounted rates.
Best Korean Collagen For Vegans | Vegan Certified by V-Label | Contains 3,270 mg of Vegan Collagen Peptides | Low-molecular (<500 Da) | Flavor: Shine Muscat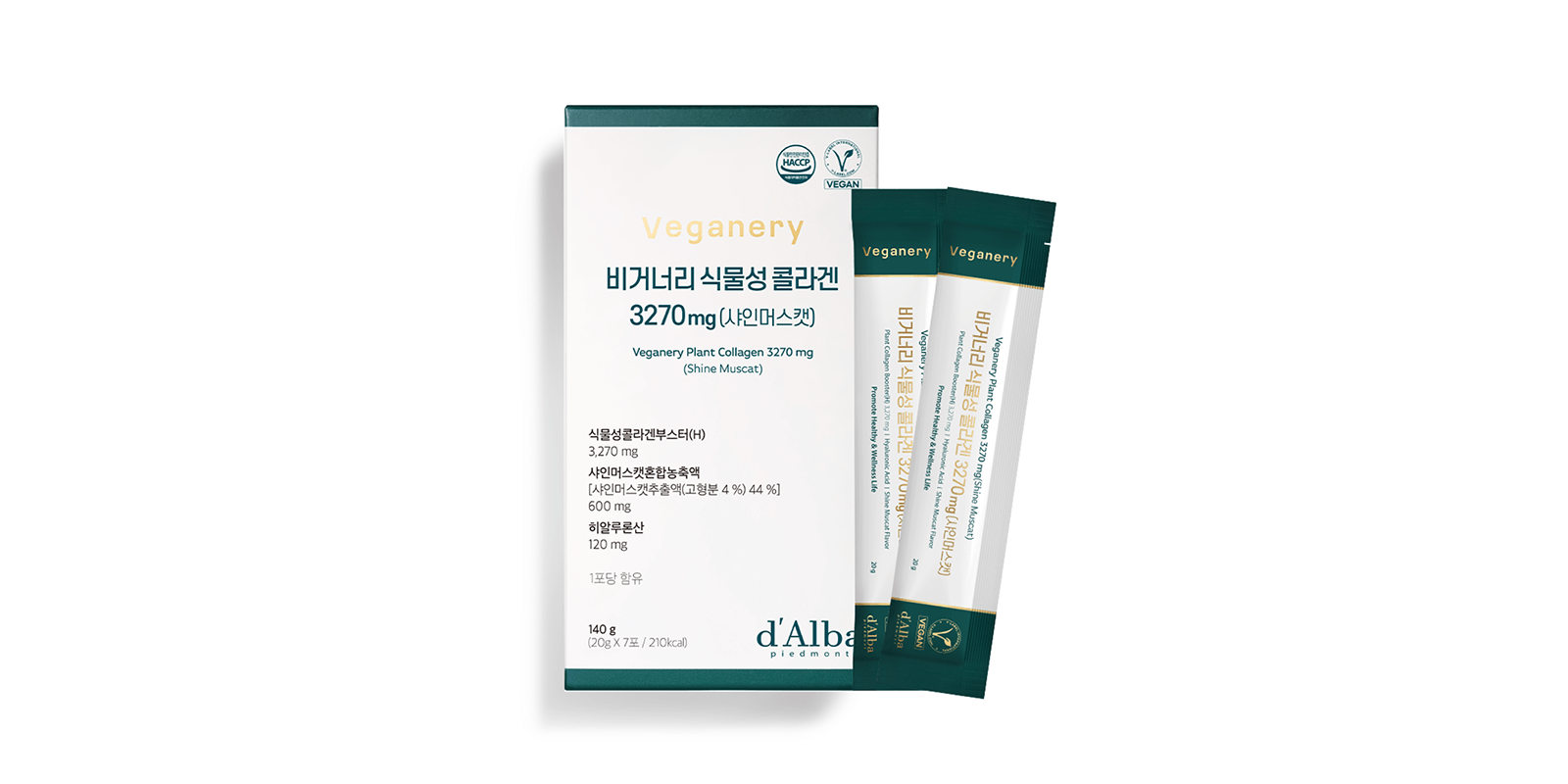 If you are searching for a vegan collagen supplement providing high doses of collagen peptides, Veganery's Plant Collagen is a great selection. Each serving of Veganery's Plant Collagen contains 3,270 mg of collagen peptides (<500Da) derived from hibiscus extract, along with hyaluronic acid, Vitamin B1, B12, C, D, and E, and Centella asiatica extract. The brand Veganery is made by the vegan beauty brand d'Alba, so you can be confident in the processes it undergoes. Not to mention, this product has gone through extensive testing to guarantee the absence of residual pesticides, marine pollutants, microplastics, and traces of heavy metals.
Best Korean Collagen Powder | Contains 99% Fish Collagen and 1% Vitamin C | Low-molecular (<1000 Da) | Unflavored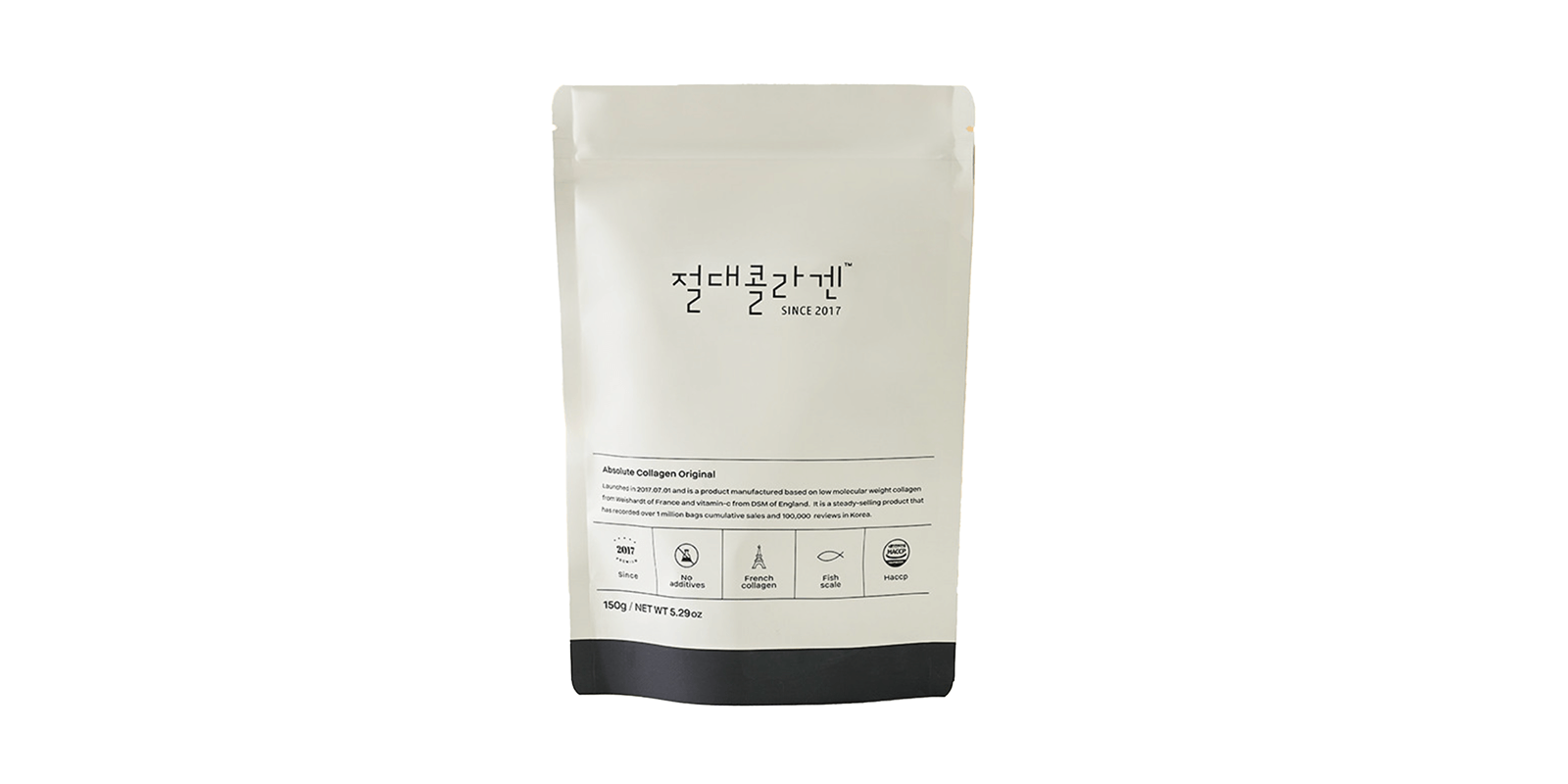 This Absolute Collagen has consistently held the title of the 'most popular collagen product' on Naver for three consecutive years. The sheer number of reviews, totaling over 170,000, speaks volumes about the trust and satisfaction that customers have for this Absolute Collagen. This Korean collagen powder offers the finest combination of fish collagen peptides with Vitamin C to promote collagen synthesis. Each gram offers 990 mg collagen peptides and 10 mg of Vitamin C. By choosing Absolute Collagen, you can have peace of mind knowing that you are nourishing your body with premium ingredients that have undergone strict quality control measures.
Best Korean Collagen Jelly |  Contains 2,000 mg of Fish Collagen Peptide | Low-molecular (500 Da) | Flavor: Pomegranate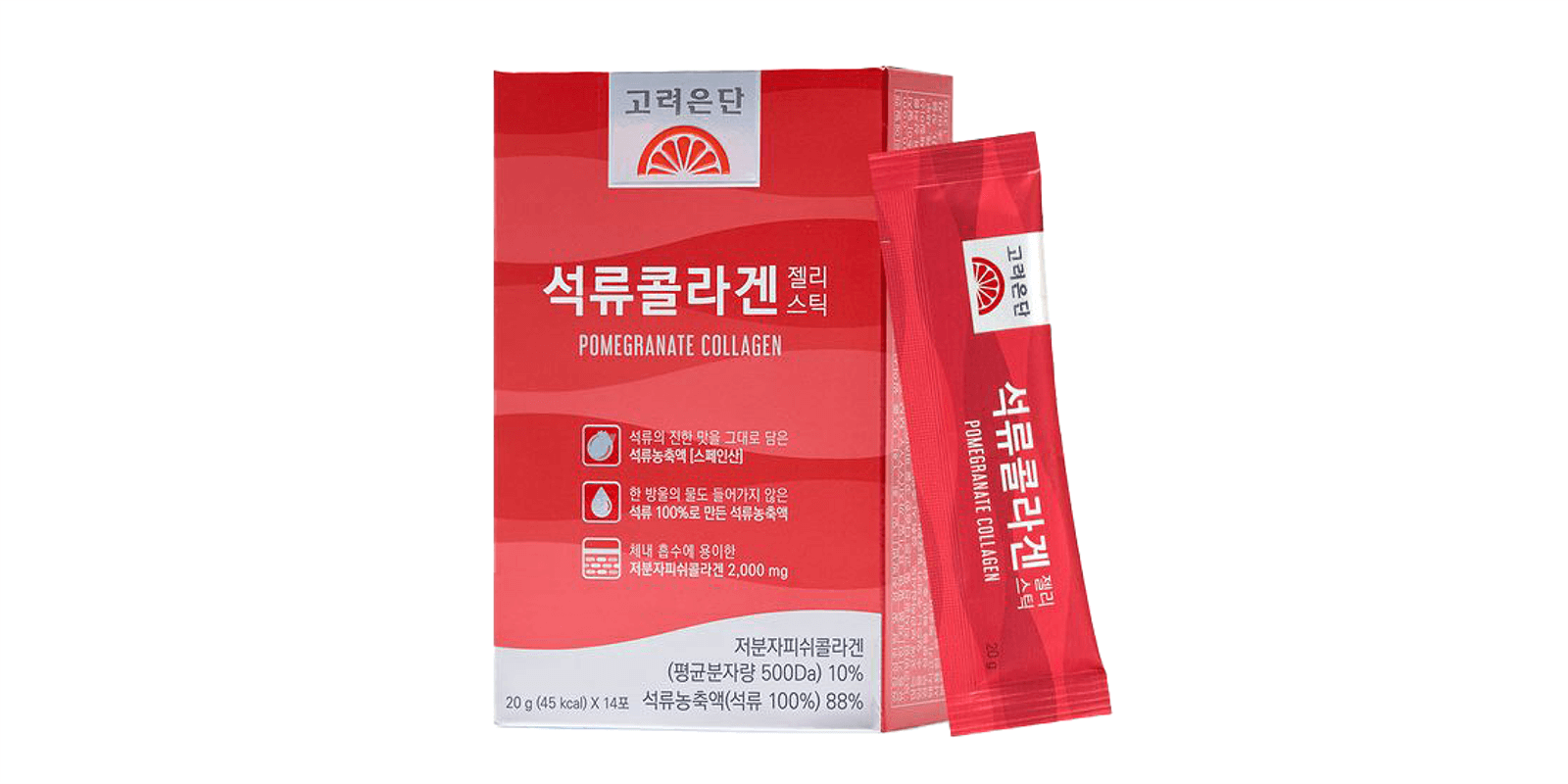 If you enjoy the convenience of chewable supplements, this pomegranate collagen jelly stick is a perfect companion for your busy days at school or work. You get 2,000 mg of fish collagen peptides (500 Da) and a generous 17,600 mg of concentrated pomegranate every day. Not only does pomegranate concentrate serve as a rich source of antioxidants, flavonoids, vitamins, and minerals, but it also boasts the presence of ellagic acid and punicalagin. This delightful blend of collagen and pomegranate will help reduce the appearance of fine lines and wrinkles, leaving your skin looking youthful and radiant.
Best Korean Collagen Drink | Contains 5,000 mg of VERISOL® Collagen | Flavor: Pink Lemonade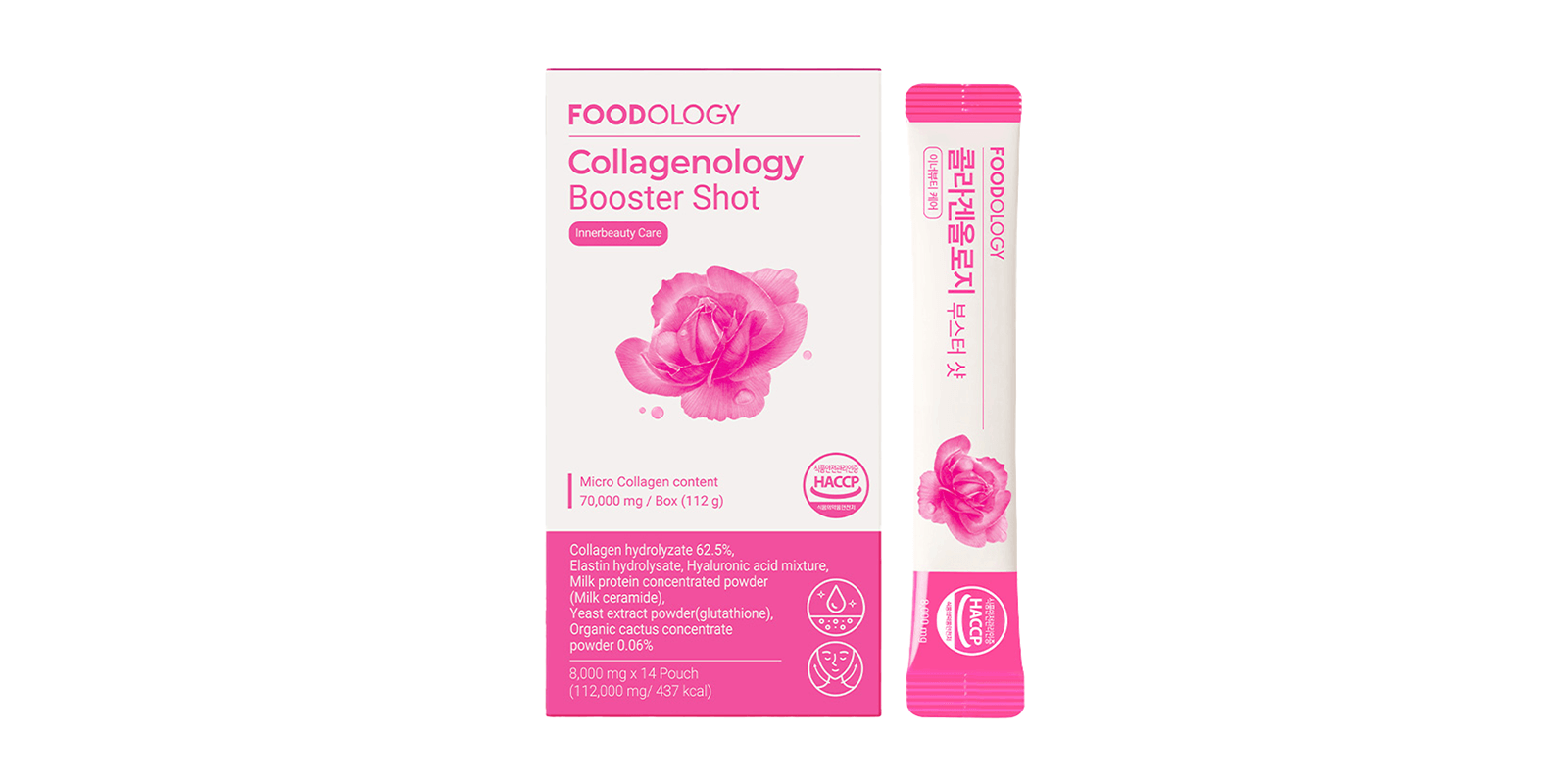 The FOODOLOGY Collagen Booster Shot is a phenomenal solution for enhancing the resilience of your skin. Its unique trio of formulas specifically targets the dermis, collagen synthesis, and epidermis, providing a comprehensive approach to promoting healthy, youthful skin. The first formula is carefully crafted with 5,000 mg of VERISOL® Collagen, a powerful blend of bioactive collagen peptides, hyaluronic acid, and elastin. The second formula is a unique complex of Vitamin C and biotin. Lastly, the third formula combines the benefits of ceramide and glutathione. The great news doesn't stop there, this Korean collagen drink is infused with a delightful pink lemonade flavor that will leave your taste buds satisfied. Simply mix one serving with 500 mL of water and enjoy it whenever suits you best.
Best Korean Collagen Mask | Contains 50,000 ppm of Collagen |  Low Molecular (243 Da) | Dermatologically Tested | EWG Green Grade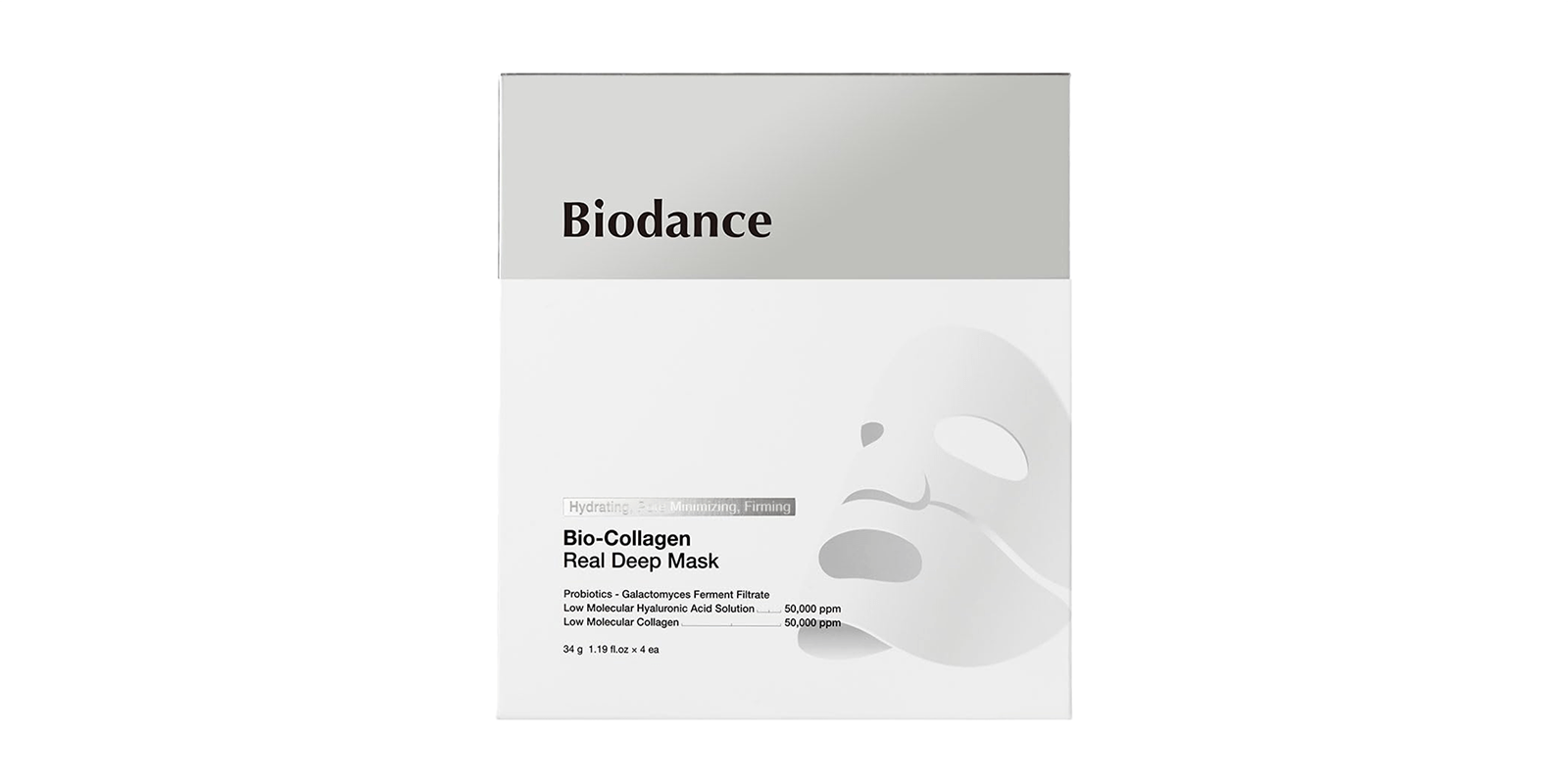 The Biodance Bio-Collagen Real Deep Mask is made with precision. It holds 34g of intense ampoule that has been blended with 50,000 ppm of low-molecular collagen and 50,000 ppm of low-molecular hyaluronan. The rich concentration of nourishing ingredients works wonders for your skin, delivering a deep and lasting hydration that you can truly feel. To maximize the benefits of this Korean collagen mask, Biodance recommends leaving it on for 3 hours or more, or even overnight. As time goes by, the mask gradually turns transparent as your skin eagerly absorbs all the active ingredients. This unique feature not only guarantees convenience but also allows you to gauge when it's time to remove the mask.
Best Korean Collagen Serum | Contains 600,000 ppm of Marine Collagen | Low Molecular (<240 Da)  | Dermatologically Tested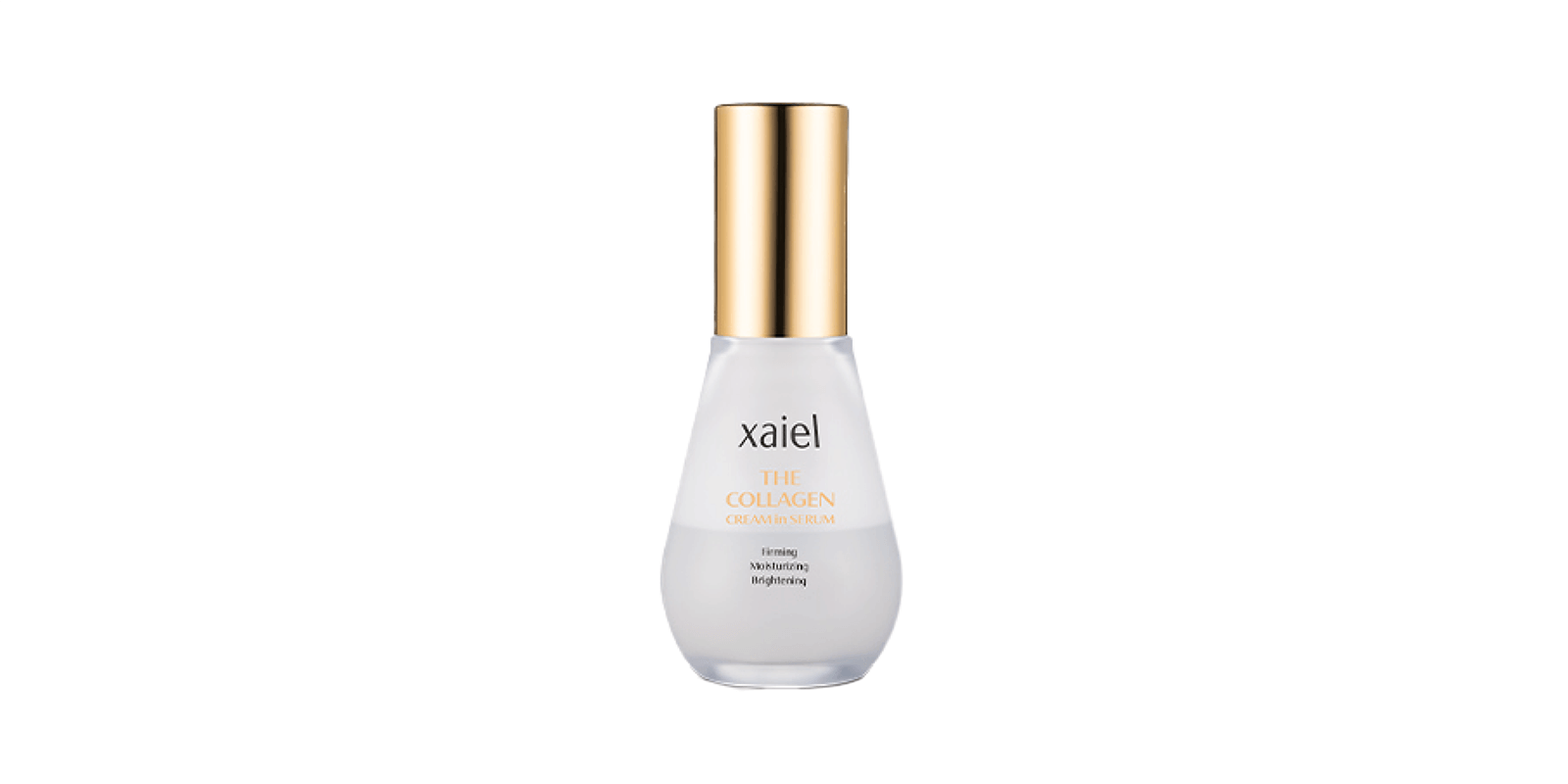 Xaiel's Collagen Cream-in-Serum is a revolutionary skincare solution that penetrates the skin 47 times better, activating stem cells to effectively combat wrinkles and improve skin texture. With an impressive concentration of over 600,000 ppm of marine collagen peptides (<240 Da), this serum ensures that your skin receives the best possible benefits. And that's not all—the brand has included Allure Vita and glutathione to target melanin and brighten your complexion specifically. But that's not the fundamental reason that this Korean collagen serum stands out from the rest. Its inclusion of a patented ingredient known as "Jaielite," serves as an extraordinary shield, safeguarding and fortifying your skin barriers. Jaelite acts like a magnet to attract and eradicate bacteria residing within the epidermal layers. And thanks to its powerful anti-inflammatory and antibacterial properties, it helps reduce skin temperature, providing relief from heat-induced skin irritation.
Best Korean Collagen Cream  | Contains 76% of  Hydrolyzed Marine Collagen | Dermatologically Tested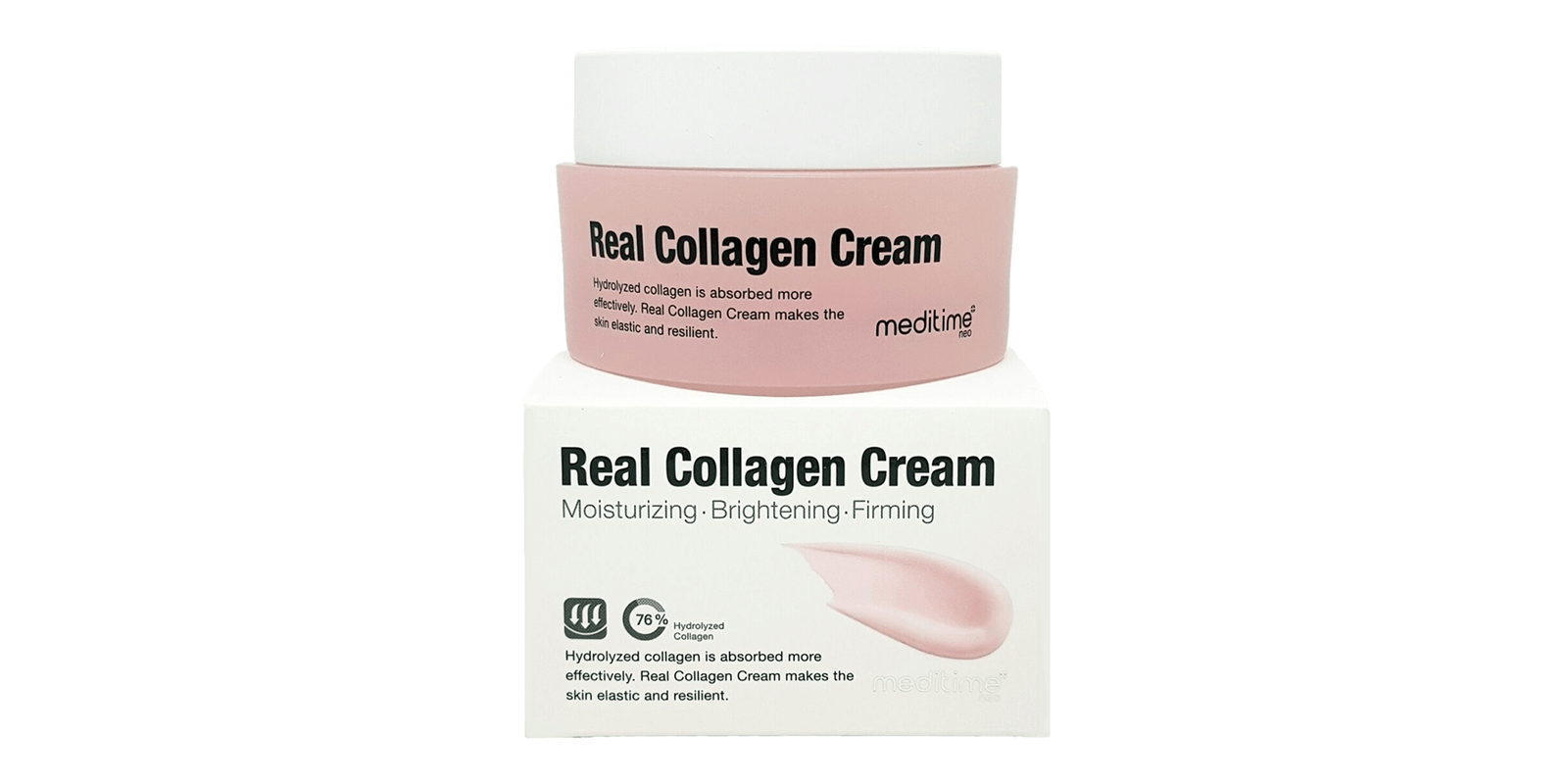 Unlike other Korean collagen creams that often fall short of their claims, Meditime has taken a stand against misleading products that merely contain purified water disguised as "collagen creams". A quick search for the "best collagen cream" on Google will reveal countless products that disappointingly list purified water as their primary ingredient. However, Meditime's Real Collagen Cream stands out from the crowd. Their primary ingredient is high-quality hydrolyzed fish collagen (76%), ensuring that you receive the maximum benefits for your skin. Meditime takes it a step further by incorporating its patented technology, guaranteeing that the active ingredients deeply penetrate the layers of your skin. This cream is composed of a myriad of other beneficial components, such as epidermal growth factor (EGF), fullerene, aquaporin, niacinamide, adenosine, and caviar extract, among others. What's more, it is exceptionally lightweight and absorbs rapidly, leaving your skin feeling intensely hydrated.
Best Korean Collagen Ampoule | Contains Optimal Ratio of Retinol to Collagen | Vegan Certified by V-Label | Dermatologist Tested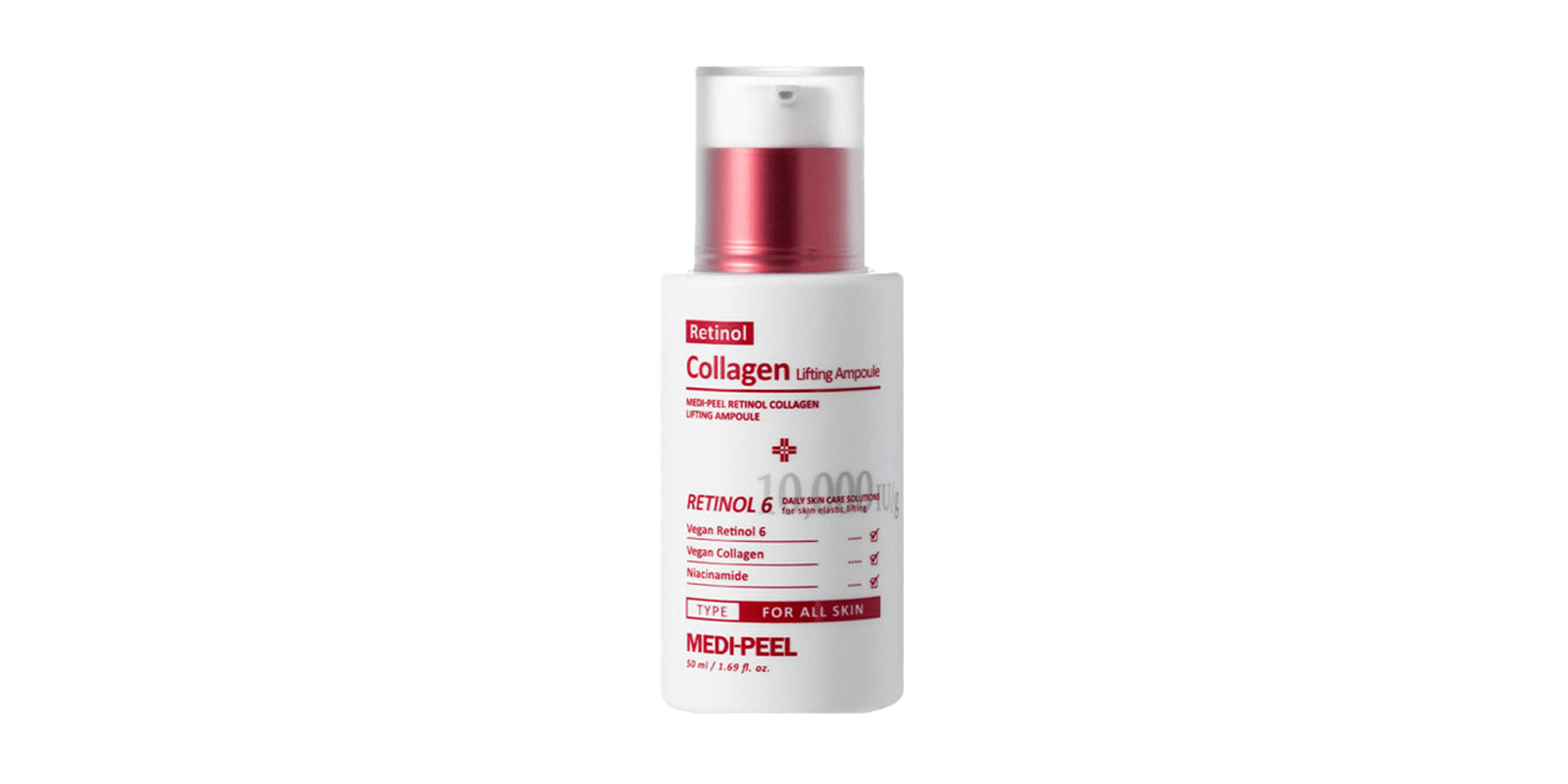 The Medipeel Retinol Collagen Lifting Ampoule goes beyond simply enhancing skin elasticity and hydration with collagen. It takes a holistic approach by utilizing retinoids to stimulate the skin's collagen production. What's even better is that this Korean collagen ampoule is V-label certified, making it a perfect choice for vegans. Medipeel has included Camellia japonica, also known as RedSnow, to act as a protective shield against environmental stressors, and green tomato SE extract to rejuvenate and fortify the skin. This Korean collagen ampoule also features the remarkable benefits of Centella asiatica, renowned for its ability to brighten the skin by reducing melanin production and addressing pigmentation concerns.
Keep in mind that it's important to know the do's and don'ts when using products containing retinol.
Best Korean Collagen Eye Cream | High in Hydrolyzed Collagen | Dermatologically Tested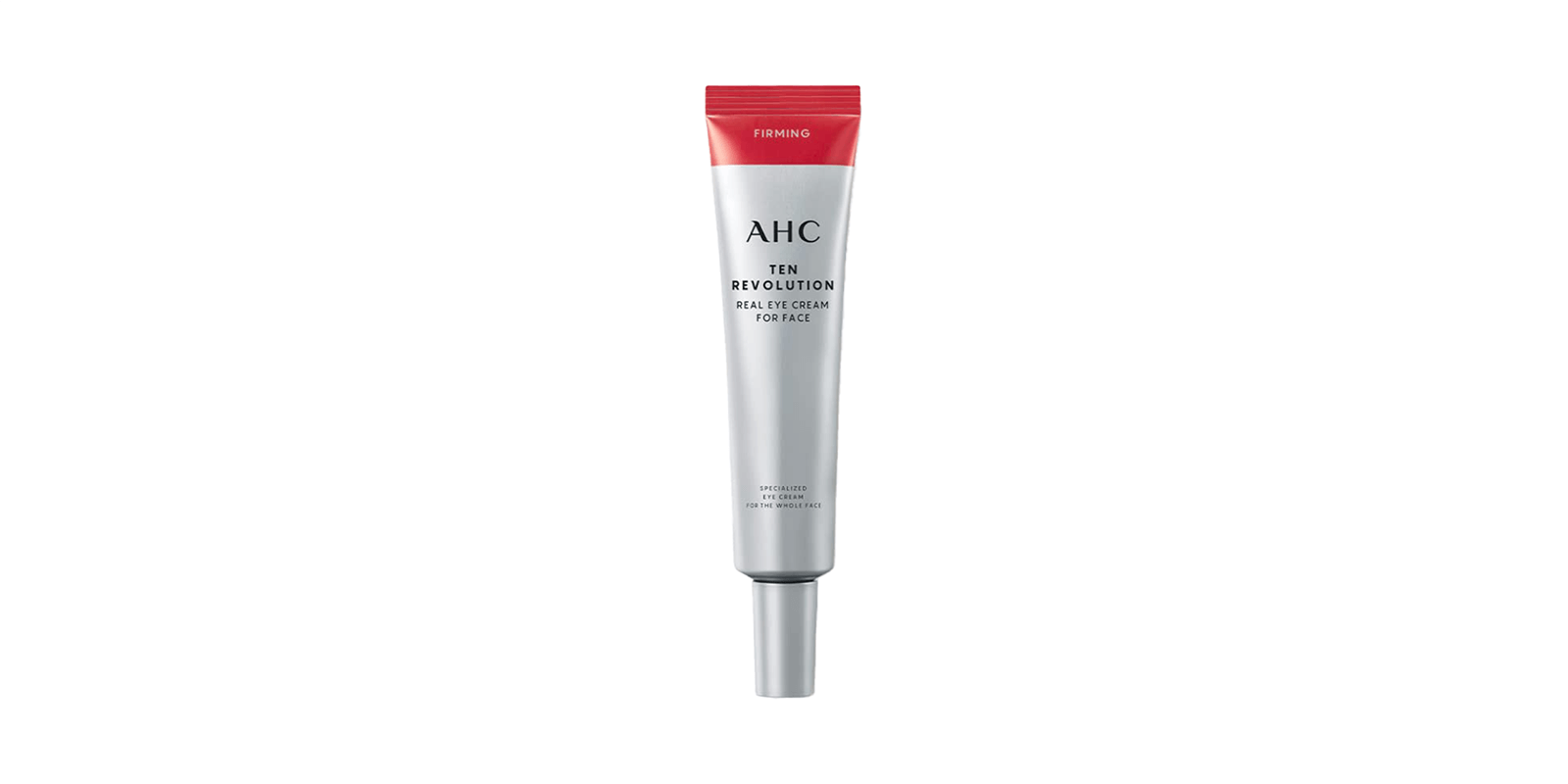 When it comes to Korean eye creams, AHC is undoubtedly the brand that springs to mind for most people. They have dominated the market for six consecutive years, selling an astounding number of over 100 million products. In particular, the Ten Revolution takes their already exceptional eye cream to new heights. This groundbreaking formula boasts double the collagen content compared to their previous product, incorporating three types of collagen that closely mimic the natural collagens found in our bodies. This Korean collagen eye cream is enriched with human stem cell conditioned media (SCCM) which has been proven to work wonders in enhancing the skin's moisture levels, improving regeneration and elasticity, and promoting a brighter and more youthful complexion.
If you've been drawn to any of the collagen products on this list, sign up and shoot us a message to find the best deal!
KoreanBuddies provides personal shopping solutions and strives to provide a seamless online experience when buying products from Korea. All you need to do is list everything you want to buy and our experienced team will do the shopping, inquiring, packing, and shipping for you. You can sit back and relax after placing your order (check out our instant quote page — completely free to use and highly accurate).
Have any questions? Contact us at support@koreanbuddies.com and one of our friendly team members will get back to you soon.