The Best Online Kpop Stores
If you're a Kpop fan, you know that the love for your favorite group goes beyond just listening to their music. Collecting merchandise is a huge part of the fandom culture, and finding the right online Kpop store to purchase your favorite Kpop goodies can be a daunting task. With so many options out there, it's hard to know where to start. That's why we've put together a list of the best online K-pop stores that offer a wide selection of albums, clothing, posters, and accessories. Whether you're a new fan or a seasoned collector, these stores are sure to have something that will satisfy your Kpop cravings.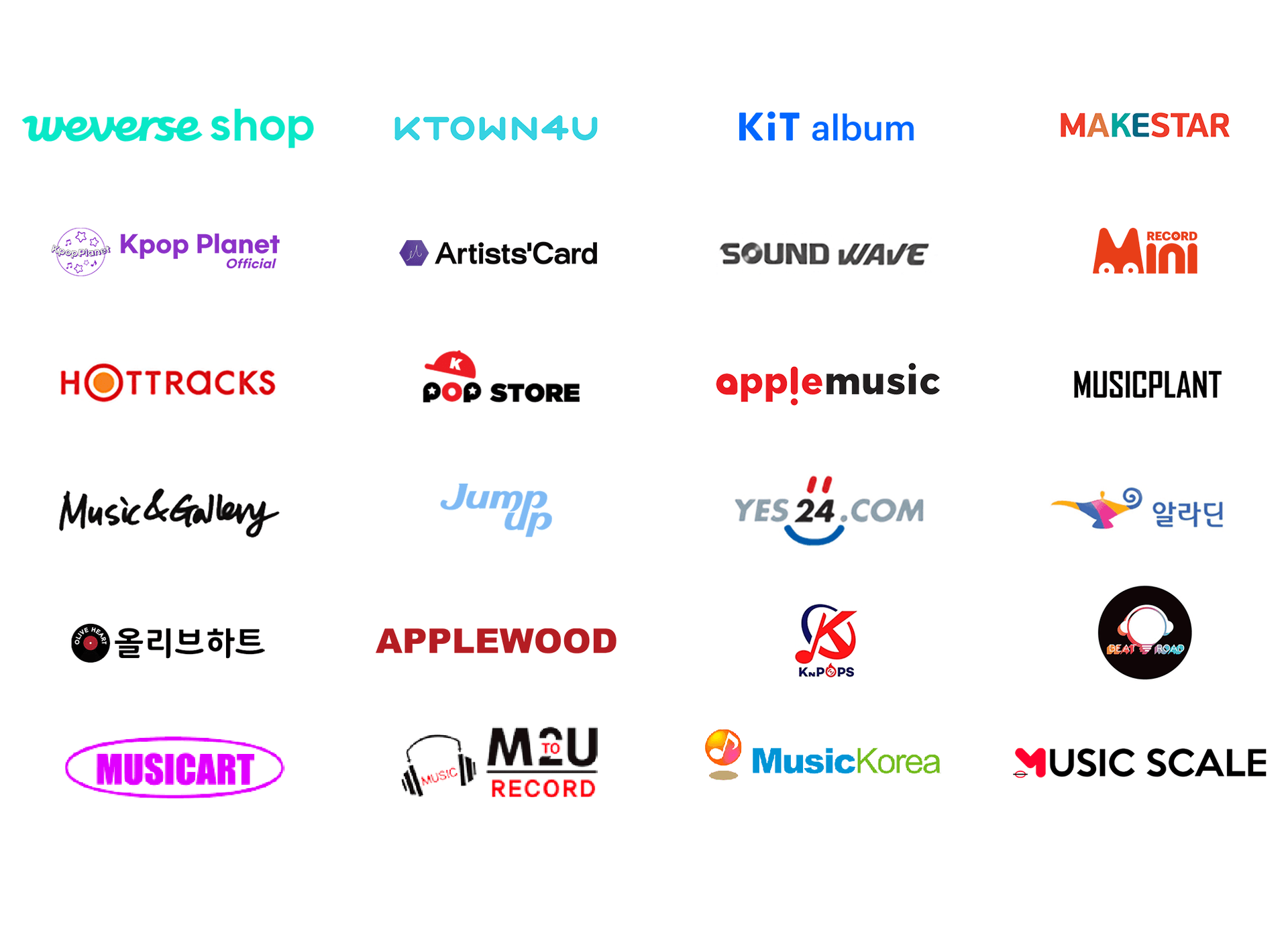 What are K-pop Stores?
Kpop stores are offline and/or online stores that specialize in selling Korean pop merchandise, including albums, posters, accessories and light sticks. These stores offer a wide range of products from various Kpop companies, making it easy for fans to find and support their favorite Kpop artists.
What is the point of buying K-pop albums?
1. Your idol gets better recognition and acknowledgement for their hard work.
2. You get a chance of getting extra Kpop merchandise, such as posters, photo cards, postcards, and stickers etc.
3. The more CDs you buy, the higher the chance of winning an invitation to special events.
Check out this article by Joongang Daily for more insight on why fans buy Kpop albums.
Why is it important to buy K-pop albums from official distributors?
One major reason why you should buy from official sites is that renowned music charts like Circle Chart (previously known as Gaon Chart) and Hanteo Chart only recognize sales from official distributors.
To elaborate, when you buy any Kpop group's album, it gets counted into the scores of music charts. This is the same when you stream your artist's music online. These scores then accumulate and affect the ranking of K-pop artists. Based on these metrics, the artist you support may have a chance of getting awarded during annual award shows.
Although we had briefly covered a few sites where you could buy Kpop albums and merchandise before, we wanted to expand this list for our global Kpop fans. Just to note, we have excluded sites like Smtownandstore, YG Select, and JYP shop as these shops are limited to certain k-pop groups.
Top 10 Kpop Stores Online
1. WEVERSE SHOP
Weverse Shop is the official e-commerce platform of Weverse — a platform to connect and communicate with your favorite artist. Not only is it one of the major distributors of official Kpop merchandise, it is one of the few shops to buy exclusive Kpop goods. You can find Weverse Shop in 3 languages (Korean, English, and Japanese).
2. KTOWN4U
KTOWN4U is the largest Kpop store within Korea and is based on global Kpop fan communities. There are approximately 2.6 million users and 5,200 fan clubs accessing the KTOWN4U platform. This k-pop shop sells a wide variety of Kpop merch including albums, photo books, videos, Kpop lightsticks, and even magazines that feature Korean celebrities. This store supports 6 languages: Korean, English, Chinese, Japanese, Thai, and Indonesian.
3. KiTbetter
Unlike traditional Kpop stores, KiTetter sells kpop albums in the form of KiT albums. The company had recognized the need to refine CDs in line with the decreasing usage of CD players in the modern era. These KiT albums were originally called "Kino albums" back in 2014 — a form of smart music album that contained multimedia and allowed devices to download contents via NFC technology. Later in 2017, these albums were renewed to utilize audio signals instead of NFC.
KiT albums are very compact, convenient, and provide an enhanced experience compared to traditional CDs. To date, around 300 Korean artists have released their music using KiT albums, and more than 5.5 million albums have been sold across 211 countries. KiT album is currently the only smart k-pop album that gets counted into Hanteo Chart and Circle Chart. You can shop at their English store and refer to their instructions on how to use KiT albums.
4. MAKESTAR
MAKESTAR provides crowdfunding services that are specific to entertainment industries, including K-pop, K-dramas, K-movies, and animations. This seller plans and provides products and services that are geared towards consumers, so they're always bringing fresh inspirations to the Kpop market. They've been providing their services ever since 2015, and more than 180 countries have purchased K-merchandise through this store. You can shop here in 5 different languages: Korean, English, Chinese, Japanese, and Spanish.
5. KPOP PLANET
Kpop Planet offers a variety of authentic K-pop merchandise, including albums, photo books/cards, light sticks, stationery, and even goods like candle warmers. You can easily find items for both popular Kpop groups and lesser-known groups on their store. They offer competitive pricing for Kpop merchandise, which can be more affordable than other retailers. K-pop Planet also offers international wholesale options.
Artists' Card is an e-commerce platform that simplifies the process of buying Kpop merchandise. From new goods to secondhand, their store sells everything Kpop-related. Moreover, they ship to 20 countries and provide their services in 9 languages (Korean, English, Japanese, Chinese, Spanish, Deutsch, Indonesian, Thai, and French), making it easier for global K-pop fans to shop.
7. SOUNDWAVE
At Sound Wave, enjoying Kpop is extremely hassle free and it's easy to navigate through their well-designed website. They have their own "weekly chart" that reflects the rankings of best-selling albums — it's a refreshing approach to display popular products. Sound Wave does not limit themselves to K-pop albums, you can also find merchandise of K-indie artists, and classical music records. This K-pop store is available in 4 languages: Korean, English, Chinese, and Japanese.
Mini Record is one of the few Kpop stores who have taken a stance against environmental issues — in particular, the excess packaging of Kpop merchandise. This seller believes that music should be enjoyable to both people and the environment. From packaging to photo cards, Minirecord insists on using eco-friendly ingredients wherever possible. So this store is a great choice for environmentally conscious Kpop fans!
9. HOTTRACKS
You may have heard about Hottracks before when we introduced three Korean bookstores in one of our posts. It is a stationery store that is part of Kyobo Book. You can buy K-pop albums, music records from other genres, and even Kpop merchandise that are perfect as a gift through Hottracks.
10. KPOPSTORE
Kpop Store is another well-known k-pop shop that sells a wide variety of kpop merch, such as light sticks, photo books, and accessories. This seller strives to blend Korean media (aka "Hallyu") with digital technologies so that fans get to express their passion and experience a broader range of interactive products. Their website is user-friendly, and available in 4 languages, so you can easily find your favorite artists' merchandise as well as pick an interest towards other k-pop groups.
Other Online K-pop Stores To Buy KPOP Albums and Merchandise
11. WITHMUU
12. APPLE MUSIC
13. MUSICPLANT
14. MUSIC & GALLERY
15. JUMPUPENT
16. YES24
17. ALADIN
18. OLIVE HEART
19. APPLEWOOD SHOP
20. KNPOPS
21. BEATROAD
22. MUSICART
23. M2U RECORD
24. MUSICKOREA
25. MUSICSCALE
Check out Hanteo Chart's list for more certified k-pop stores!
Korean Buddies provides personal shopping services and strives to provide a seamless online experience when buying products from Korea. All you need to do is list everything you want to buy and our experienced team will do the shopping, inquiring, packing and shipping for you. You can sit back and relax after placing your order (check out our instant quote page — completely free to use and highly accurate).
Not a member? Sign up to get started.
Have any questions? Contact us at support@koreanbuddies.com and one of our friendly team members will get back to you soon.