How To Use Gmarket Global For Beginners
Gmarket, a subsidiary of Shinsegae Group, is South Korea's largest open market. Since its establishment in 1999, Gmarket has become a powerhouse in the e-commerce industry, currently ranking third in Korea's market share as of Q2 2023. Gmarket Global offers a diverse range of Korean products, catering to both domestic and international customers. With the convenience of shopping from the comfort of your own home, Gmarket has become a go-to platform for millions worldwide. Notably, Gmarket stands out with its well-established English website and dedicated customer service team for English queries in Korea.

In this beginner's guideline, we provide you with everything you need to confidently embark on your shopping journey with Gmarket Global. Our informative guide will equip you with insider tips and tricks to enhance your shopping experience and ensure you make the most out of your time on Gmarket.
1. Create Your Gmarket Account
To get started, simply follow these four easy steps to create your Gmarket Global account.
1. Click on the Register button located at the top-middle of the webpage.
2. Fill out your details, including your username, email, and password. Once you have entered your information, verify that everything is valid.
3. Review the terms and conditions and make sure to check all the essential fields.
4. Submit your registration and verify your email address to complete the process.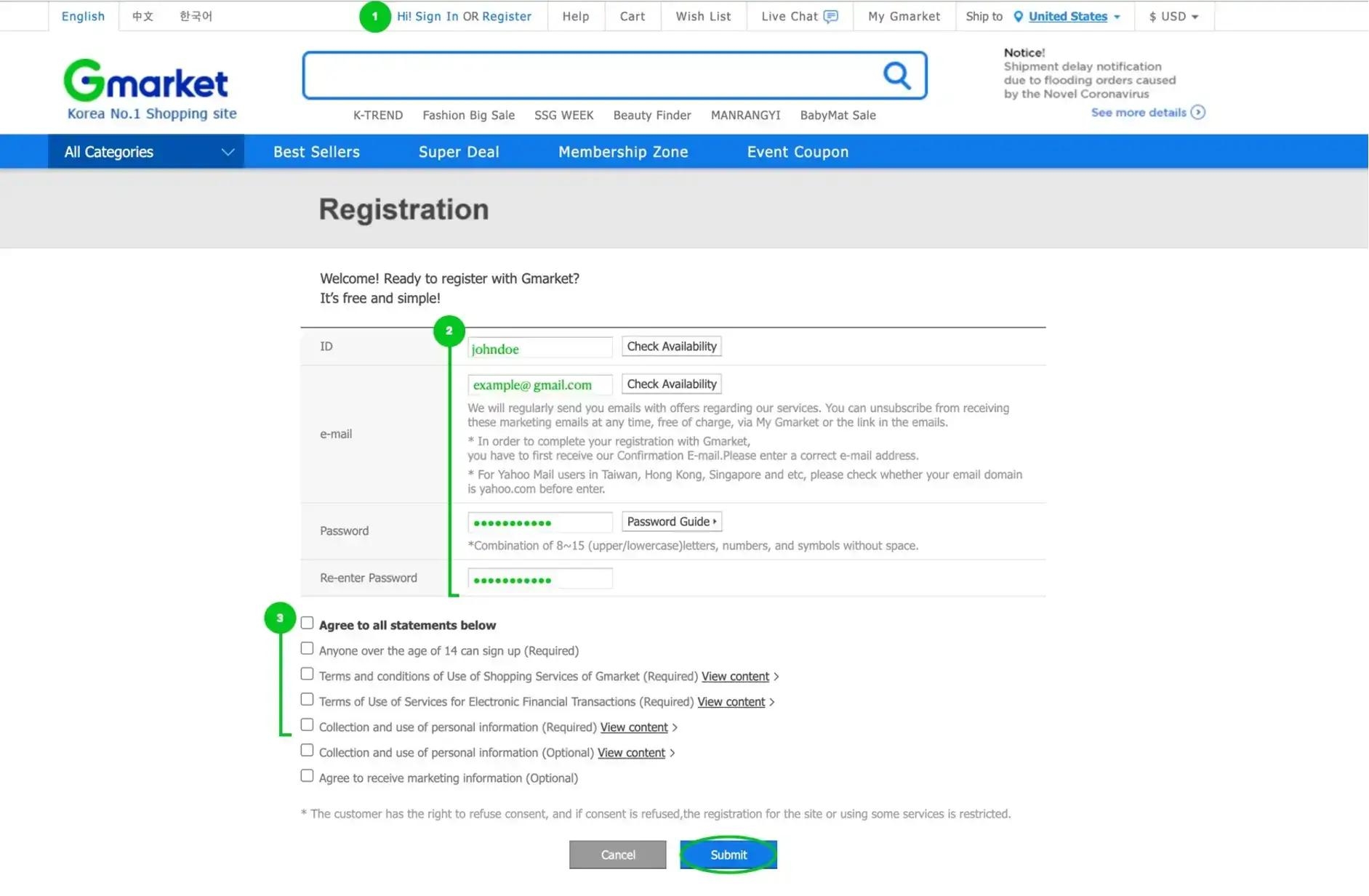 2. Select Your Shipping Region and Currency
Make sure that you have selected your shipping region and currency before moving on. This way you will be able to view the converted product prices when browsing through the website, and identify whether the product you want is available to ship to your region.

3. Search for the Product(s) You Want to Add
Once you have set your currency and shipping region, you can easily search for the product you want to buy on Gmarket Global. A major advantage of shopping on Gmarket Global is that all products are searchable in English. For example, if you enter "Pintuck Wide Jeans" in the search bar, Gmarket will give you 9,808 results across 15 categories. The same results will be shown even if you search for the Korean alternative "핀턱 와이드 청바지," so there is no need to worry about using the exact search terms.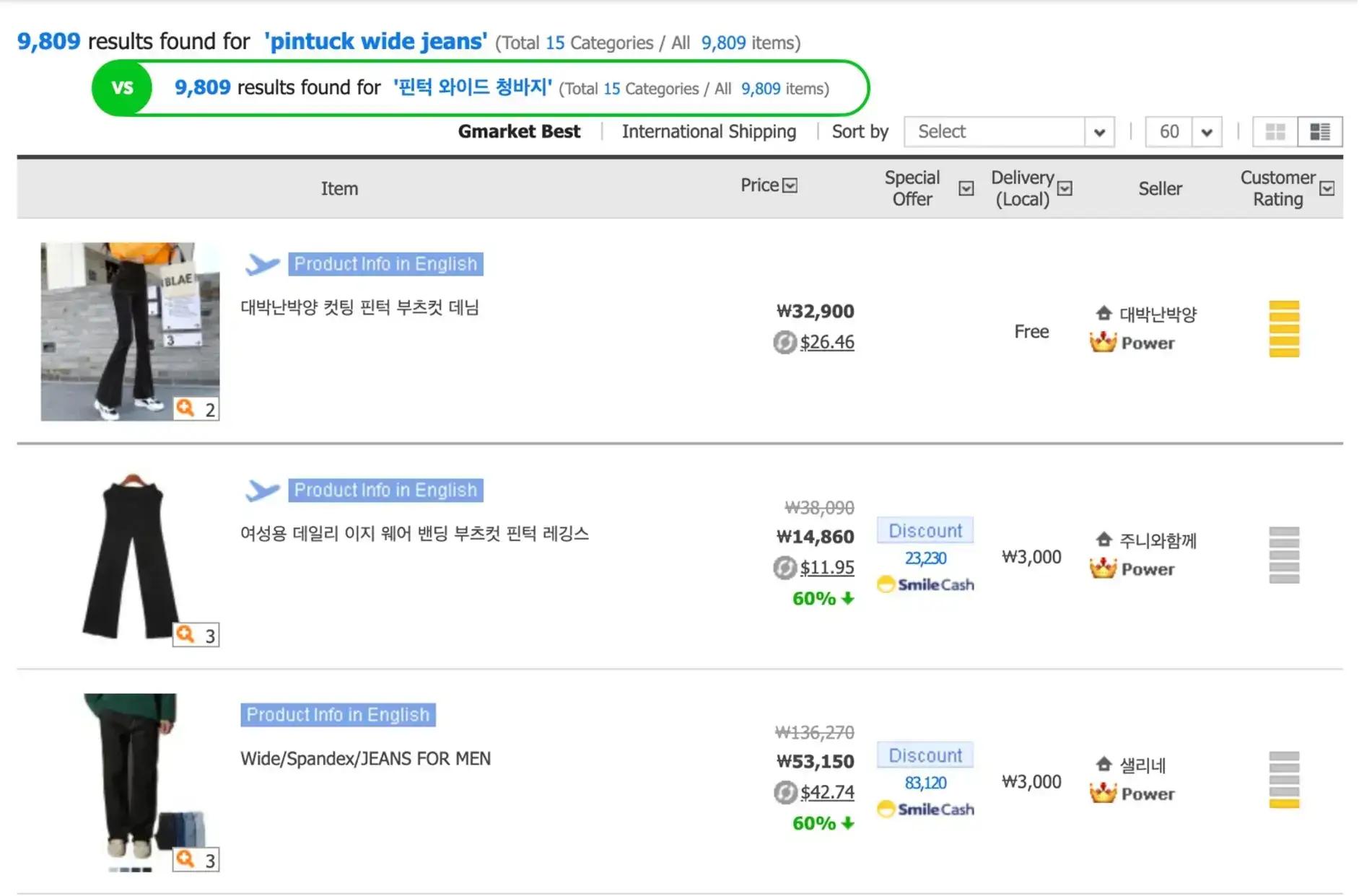 4. Check if the Product Is Eligible for International Shipping
Before proceeding to the product page, take note of the following three points:
1. Airplane Icon: This icon indicates that the product is eligible for international shipping. By default, the filter is set to "Gmarket Best," which displays products available for both domestic and international shipping. To view only products that can be shipped internationally, simply click on "International Shipping" to refine your search.
2. Product Info in English: This label appears when the product name is in English, but please note that it doesn't necessarily mean that the product specifications are also in English.
3. Products with no label and icon: These products are exclusively available for domestic shipping, and their names are not provided in English.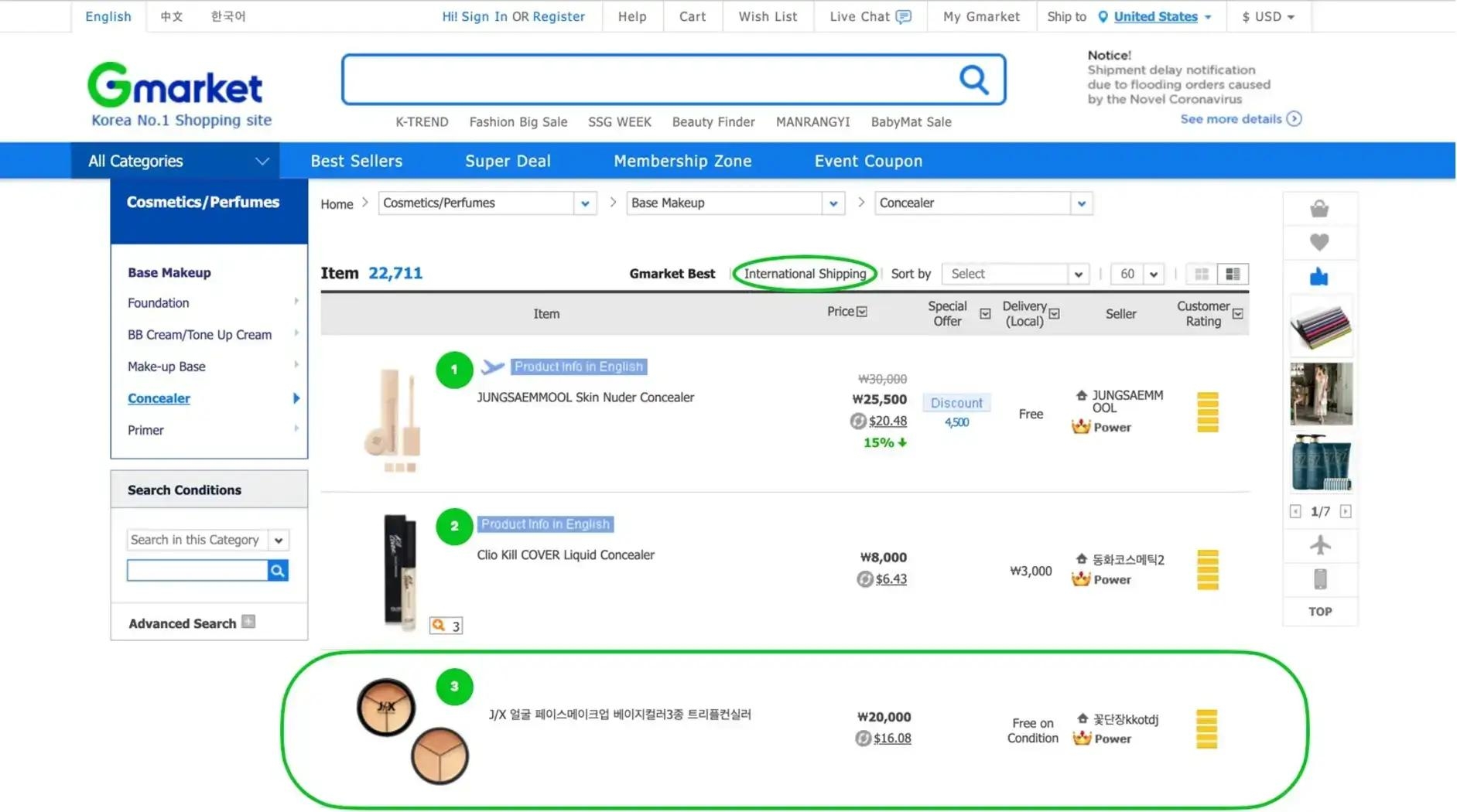 If the product you are interested in is not eligible for international shipping, you can proceed to step 8. In this case, you have the option to use a Korean proxy shopping service to purchase items on your behalf and have the package shipped to you. Additionally, they can act as an intermediary between you and the sellers.
5. Check the Seller's Details
From big brands to individual sellers, Gmarket Global serves a wide range of people, just like any other open market. While most sellers are reliable and efficient in their order processing and communication, it's important to be aware that not all sellers may meet your expectations. To ensure a seamless shopping experience, we recommend referring to the sellers' Gmarket and customer ratings. Look out for power sellers who consistently receive high customer ratings, especially official brand stores. Stick with these reputable sellers to make the most of your time and money.

Gmarket Rating
Gmarket acknowledges outstanding sellers by awarding them with crown icons. These icons are granted based on various criteria such as customer experience and sales performance. For each successful transaction, sellers earn 1 credit point, which accumulates to determine their eligibility for the crown icon. Any delays or shipping issues can have a negative impact on a seller's rating. This rating system is similar to Etsy's Star/Best Seller program. Here are the two types of sellers you want to look for:
Power Seller: These sellers have more than 400 credit points and an average customer rating of above 50%. Look for the gold crown.
Excellent Seller: These sellers have more than 200 credit points and an average customer rating of above 40%. Look for the silver crown.
Customer Rating
Check a seller's customer rating by referring to the five horizontal bars. Each bar represents a rating of 20%, with a full yellow bar indicating 100% customer satisfaction. While these bars are specific to products and not a direct rating of sellers, they serve as a reliable indicator for safe purchases.
6. View the Product in Detail
Click on the product to view its product page and to choose options. We will go through this step-by-step using this product as an example.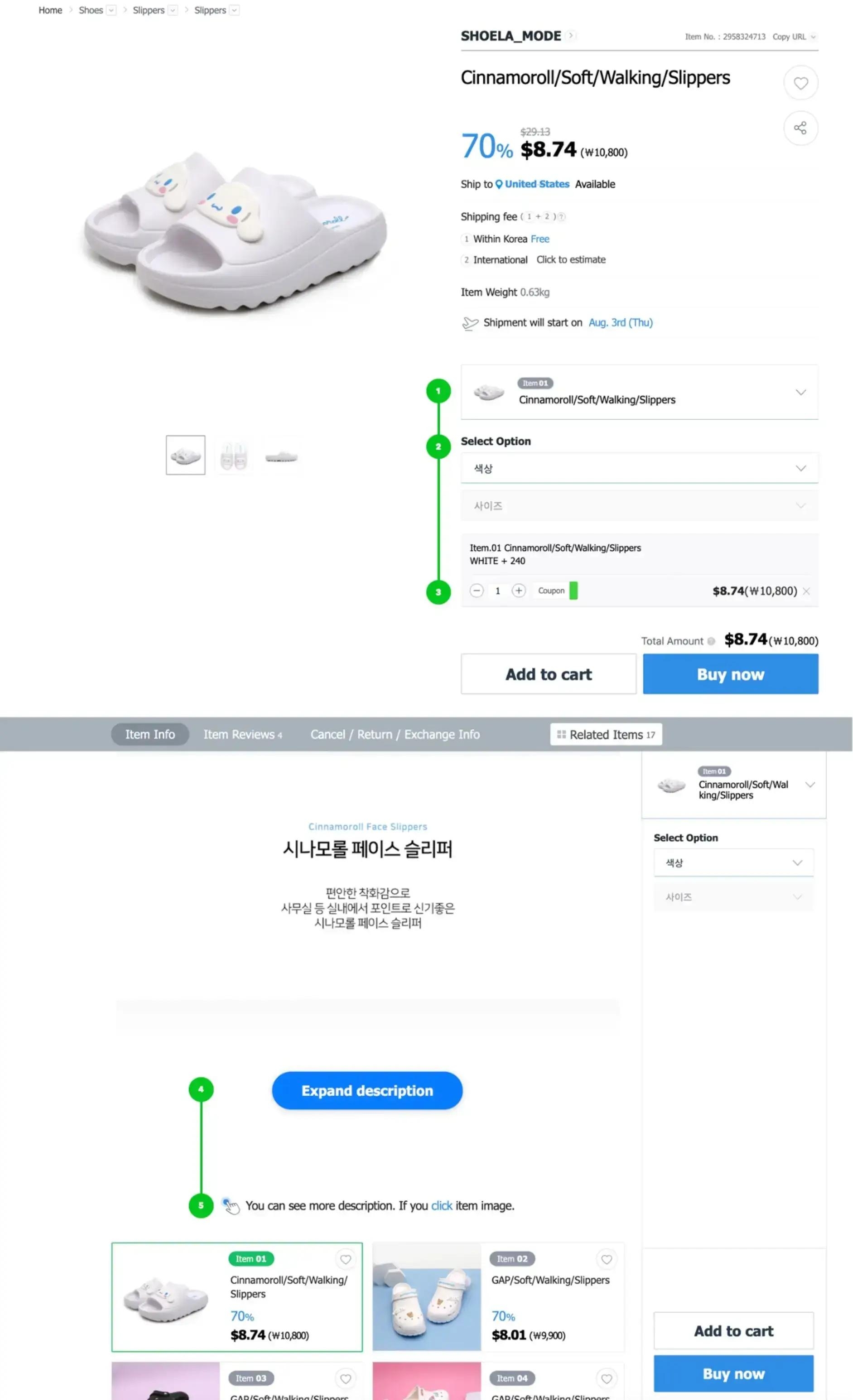 1. Item Listing: Conveniently browse through similar products offered by the same seller.
2. Select Option: Choose the desired color and/or size for the product. To explore the available options, simply click on the 'Expand description' button to access detailed information.
3. Select Quantity & Order Summary: Choose the desired quantity for your selected product and conveniently review the summary of your chosen options. This step allows you to ensure everything is correct before proceeding to add to cart or checkout.
4. Expand Description: For a more comprehensive understanding of the product, simply scroll down and click on the "Expand description" button. This will provide you with in-depth information including product features, functionality, certifications (if applicable), size, and other specifications.
5. Product Listing: In this section, you can conveniently navigate to other products offered by the seller mentioned in section 1.
Where to Find Products with Discounts and Coupons
To catch cheap deals, take advantage of the highlighted areas in the image below. These specific locations are where you can uncover exclusive sales on popular brands as well as clearance items. Simply download valid coupons from the "Event Coupon" page and apply them at checkout to enjoy additional savings.

7. Proceed to Checkout and Track Your Order Status
Once you have placed your items in the cart, you can choose your preferred shipping method and proceed to the checkout page.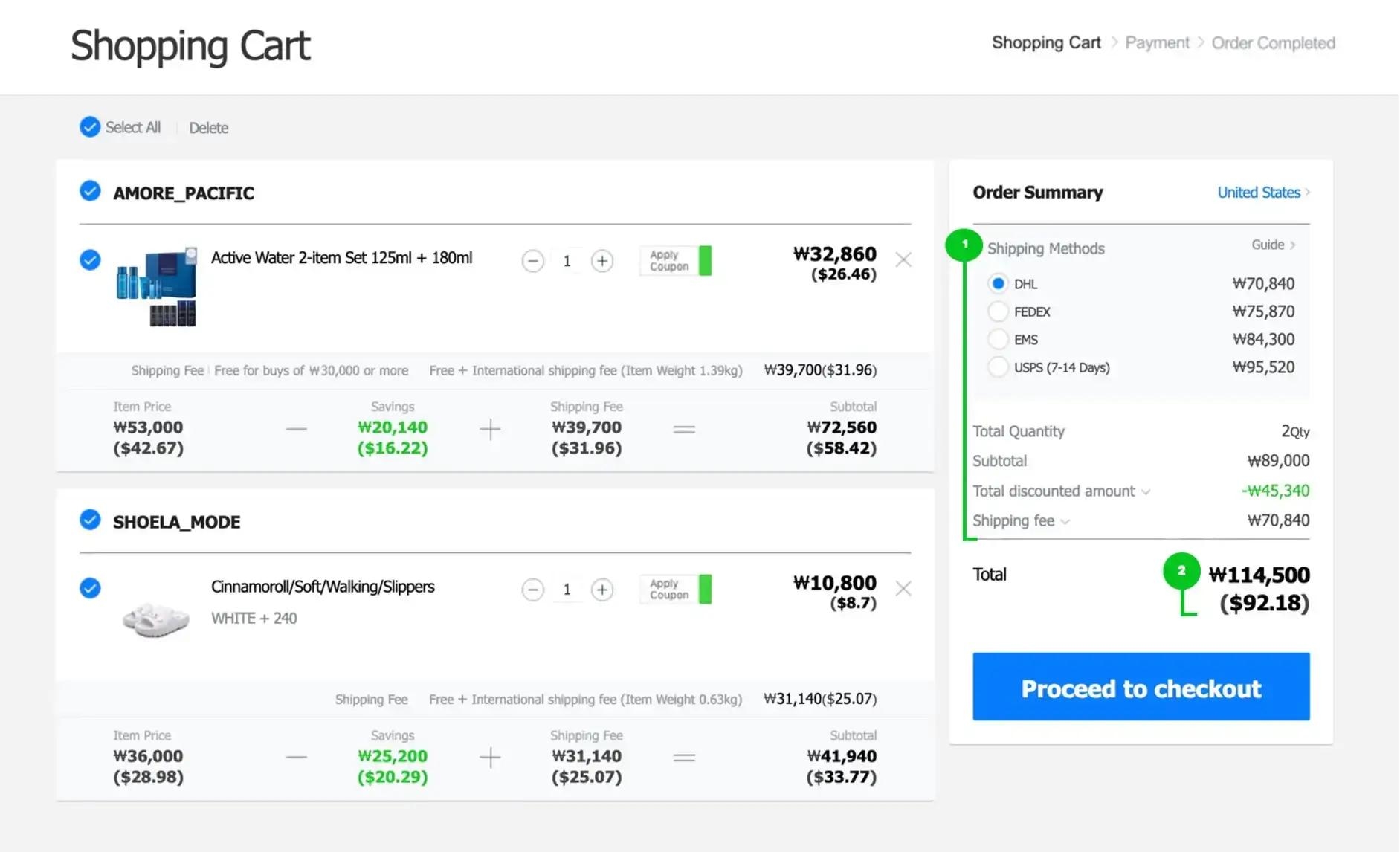 Your final checkout page will look like the below image. There are four categories that you need to go through to complete your purchase:
1. Shipping Address: Provide the recipient's shipping details in English.
2. Importer Of Record (IOR) Number: This unique identification number is issued to you by your country's customs office. The name for this section may vary depending on the destination country, and it is commonly referred to as the importer number, customs registration number, or customs clearance number.
3. Smile Cash: The virtual currency used in Gmarket. You can easily transfer funds to your Gmarket account and use it as Smile Cash. For more information on Smile Cash, refer to these FAQs.
4. Payment Method: Select your preferred method of payment. You can choose from various options including PayPal, Alipay, foreign credit cards (Visa, MasterCard, Union Pay, JCB, AMEX), Korean credit or debit cards, wire transfer, and Smile Cash (enter the amount in section 3).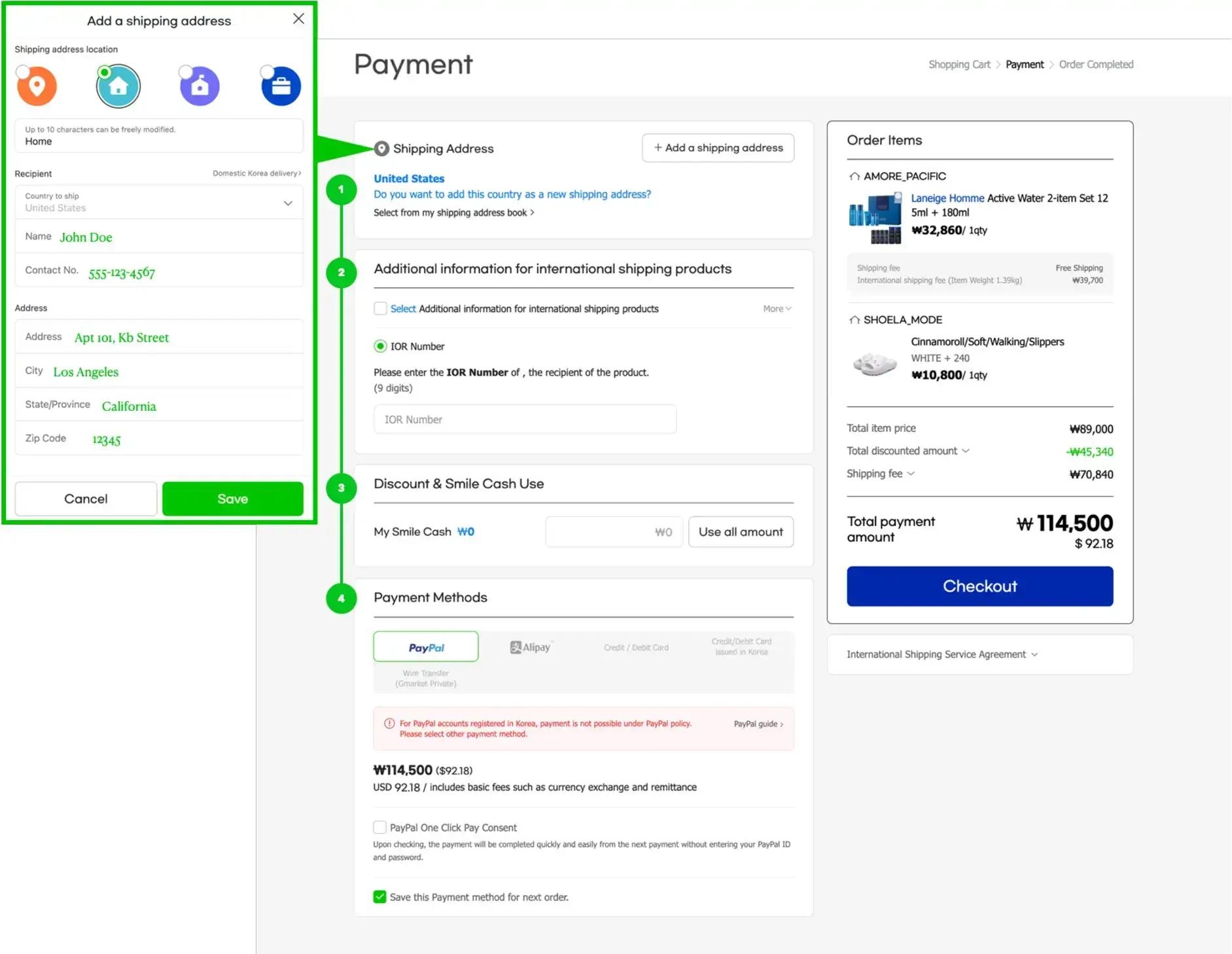 Where to Track Your Gmarket Orders
Once you've placed your orders on Gmarket Global, keeping track of them is simple. Click on "My Gmarket" at the top-right of the search bar to get started. By default, you'll see all your recent orders right away. But if the specific order you're looking for isn't on the first page, don't worry, head over to the "Shopping List" menu to find what you need.

8. Use a Korean Buying Agent
If you're looking to purchase products that are not eligible for international shipping, we have a solution for you. Our Korean Buddies services are here to help you shop from Gmarket and other Korean shops hassle-free. With our services, you can have your packages consolidated and sent to you all at once. Using a Korean proxy buying service can be incredibly useful when dealing with sellers or checking for faulty items. It provides an extra layer of convenience and peace of mind. In case of any disputes or issues, our service can assist you in resolving them quickly.
While Gmarket does offer some level of intervention, it's important to note that they have made it clear that they won't be held responsible for any liabilities or defects caused by the sellers. Therefore, it is necessary to contact the seller directly in Korean or rely on Gmarket's Customer Service Center for indirect communication with the seller, bearing in mind that their assistance may have certain limitations. However, don't let international shopping restrictions stop you from getting what you want. Utilize our Korean Buddies services and enjoy a seamless shopping experience from your favorite Korean stores.
If you have made the decision to use our Korean proxy shopping service, take a look at our comprehensive order form guide to get started on your next Korean shopping adventure.
9. Pay Your Product Invoice and Wait for Items to Be Received
Once you've completed your order form, you will receive a product invoice that outlines the cost of your requested products and our service fee. Our service fee is determined by the value of the items you order. For orders under 100 USD, a minimum fee of 12 USD or the equivalent amount in your desired currency will be charged. All orders over 100 USD will incur a fee of 12% of the total amount. It's important to note that fees are charged per order, so consolidating your items into one order is the most cost-effective way to shop with us.
We offer various payment options to accommodate your preferences, including Paypal, bank transfer, wire transfer (Wise), and crypto payments (Bitcoin or Ethereum). Once you have paid your product invoice, our team will purchase, receive, and inspect your products. You can then expect the photo of your items before paying our shipping invoice.
10. Pay Your Shipping Invoice And Get Ready to Receive Your Package
At Korean Buddies, we believe in offering our customers the lowest shipping rates possible. That's why we don't take any profits on shipping. Instead, our shipping fees are solely based on what the shipping service provider charges us for your package at their negotiated rates. We understand that receiving a separate shipping invoice may seem a bit unusual, but it's actually the most transparent way for us to ensure you're only charged for the necessary fees. Since we work with multiple vendors to fulfill your order, it's impossible to determine your exact shipping fees until we have received all the items.
Rest assured, your shipping invoice represents the final shipping cost and no additional charges will be applied. If you have any questions or concerns, we encourage you to refer to our FAQs for more information or reach out to us at support@koreanbuddies.com. We're here to help!
Once your shipping invoice is paid, your package will be automatically scheduled for the nearest shipping date. With our shipping service available five times a week, you can expect your package to be sent out on the same day or the next, depending on when you make your payment. Now, all that's left to do is sit back and wait for your package to arrive!
Takeaway
South Korea's online shopping volume from overseas has reported remarkable growth in recent years, thanks to the increasing popularity of Korean goods across various industries. To cater to the rising demand, an increasing number of Korean websites now offer international shipping and English versions of their sites. Among these, Gmarket stands out as a leading e-commerce platform for international buyers seeking a diverse range of Korean goods.
As a Korean proxy shopping service, Korean Buddies is on a mission to provide the best Korean shopping experience for those living abroad. This comprehensive guide is designed to equip you with all the essential knowledge you need to navigate Gmarket Global seamlessly, while offering valuable tips to help you maximize its features. And, if you're looking to take your journey to a whole new level, join us to explore and shop for Korean products that are exclusively available in Korea!