Discover the Best of Korean Jewelry & Bags at JESTINA
Get ready to be blown away by the breathtaking world of Korean jewelry and bags at Jestina! This renowned jewelry and handbag brand has been dazzling customers since 1988, offering the perfect accessories to complete your ideal style or surprise that special someone with a stunning gift.

About JESTINA Co. Ltd.
Jestina Co. Ltd. (pronounced "J-estina") is a global lifestyle creator who strives to share every shining moment with their consumers. The company has been a long-running fashion leader, and boasts a history of paving the way for Korean jewelry and wristwatches in the global market.
Jestina has three brands which you can find on their website and at MUSINSA (this post primarily focuses on Jestina Jewelry).
1. J.Estina Jewelry
2. J.Estina Bag
3. Romanson

Source: 1) Jestina Jewelry; 2) Jestina Bag; 3) Romanson (left to right). Adapted from J.Estina.
J.ESTINA Jewelry
Jestina Jewelry was the first Korean brand to introduce bridge jewelry back in 2003. If you're not familiar with bridge jewelry, it's basically the perfect middle ground between fine jewelry and fashion jewelry. It offers the same quality as fine jewelry, but without the crazy price tag. How? By using sterling silver (92.5% pure silver and 7.5% other metals) and other less expensive materials.
But here's the real kicker that sets Jestina Jewelry apart from the rest: their designs are all about European royalty. Think fancy tiaras, elegant crowns, and regal jewels fit for a queen. They take inspiration from Jovanna Estina — a Bulgarian and Italian royal — putting their own spin on her lavish lifestyle. The result? Some seriously premium designs that are perfect for anyone who wants to add a touch of sophistication to their wardrobe.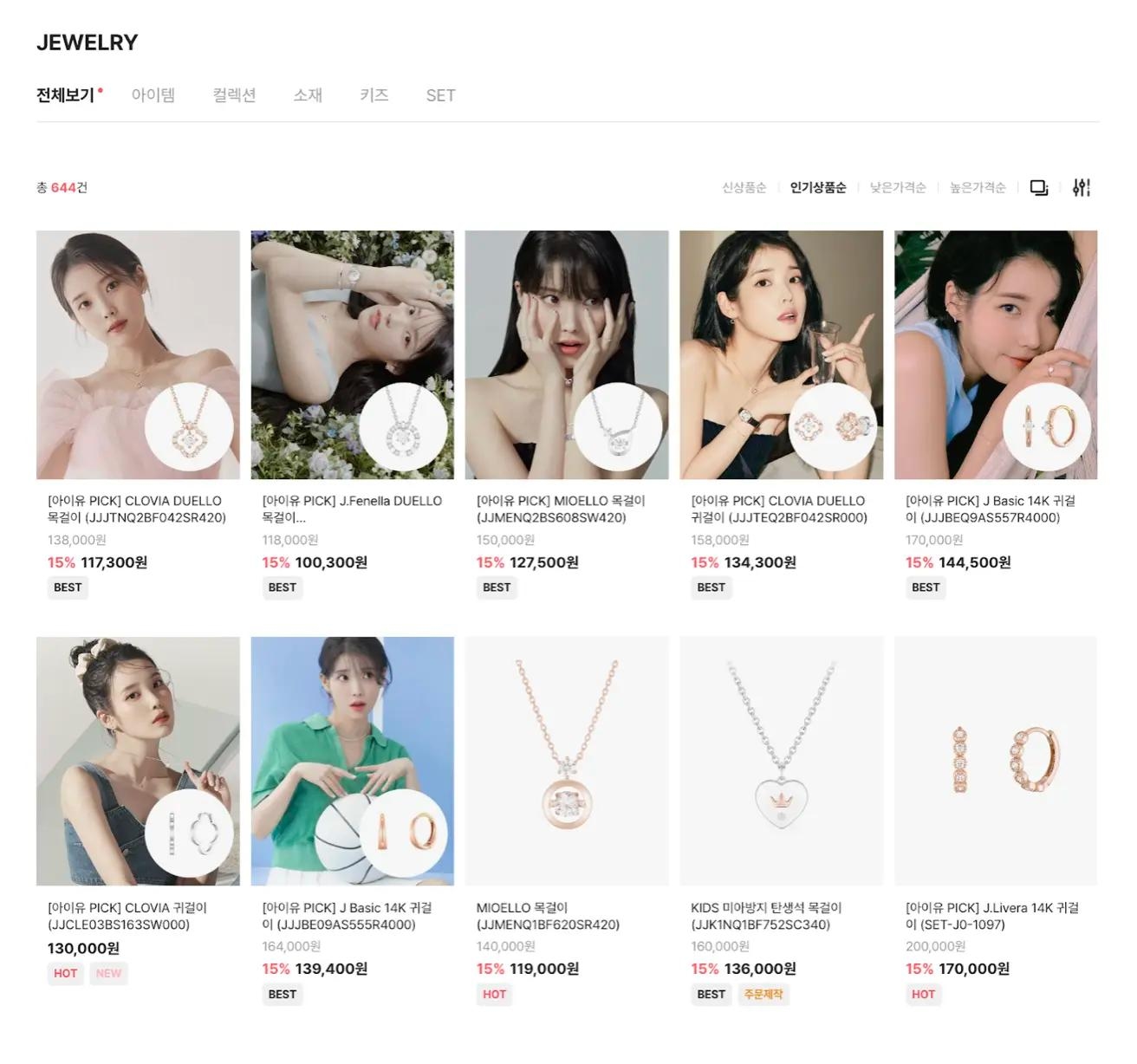 Source: J.Estina
Now, I've come across too many "best Korean jewelry brands" without Jestina on the list, so I've got to say it out-front — you haven't introduced Korean jewelry, if you haven't included Jestina. This brand has been a market leader for so long and has inspired many domestic jewelry brands to constantly innovate their designs. Moreover, they're the ones who created Kim Yu-na's trademark — her "crown earrings" — which sold like "hot cakes" during the 2010 Vancouver Winter Olympics. And if you've watched Hotel Del Luna, you might have spotted IU rocking some Jestina jewels.
Types of Jewelry
With the use of 925 sterling silver and 585 gold, Jestina creates stunning pieces that come in soft silver or rose gold colors and most importantly, are reasonably priced. Whether you prefer modern chic, feminine, or sensational aesthetics, you'll find a pair of lovely Korean necklaces, rings, and earrings that will suit your taste.
In addition to their standard products, Jestina offers a limited range of birthstone jewelry that can be personalized with engravings. These make the perfect gift for a special someone on their birthday. And if you're looking for a romantic gift, check out Jestina's couple rings.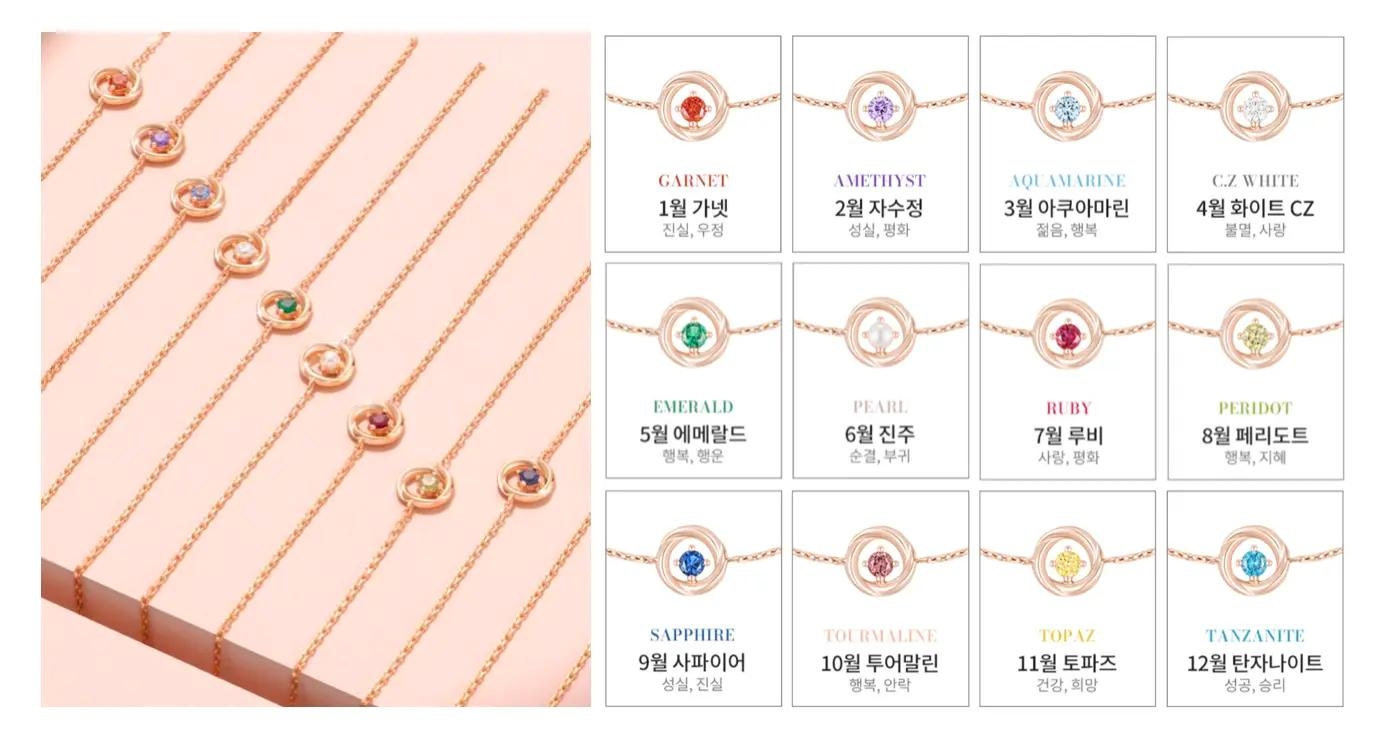 Source: [Lala J Collection] Sunny Birthstone Bracelet. Adapted from J.Estina.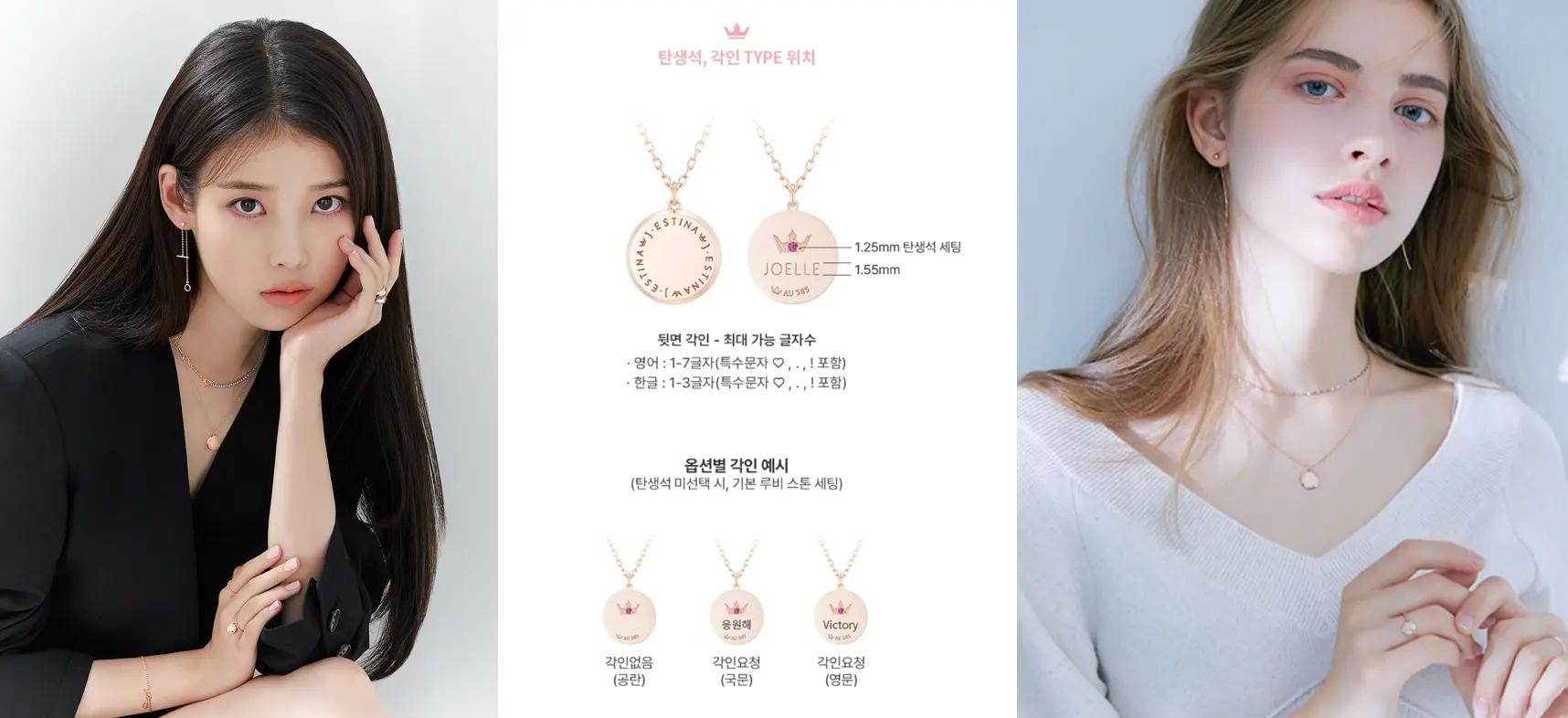 Source: [Jète Collection] Dream Coin 14K Birthstone Necklace. Adapted from J.Estina.
Jewelry sizes
Product specifications are provided clearly at the bottom of each page. The only time you'll need to whip out the measuring tape is when you're buying a ring (okay, maybe not a measuring tape). Jestina rings are based on the Korean standard ring size, so if you're not familiar with Korean ring sizes, just refer to our handy Korean ring size chart for a quick conversion of your US, UK, or EUR size.
J.ESTINA Bag
Jestina Bag is well-known for their trendy yet practical bags. If you're someone who values every inch of space in your bag, their products will be a perfect fit for you. Their handbags are compact and stylish enough to carry around for both daily and work needs, while still providing ample internal space for your essentials.
They offer a wide variety of affordable bags, including totes, cross bags, shoulder bags, shopper bags, backpacks, clutch bags, and wallets. You can choose from either genuine leather or artificial leather according to your preference. With prices ranging from 100,000 to 300,000 KRW, you can find just the right bag for your needs without breaking the bank.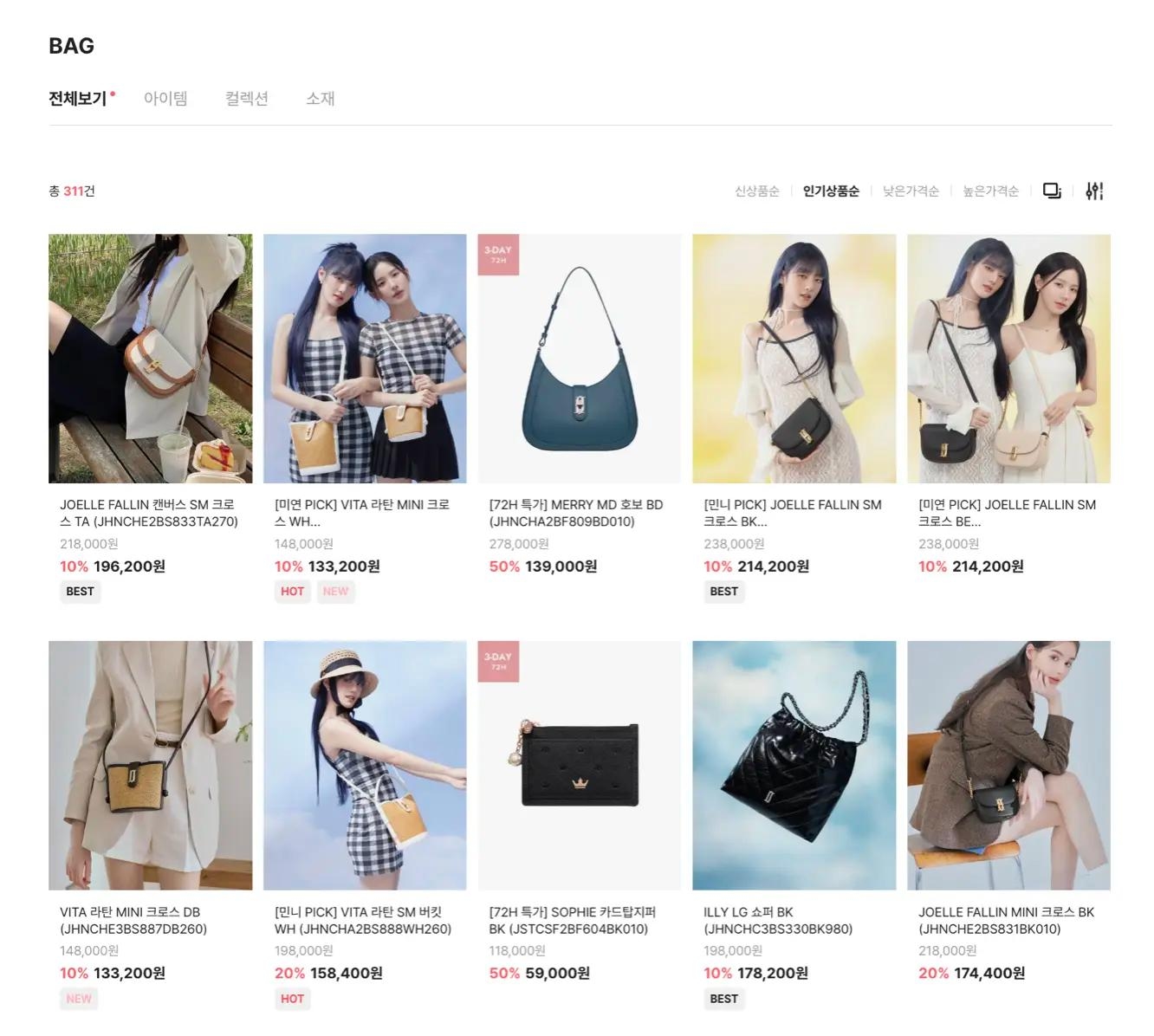 Source: J.Estina.
ROMANSON
Romanson has been making quality watches for over 30 years now and has made a name for itself as the only Korean brand selling wristwatches in over 70 countries worldwide. Their watches are not only top-notch in terms of quality, but also come in trendy designs to suit different lifestyles. Take their Actívus line, for example, perfect for adventure enthusiasts who enjoy outdoor activities, including sports and camping. This watch is 50M water resistant, making it suitable for swimming and other water activities.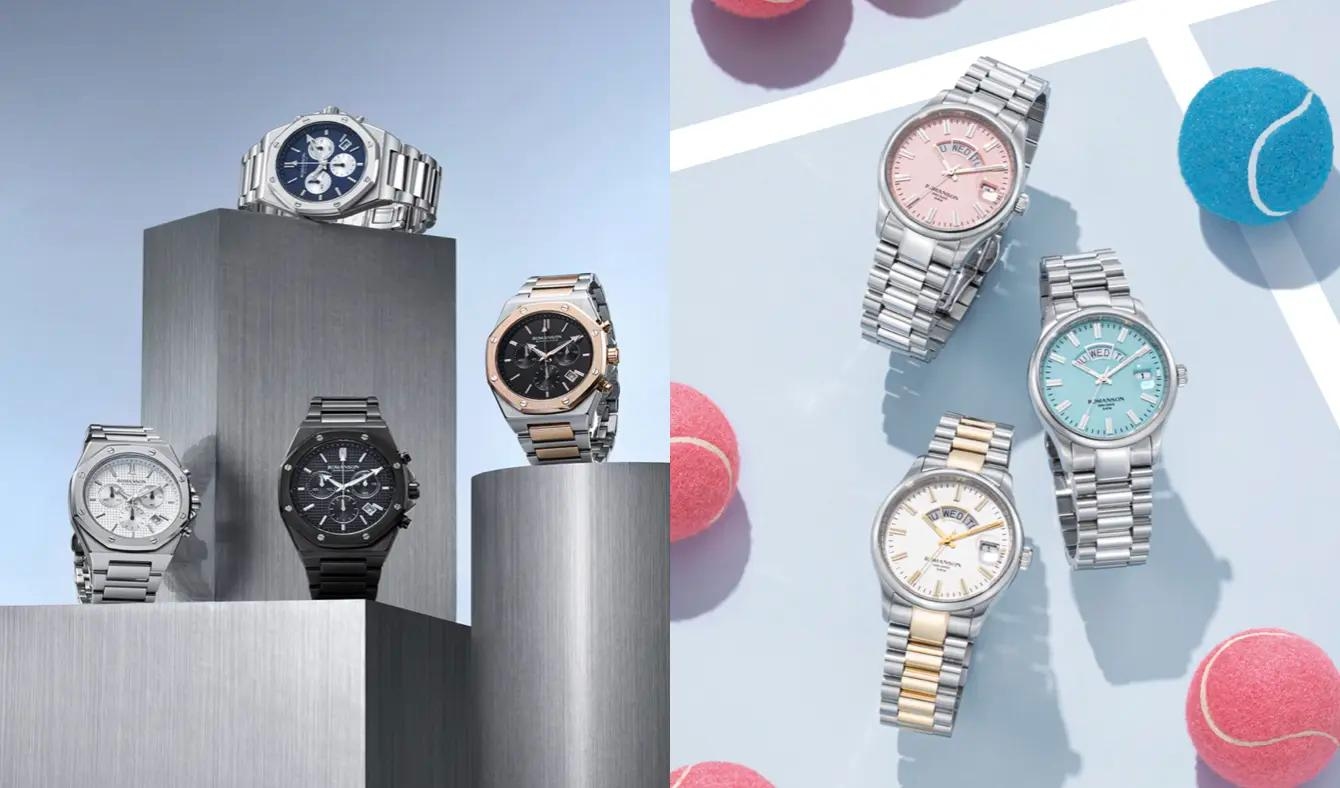 Source: Hodie vs Activus Collection. Adapted from ROMANSON.
While smartwatches may be all the rage now, traditional watches remain a classic choice over wearable tech. They stand the test of time, look better on your wrist, and help you stay away from digital distractions, which is especially important in today's fast-paced world. But hey, that's just my personal opinion.
Korean Buddies provides personal shopping services and strives to provide a seamless online experience when buying products from Korea. All you need to do is list everything you want to buy and our experienced team will do the shopping, inquiring, packing and shipping for you. You can sit back and relax after placing your order (check out our instant quote page — completely free to use and highly accurate).
Not a member? Sign up to get started.
Have any questions? Contact us at support@koreanbuddies.com and one of our friendly team members will get back to you soon.