The Top 10 Best Online Korean Bookstores
Despite the growing availability of Korean books on global online bookstores, there is still a noticeable gap when compared to dedicated Korean bookstores. While Korean books can be found on platforms like Kindle, it's undeniable that platforms like Millie's Library offer a superior experience for Korean ebook enthusiasts.
To help you discover the best places to find Korean books, we have compiled a list of the top 10 best Korean bookstores. Whether you're a fan of Korean literature, looking to learn the language, or simply interested in exploring a new literary culture, these bookstores cater to all preferences.
Kyobo Books, founded in 1980, proudly holds the title of the largest bookstore in Korea. Guided by the belief that "people make books, books make people," Kyobo Books has played a pivotal role in shaping the Korean book industry, setting a precedent as the first to offer online book sales. With an extensive collection spanning literature to music, Kyobo Books caters to the diverse interests of both book enthusiasts and fans of Korean culture.
During your trip to Korea, make sure to visit Kyobo Books Gwanghwamun branch — one of the country's top destinations. Spanning an impressive 8,900 square meters, this flagship store is the largest bookstore in Korea. Since its establishment in 1981, it has held significant symbolic meaning for many and has become a vital cultural space in the country. In fact, it is one of the few bookstores registered under the Future Heritage of Seoul program.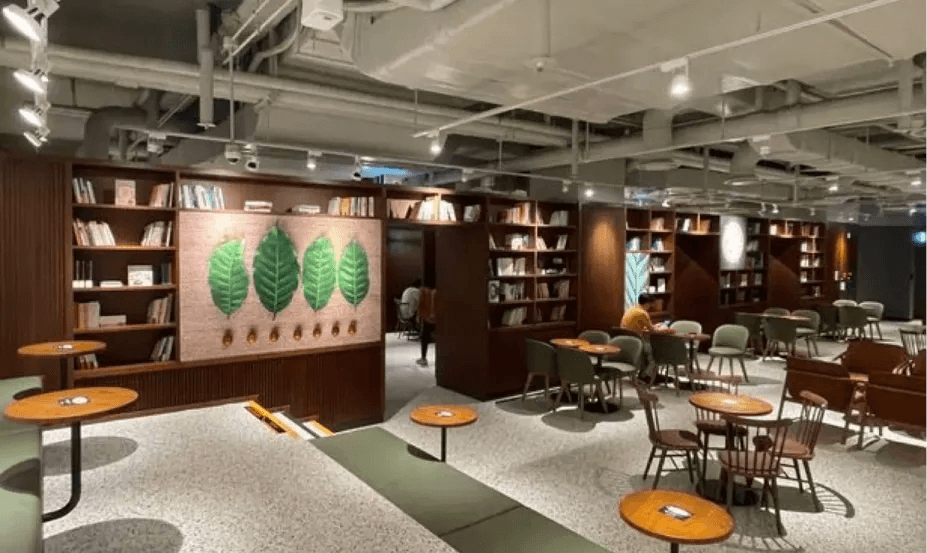 Their website is currently only available in Korean, which may pose a navigation challenge for non-Korean speakers, despite its user-friendly interface. To overcome this, you can utilize Google Translate or refer to our beginner's shopping guide for the best Korean-English translation tool.
For international customers, Kyobo Books offers shipping via FedEx. You can make purchases on their website using foreign Mastercard, Visa card, or JCB card. However, please note that Kyobo Books does not ship to the following countries: Iran, Sudan, Myanmar, Somalia, Cuba, India, and Russia. Shipping rates are determined based on the quantity of products ordered, and any additional charges must be paid promptly.
When using their international shipping service, there are a few important details to consider. It is essential to familiarize yourself with your country's customs regulations regarding books. Additionally, please be aware that you will not get freebies as an international customer as they are non-taxable, and you will only have one item shipped for 1+1 products.
Yes24 is renowned as Korea's best internet bookstore, boasting a remarkable website interface and for delivering a superior customer experience. Since its establishment in 1999, this bookstore has garnered a staggering user base of over 20 million, transcending its original purpose to become more than just a mere bookshop. Yes24 offers an extensive range of products, spanning from best-selling books to CDs and even LPs, catering to a diverse array of interests. In addition, their secondhand store empowers users to shop for out-of-print books. Similar to Amazon's Kindle, Yes24 also presents its very own ebook reader, known as "Crema."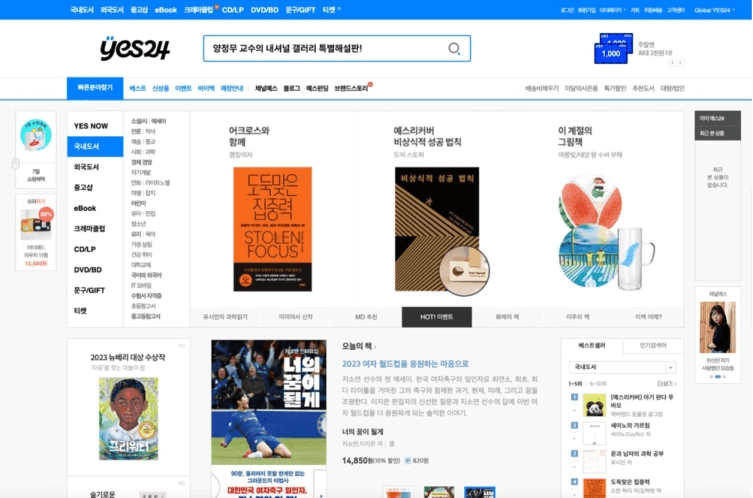 The Yes24 F1963 branch is not only their first flagship store, but also the largest used bookstore in Korea, spanning approximately 1,900 square meters and offering a selection of around 200,000 secondhand books. When in Busan, the F1963 complex is a must-visit destination, offering a unique experience shaped by its intriguing history and picturesque surroundings. Originally a wire manufacturing factory until 2008, the building has since been transformed into a vibrant cultural space, hosting various arts and cultural activities for visitors to enjoy. Moreover, the urban complex boasts a stunning bamboo forest, adding to the charm of the overall experience.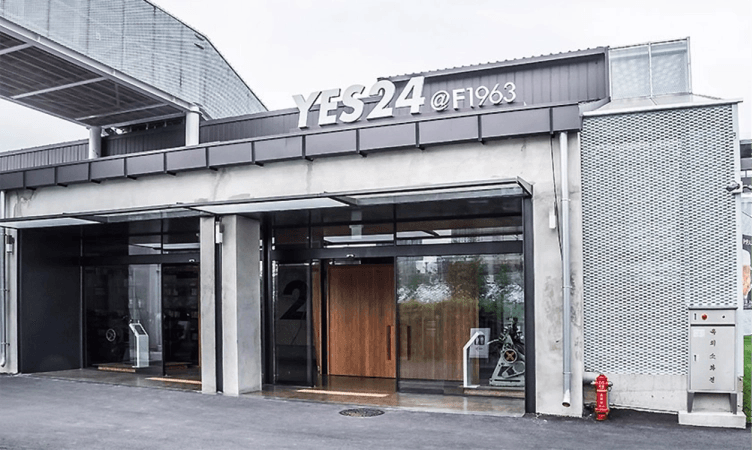 The Yes24 online bookstore is currently only available in Korean. However, their interface is thoughtfully designed, making navigation easier once you become familiar with the website. It's important to note that the global Yes24 website primarily caters to K-pop and K-drama enthusiasts, offering a selection of products such as CDs, LPs, photo books, and magazines.
When it comes to shipping, rates are calculated based on the weight of the package, with charges applied per 500g. Yes24 utilizes reliable shipping services like EMS and DHL for international deliveries. For customers outside of Korea, payment options include Union Pay, Mastercard, Visa card, and JCB cards.
Aladin, the first large-scale offline used bookstore in Korea, revolutionized the traditional perception of such stores. Gone were the days of dull and unexciting used bookstores, as Aladin injected new life into the industry. Word spread quickly, and soon, their store became a vibrant hub, bustling with people every weekend. The impact of this Korean bookstore was so profound that it influenced other major bookstores to rethink their approach to used books.
There are 55 Aladin stores spread across Korea — although it is yet to have a flagship store, it has a store in Los Angeles. While primarily a secondhand store, Aladin offers both new and used products. In addition to an extensive selection of books, customers can also find new CDs, DVDs, and Blu-rays at discounted rates. Moreover, Aladin offers a treasure trove of limited goodies at affordable prices.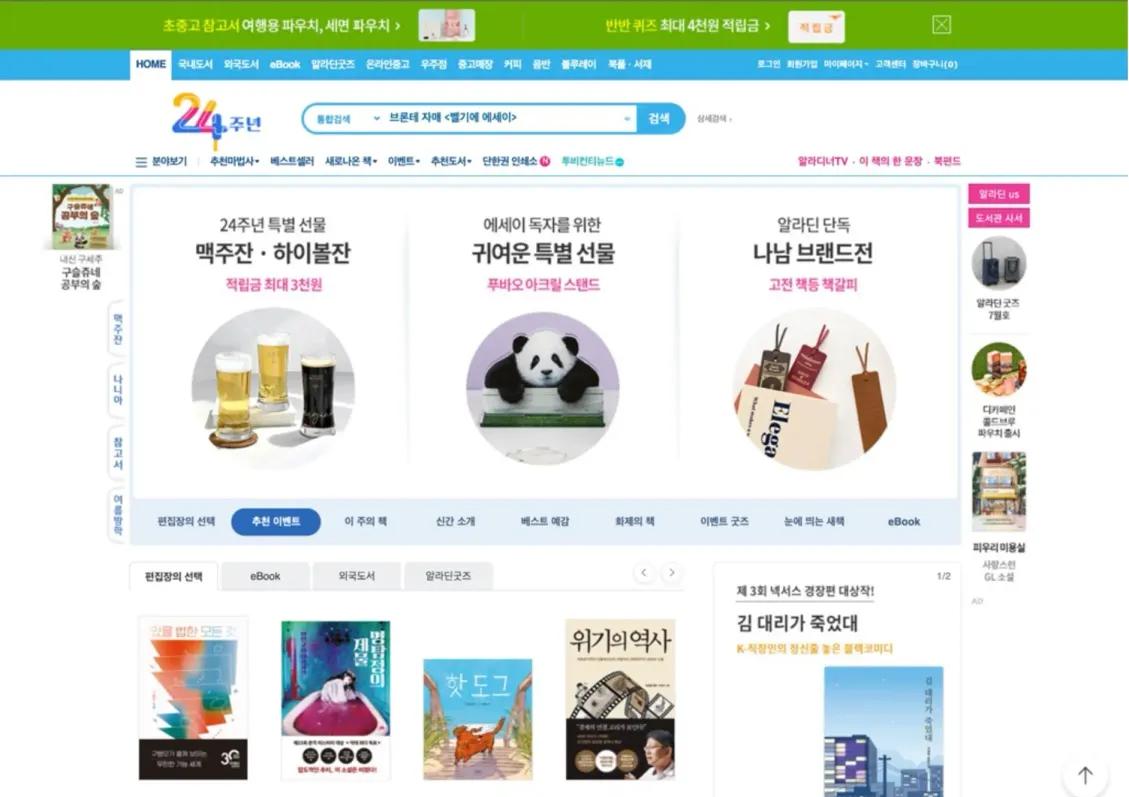 Aladin's website is designed to be user-friendly and easy to navigate, making it convenient for users to explore. However, a significant drawback is that the website is not available in English, despite having a website that is specifically catered to those living in the U.S.
For international deliveries, shipping fees are determined based on the weight of the package according to DHL rates. When making a purchase on Aladin US, you have the option to pay with foreign credit cards. Although residents in the U.S. can choose to pick up their packages at the LA store, the delivery process remains the same as if it were to be delivered to your address. Additionally, it's important to mention that customs regulations prohibit the inclusion of freebies in packages, as non-taxable goods are often rejected.
YP Books is a prominent Korean bookstore that has been in operation since 1992. They boast an extensive collection of both Korean and foreign books, with a special focus on professional literature. With an impressive network of 42 stores throughout Korea, YP Books offers visitors more than just a place to purchase books. Each store serves as a cozy reading space, where you can indulge in the pleasure of reading while enjoying delicious food and drinks. Additionally, you can explore a wide selection of stationery items.
While YP Books does not hold the title for the largest bookstore in Korea, its Jongno branch covers approximately 10,500 square meters and offers a unique ambiance. YP Books offline stores are designed to provide a holistic experience, going beyond the traditional concept of a simple bookshop. They serve as cultural centers, hosting various events and activities. For instance, the Hongdae branch even features a busking booth, adding to the vibrant atmosphere.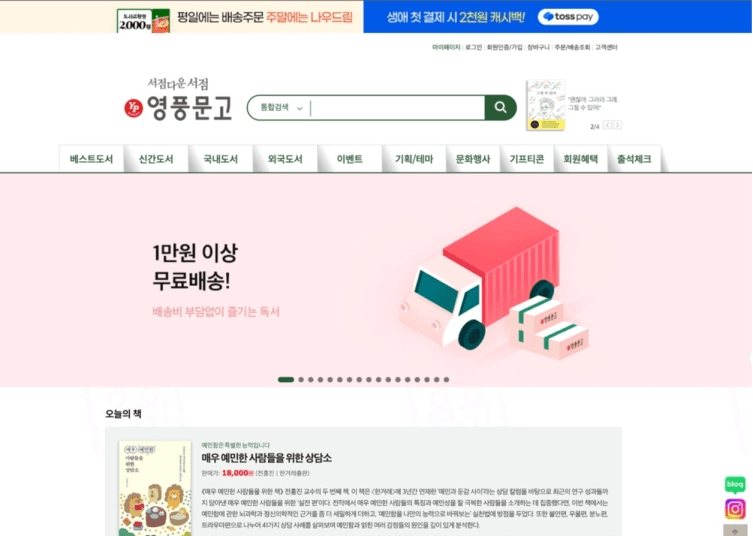 YP Books, one of the top 4 online bookstores in Korea, has plenty of room for improvement when it comes to catering to non-domestic customers. Our simulation of the overseas checkout process revealed several issues. Firstly, entering an overseas address proved to be a challenging task. Additionally, the payment options were limited to bank transfers only. Another inconvenience was that the YP Books website is only available in Korean, which added to the overall hassle of the payment process. However, if you are using a Korean shopping service provider, these issues should be less of a concern. It's worth noting that YP Books does offer international shipping through DHL, with shipping rates based on DHL standards.
Arc N Book is a Korean bookstore that stands out for its stunning offline stores and carefully curated selections. Not only does it offer a wide array of books, but it also provides a unique cultural experience that seamlessly combines art, literature, and mindfulness. What might come as a pleasant surprise is that Arc N Book has also leveraged its online presence to create a curated bookstore, offering not only books but also a range of lifestyle goods. Whether you're seeking a captivating read or looking to add a touch of artistry to your life, Arc N Book has something wonderful in store for you.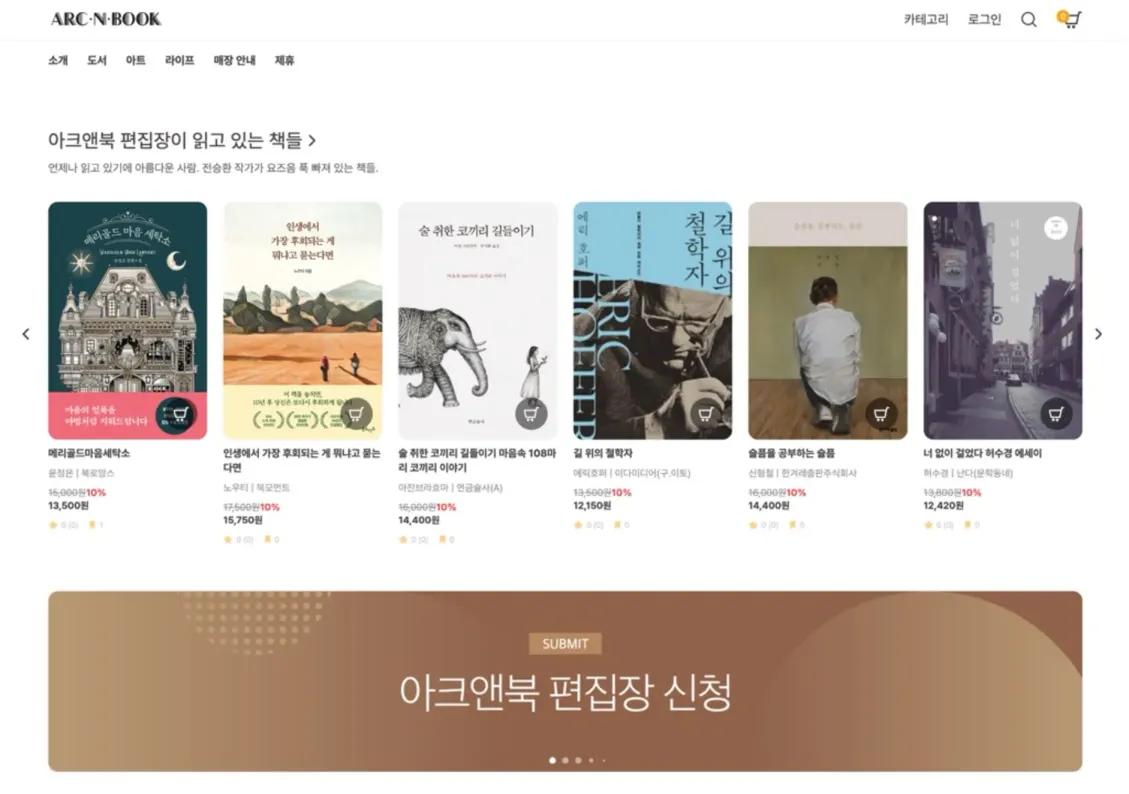 Each branch of Arc N Book is undeniably aesthetically pleasing and definitely worth a visit. However, if we had to choose one, the Arc N Book Jamsil branch stands out for its iconic arch road. This interior design element symbolizes the connection between people and their values. As you walk through this road, take a moment to reflect and immerse yourself in your thoughts and inspirations.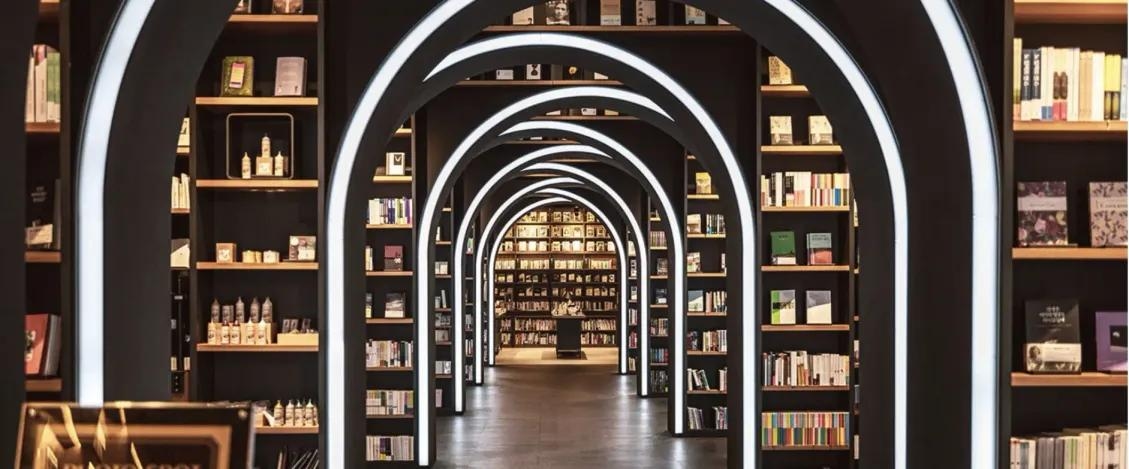 While Arc N Book's offline stores are an absolute delight to visit, their online counterpart might fall short in terms of content. However, for those fluent in Korean, the online bookstore offers an opportunity to expand their reading horizons with a meticulously curated selection of books. It's worth noting that their website is available only in Korean and international shipping is not provided.
Tong Mun Kwan, the oldest bookstore in Korea, has a rich history dating back to the 1930s. Originally known as Geum Hang Dang (金港當), it was established in 1934 and later renamed Tong Mun Kwan (通文館) after Korea's liberation in 1945. For nearly nine decades, the owner of this cherished bookstore has remained dedicated to books and the valuable lessons passed down by his grandfather. At Tong Mun Kwan, you'll discover a treasure trove of antique books, rare editions, and old humanity books.
This invaluable Korean bookstore, that is a Future Heritage of Seoul, offers a unique and personalized experience that sets it apart from others. If you're searching for specific books, the owner of Tong Mun Kwan is known for his generosity in helping you find what you're looking for. Despite not offering international shipping, the bookstore accommodates special requests and ensures that parcels are sent with care.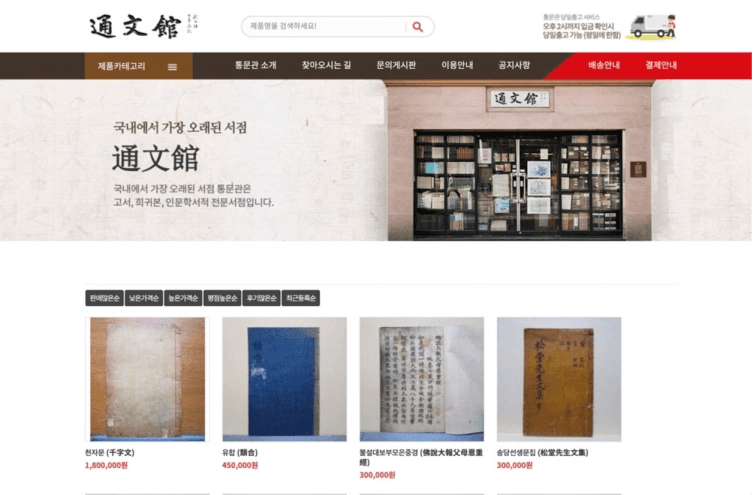 Interpark is Korea's pioneering e-commerce business, established in 1997. Offering a wide range of services across four categories — tours, tickets (for live events, concerts, and festivals), online shopping, and books. Interpark Books, in particular, has gained significant popularity due to its impressive discounts and exciting giveaways, such as gift cards and freebies. In fact, Interpark Books is a great alternative to the other top 4 bookstores mentioned above. It's important to note that the website is currently available only in Korean, and it is unclear whether they offer international shipping at this time.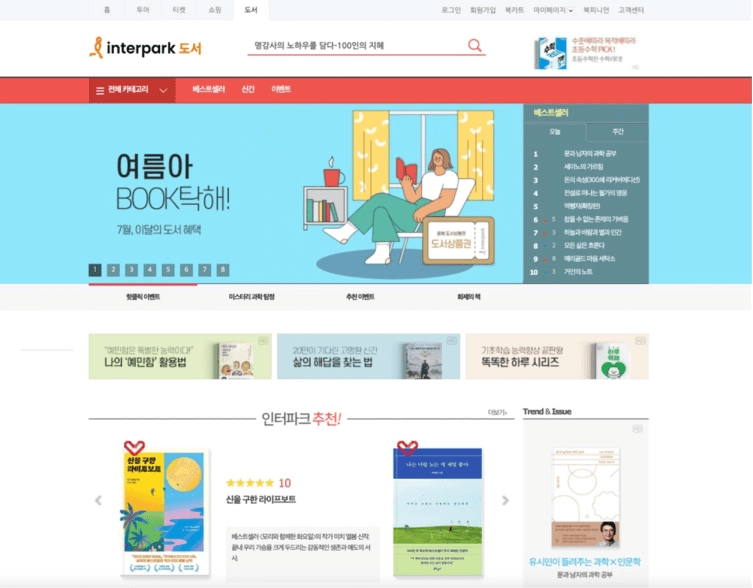 11Street (aka. 11St) is a leading ecommerce website in Korea, established in 2008 by SK Group, a prominent South Korean conglomerate. With over 47 million members, 11Street has solidified its position as one of the largest platforms in the country. Thanks to their partnership with Amazon, domestic users can enjoy the convenience of same-day delivery options for Amazon Books. However, this particular benefit may not be beneficial to overseas customers.
Nonetheless, 11st Books offers a valuable service for all book lovers. Before making a trip to major Korean bookstores, you can use 11st Books to check if the books you desire are available at discounted prices. This allows you to make informed decisions and potentially save money on your purchases.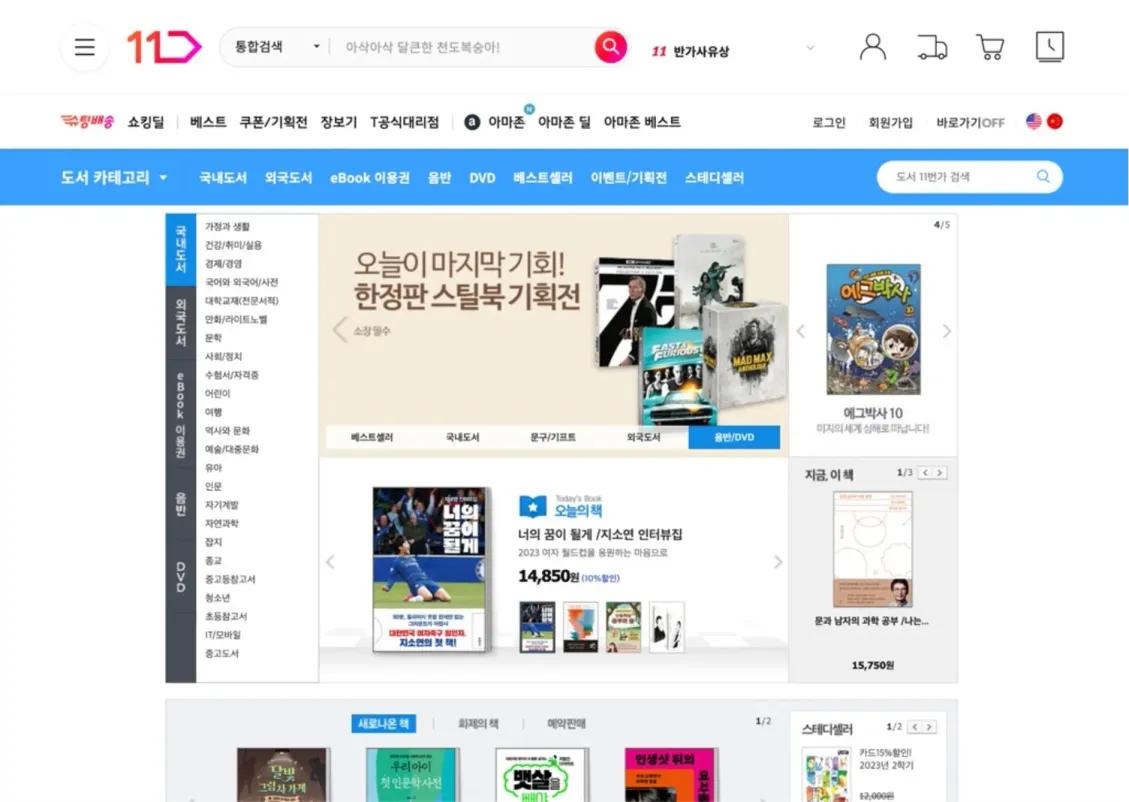 Coupang, the renowned global e-commerce giant, has expanded its services to include the book industry, offering a convenient feature called Rocket Delivery for a wide range of books. This unparalleled reputation as the best shop for fast delivery has garnered significant interest from parents and students. In fact, approximately 60% of the books sold on Coupang are children's books and student textbooks. The platform also makes it incredibly easy to purchase books in bundles or alongside other essential items. It's no wonder that Coupang has earned the title of "Korean Amazon," given its exceptional service and extensive products.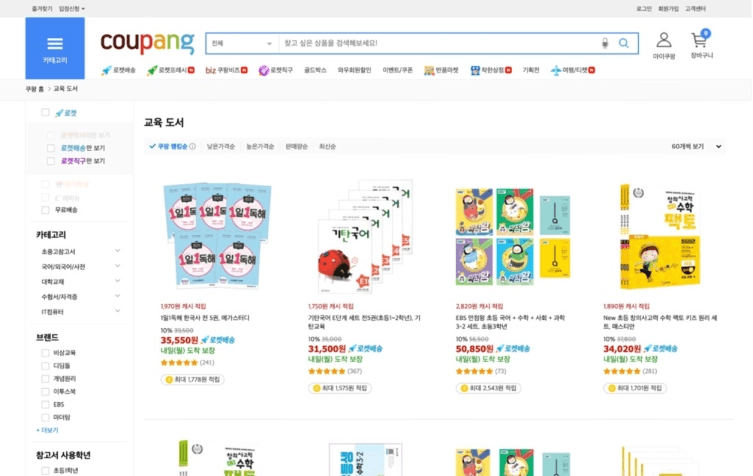 Comic Plaza is your ultimate destination for all things comics. As one of the top offline comic stores in Daegu, covering more than 400 square meters of comic bookshelves, they offer a vast selection of comic books, special merchandise, and illustration artworks. Whether you're a fan of Korean comics, webtoon comics, or Korean-translated comics, it has never been easier to explore and purchase your favorite comics from the comfort of your own home.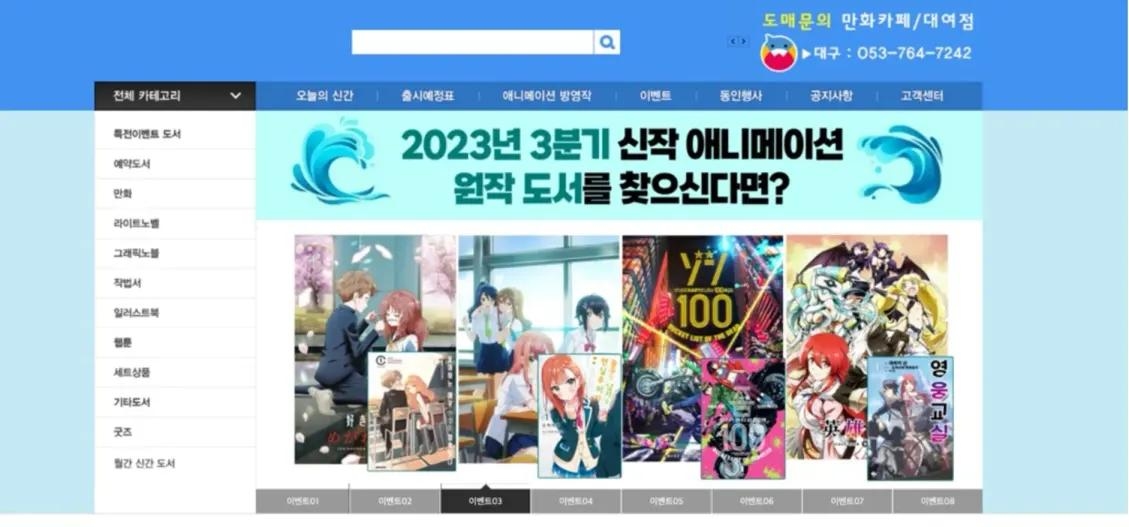 Korean Buddies provides personal shopping services and strives to provide a seamless online experience when buying products from Korea. All you need to do is list everything you want to buy and our experienced team will do the shopping, inquiring, packing and shipping for you. You can sit back and relax after placing your order (check out our instant quote page — completely free to use and highly accurate).
Not a member? Sign up to get started.
Have any questions? Contact us at support@koreanbuddies.com and one of our friendly team members will get back to you soon.