A Beginner's Guide To Shopping From Korea Online
Welcome to the ultimate guide for first-time shoppers in Korea! If you're struggling with the language barrier while shopping from Korea online, don't worry — we've got you covered. Our guide is your go-to resource for shopping like a local and experiencing the best of what Korea has to offer.
We've split the guide into 5 sections:
1. What You Can Buy vs. What You Shouldn't
2. Best Korean Websites To Shop Online
3. How To Use Naver Whale To Shop On Korean Websites
4. How To Buy From Korean Websites
5. Takeaway
What You Can Buy vs. What You Shouldn't
✔︎ Clothing, accessories, beauty products, books, stationery, snacks. toys, home décor, and many, many more!
✔︎ Electronics
You can buy electronic accessories, supplies, and even small home appliances from Korea as long as the product meets your country's voltage and frequency standards. While there are many more factors to consider before buying electronics overseas (including customs declarations), ensuring that the product won't be damaged is key.
To help you make an informed decision, we recommend checking out this short article on using electronics overseas. In summary, if your country uses a plug that differs from Korea's (type C, E, and F), but has the same voltage and hertz requirements, you'll just need an adapter. However, if your country uses the same plug but different voltage and hertz, you'll need a voltage converter.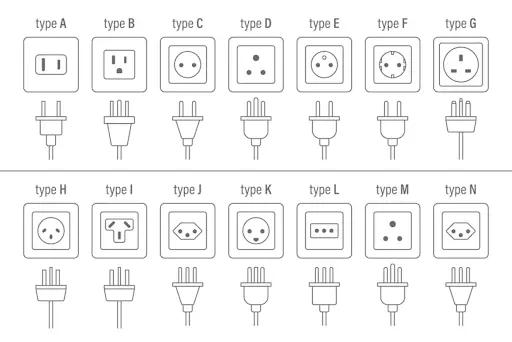 ✘ All Prohibited Goods as Stated By Your Country
It's important to be aware of your country's customs and import restrictions, as regulations can vary from place to place. To avoid any issues, it's best to steer clear of prohibited goods. These can include but are not limited to:
1. All types of weapons (including replicas of firearms, ammunition, swords, explosives, etc.)
2. Animal products
3. Anything that poses a risk to your country's ecosystem (including plants, fruits & vegetables, and agricultural & forestry products)
4. Gold and other precious metals
5. Antiques
6. Products made from endangered species
✘ All Goods That Cannot Be Taken Out of Korea
In line with the previous point, it's good to be aware of any special export control that may apply to your goods. Such controls typically apply to items that are also prohibited for import. Although it's unlikely that you'll be shopping for such items, the person or service handling your package should keep you informed.
Stay on top of any import and export regulations that may impact your shipment to ensure a smooth and hassle-free delivery.
Best Korean Websites To Shop Online
If you're new to shopping from Korea online, or you're looking to discover new Korean brands, you may want to begin by checking out some of the larger e-commerce and multi-brand websites. To help you get started, we've compiled a list of recommendations that we think you'll find useful.
Many of these websites we've listed were also covered in our post for the most popular Korean online shops in 2022. We regularly update our shopping guides to include fresh products, brands, and websites across a range of categories, so keep an eye out for our list!

Naver is the "Korean Google, Reddit, Quora, Youtube etc." It's one huge gigantic platform where you can search and shop for all Korean products. Simply search for the item you are looking for (e.g. sweatshirt) and you'll be given a list of different products with specifications, websites it's sold on, and the best deal.
If Naver is the Korean Google, Coupang is the "Korean Amazon." It's the world's fastest-growing retailer and has even ranked 7th among global e-commerce companies in 2022. Many brands sell on Coupang as well, so it's a great place to browse through all kinds of products.
2. For anything fashion-related, head to MUSINSA.
There's no doubt that Musinsa is currently the largest online fashion store in Korea. It's one of the top 10 innovative companies in the Asia-Pacific region with more than 7,100 brands selling on their platform. That's why we've mentioned Musinsa frequently in our other posts as the best place to shop and even explore new Korean fashion brands.
3. For beauty products, head to OLIVE YOUNG.
Most of you may have heard about Olive Young, whether via beauty youtubers or other media. It's the no.1 health and beauty retailer in Korea and boasts to have more than 10 million users. It has a wide variety of cosmetics and skincare products that will satisfy the needs of all skin types.
4. For cute stationery, head to 10x10.
10x10 is the best place to head to when buying stationery, electronic accessories, and lifestyle products. It not only covers a vast range of goods with irresistible designs, it is the official store of "Universal Pictures." Plus, stores such as Kakao Friends, Netmarble, and Sanrio also sell their merchandise on 10x10.
5. For Korean books, head to YES24.
YES24 is Korea's best and largest online bookstore with more than 20 million users. Due to its prompt services and collections, it is the most preferred shop for buying books in both Korean and other languages. Also, YES24 is often the official purchase link to order magazines that collaborate with K-POP artists and famous Korean celebrities. You can refer to this link for other Korean bookstores.
Best Translation Tool To Use When Shopping on Korean Websites
Okay, you know what you want to buy and where you want to buy it from. But, what about that huge chunk of Korean text that's completely (or partially) incomprehensible?
The Google Chrome webpage translation might do its job for navigating around the website, but let's say you're desperately curious about that Korean product page that just happens to be an untranslatable image. I mean, saving images to upload it on Google Translate is too much of a hassle, or even using the Google Translate app to translate images while shopping simultaneously. I've been there, I've tried — not fun! But voilà, the Naver Whale browser.
It integrates really well with Naver Papago (aka. the best translation tool for Korean-English) and translating images is much easier. Moreover, the browser is Chromium-based so you should expect to have a similar user experience to Google Chrome. As for changing the language, check out this forum thread.
How to Use Naver Whale to Translate Images
You can follow the steps below. I've used a product page of Skanskin as an example: Pore Tightening Toner.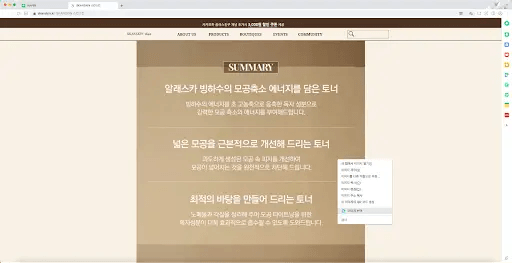 Step 1. Open the page on Naver Whale. Right-click on the image. Click on the parrot icon that says "이미지 번역 (Translate Images)."
Step 2. Select the language you want to translate to (e.g. 한국어-영어/Korean-English) and then choose the left icon that looks like ⬚.
Step 3. Click and drag to select the area you want to translate. Done!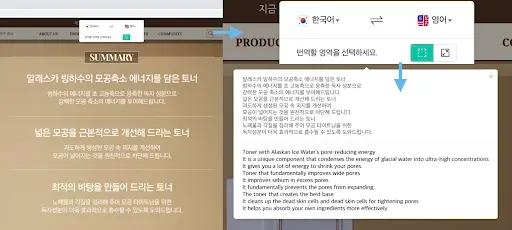 ➤ If the right icon is available (the one with two arrows), choose that one. This option translates the whole image directly. Unfortunately, it is only available with small images so this will depend on how the seller uploads the product page.
How to Use Naver Whale to Translate Text/Webpage
Simply right-click on a blank space and select the parrot icon that says "번역 (Translate)." You'll see a tiny box on the upper right corner. Choose your language and click on the green button (if you click on the green button of an already translated page, it'll return to the original language).
Naver Papago vs Google Translate
So, how does Papago compare to Google Translate
Both translate really well, however, while Google Translate recognizes each line of text as different parts, Papago translates it as if it is a complete sentence. Papago is the better option to use when buying on Korean websites. By the way, you'll get images translated just like the example below (left) if you use the right icon with two arrows!

Source: Translations from Naver Papago (left) vs. Google Translate (right). Adapted from Belabef.
How To Shop From Korean Online
The title can also be read as the "Why It's Better To Use a Proxy Shopping Service When Shopping From Korea." We'll cover the major reasons why.
1. It's hard to pay in Korean Won.
When you're shopping abroad, the best method you can rely on is PayPal and Korean websites do not accept PayPal payments. They'll ask for a Korean bank account or card, which will then put an end to your online shopping.
2. You need a Korean address for websites that only do domestic shipping.
3. You will be shocked to know the price differences when paying for international shipping on websites that accept USD or other currencies. Sites will claim that those costs are shipping and taxes, but if you do some comparison, you'll notice that there is a lot to save.
4. One that makes a huge difference and probably the most important above all. Things can get really messy when buying things from any overseas platforms, such as communicating with customer services, following up on missing orders or delays, and dealing with problematic sellers etc. Such incidents take-up a lot of time and effort, and sometimes don't even work out well.
You don't have to (and you shouldn't) experience any of that when using a proxy shopping service. Plus, if you opt for a good service, they'll inform you beforehand about any potential risks or delays.
Takeaway
1. There are no limitations when shopping from Korea online as long as you are not violating customs regulations.
2. When shopping for electronics, check for voltage and frequency specifications.
3. If you want to explore new Korean brands, the best places to shop are Naver Shopping and Coupang (general), Musinsa (clothing), Olive Young (beauty and health), 10x10 (stationery), and Yes24 (Korean books).
4. Naver Whale is the best browser to use if you want to overcome that language barrier. It integrates well with Papago (the best translation tool to use for the Korean-English language pair).
5. Using a Korean proxy shopping service (buying agent) provides many more benefits than shopping directly from Korean websites that provide international shipping.
If you could do just one thing to get the best value for money, it's shopping with Korean Buddies.
Korean Buddies provides personal shopping services and strives to provide a seamless online experience when buying products from Korea. All you need to do is list everything you want to buy and our experienced team will do the shopping, inquiring, packing and shipping for you. You can sit back and relax after placing your order (check out our instant quote page — completely free to use and highly accurate).
Not a member? Sign up to get started.
Have any questions? Contact us at support@koreanbuddies.com and one of our friendly team members will get back to you soon.