SPAO: Find Your New Fast Fashion Today
Finding affordable clothes with high-quality fabric can often feel like a never-ending process of trial and error. And when you add trendy designs into the mix, the struggle becomes even harder. But worry not, SPAO is here to solve these challenges for you. SPAO, a Korean fast fashion brand established in 2009 by the renowned South Korean apparel giant, the E-land Group, has made remarkable strides in providing the best quality at the most affordable prices.

In today's market, it's all too common to come across clothes that are either expensive and poorly made or ridiculously priced just because of the brand name. Ironically, even fast fashion, which aims to produce clothes in large quantities while cutting costs, often falls short when it comes to fabric quality. However, SPAO understands that quality and design should never be compromised, even in the fast fashion world. With SPAO, you can trust that you'll find clothes that tick all the boxes — affordability, high-quality fabric, and trendy designs.
SPAO has achieved something remarkable in this scene. While some may argue that SPAO lacks the flashy designs associated with fast fashion, it is precisely their simplicity and minimalist styles that set them apart from other brands. They're taking a fresh approach compared to other well-known SPA brands like GAP, UNIQLO, and H&M. And to add a touch of excitement, they have collaborated with beloved characters such as Sanrio, Damgom, and Pokémon, as well as popular K-pop idols.
Top 1% Fashion Brand in Korea
SPAO is one of the most popular Korean fashion brands for both men and women, ranking in the top 1% on Musinsa among 7,400 domestic and foreign brands. Their Basic Puffer Jackets have consistently claimed the number one spot in Musinsa's padded jackets category since their 2021 release, even selling out off-season. It's clear that SPAO's simple designs have struck a chord with consumers.
But what sets SPAO apart goes beyond fashion. They are renowned for their commitment to addressing the environmental issues posed by fast fashion. By upcycling and producing eco-friendly clothes, they are taking meaningful steps towards sustainability. While there are still challenges ahead, their dedication to sustainable practices is evident throughout their product lines and campaigns.
High-Quality Casual wear
When it comes to cotton, not all materials are made equal. At SPAO, you can find 100% cotton t-shirts that are not only durable and lightweight but also soft to the touch. The breathability of these t-shirts is also a key feature, ensuring comfort throughout the day and during hot seasons. One of the best things about SPAO is that they focus on providing high-quality products, even within the fast fashion industry. So, you can expect the best possible quality when it comes to their cotton t-shirts.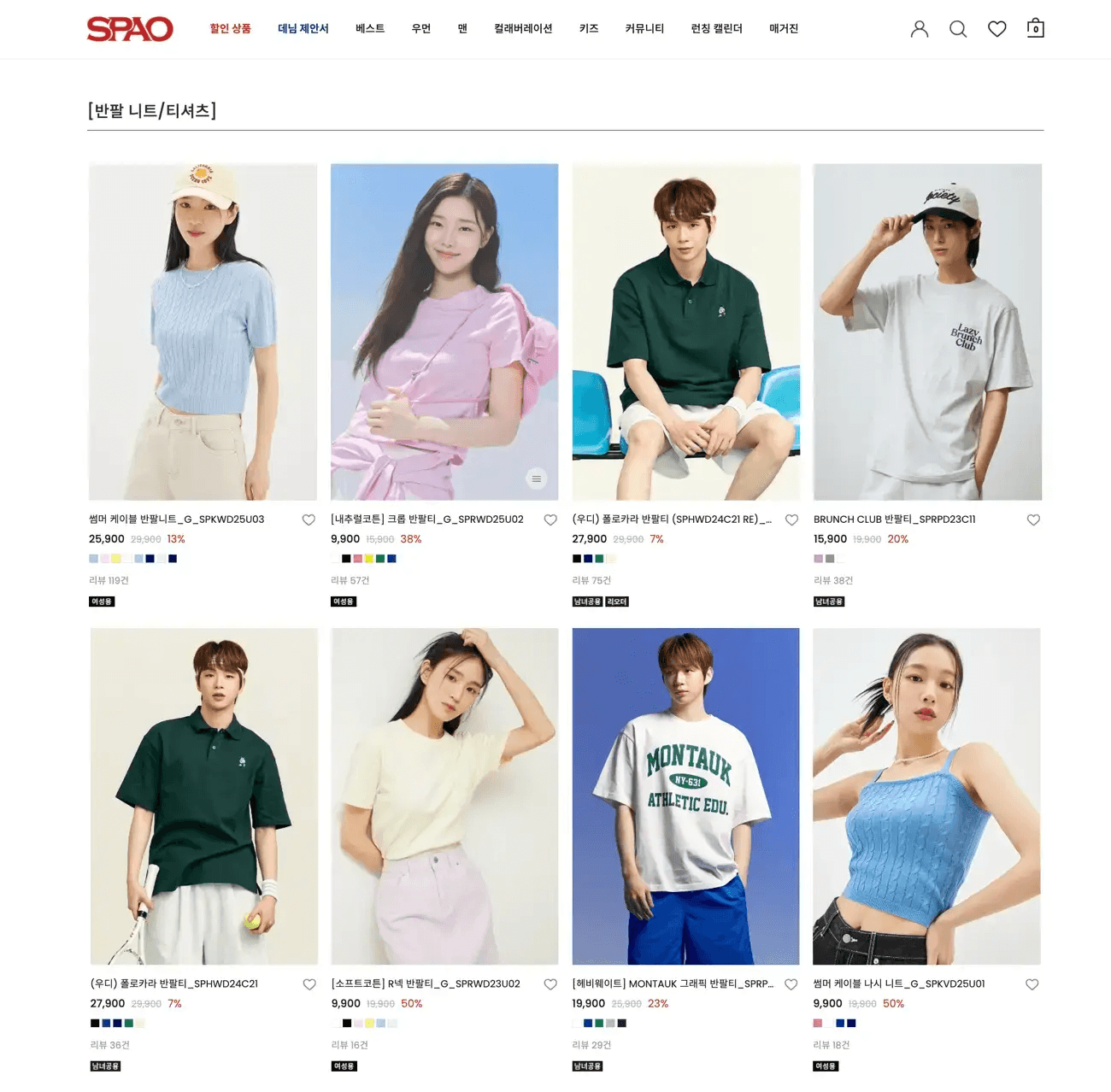 In addition to the quality, SPAO also offers a wide range of designs that are suitable for daily wear. Whether you're looking for something casual or even for a more formal outfit, SPAO has got you covered. Their versatile designs make it easy to find a t-shirt that matches your style and can be worn for various occasions.
If you're in the search for high-quality denim pants, be sure to check out SPAO's selection too. Their denims are not only affordable but also feature sophisticated designs that are perfect for daily wear. While they may not have the most extensive variety, you can find lightweight denims priced between 29,900–49,900 KRW (approx. 22–38 USD) with all the essential styles that you need to complete your wardrobe.
Character Merch: Sanrio, Damgom, And Many More!
One of the reasons why SPAO has gained a lot of popularity is its collaborations with various industries. They have partnered with well-known brands such as Sanrio, Damgom (aka. Nagano Bear), Pokemon, and Crayon Shin Chan, just to name a few. These collaborations have resulted in a wide range of character merchandise available at SPAO. What's even better is that SPAO always has something special for every season. They frequently release new character merchandise, so it's important to stay on the lookout for any updates. This way, you can be sure to get your hands on the latest and cutest items.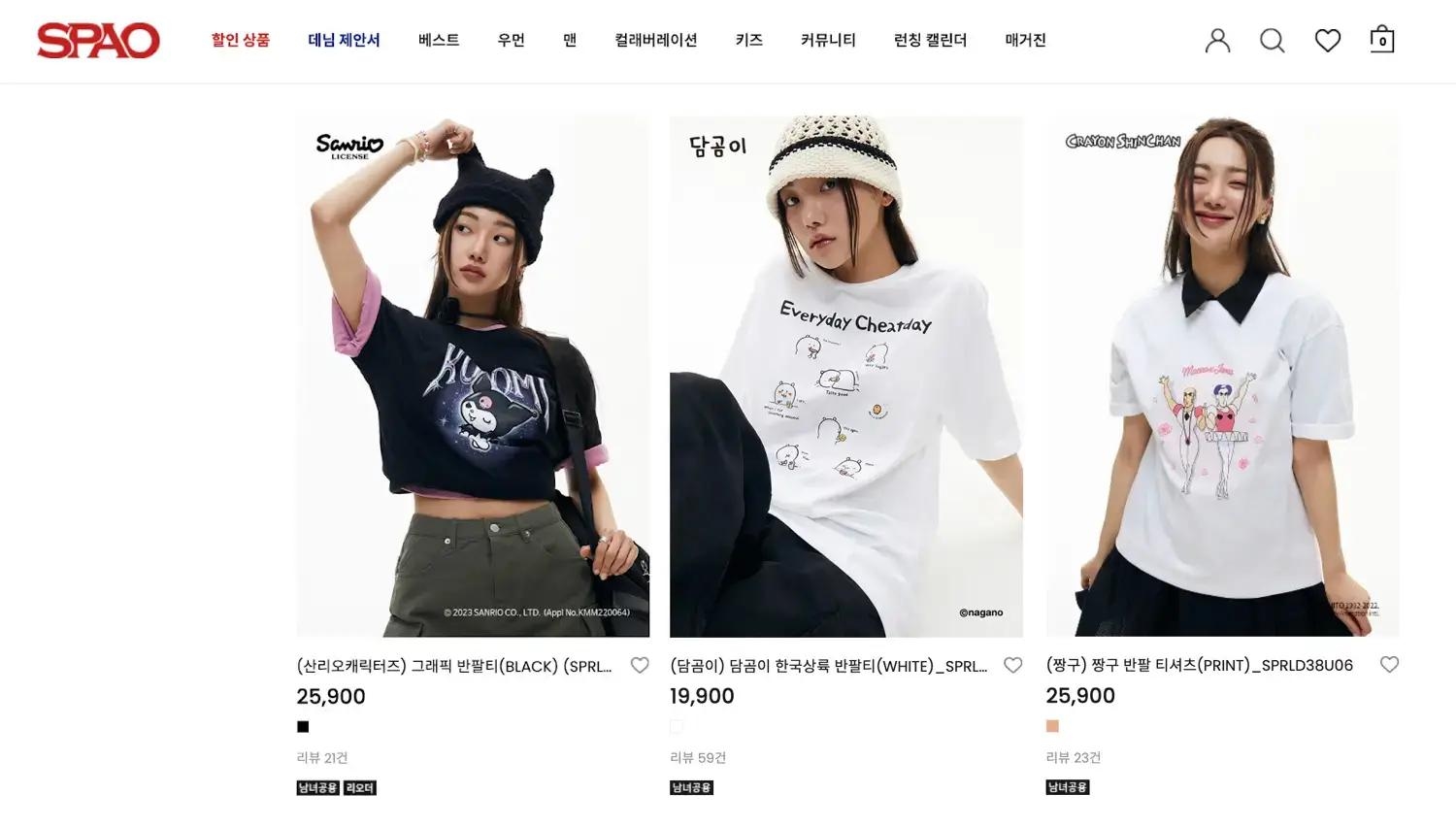 Best Korean Pajamas
When it comes to cute Korean pajamas, SPAO is the go-to brand. In fact, during their collaboration with Pokemon in 2016, they managed to sell approximately 50,000 pajama sets on the very first day. This incredible response not only highlights the popularity of Pokemon at the time, but also showcases SPAO's effective marketing strategy. Since then, SPAO has continued to offer a variety of character pajamas.
As we mentioned before, you can find adorable character pajamas, which are also in collaboration with popular K-POP idols like Shinee. Additionally, there are even NCT x Sanrio merch available, allowing you to wear your favorite K-POP idol's pajama set. Their collaborations with popular franchises and K-POP idols ensure that you can sleep in style and show off your fandom at the same time.
NCT x Sanrio Merch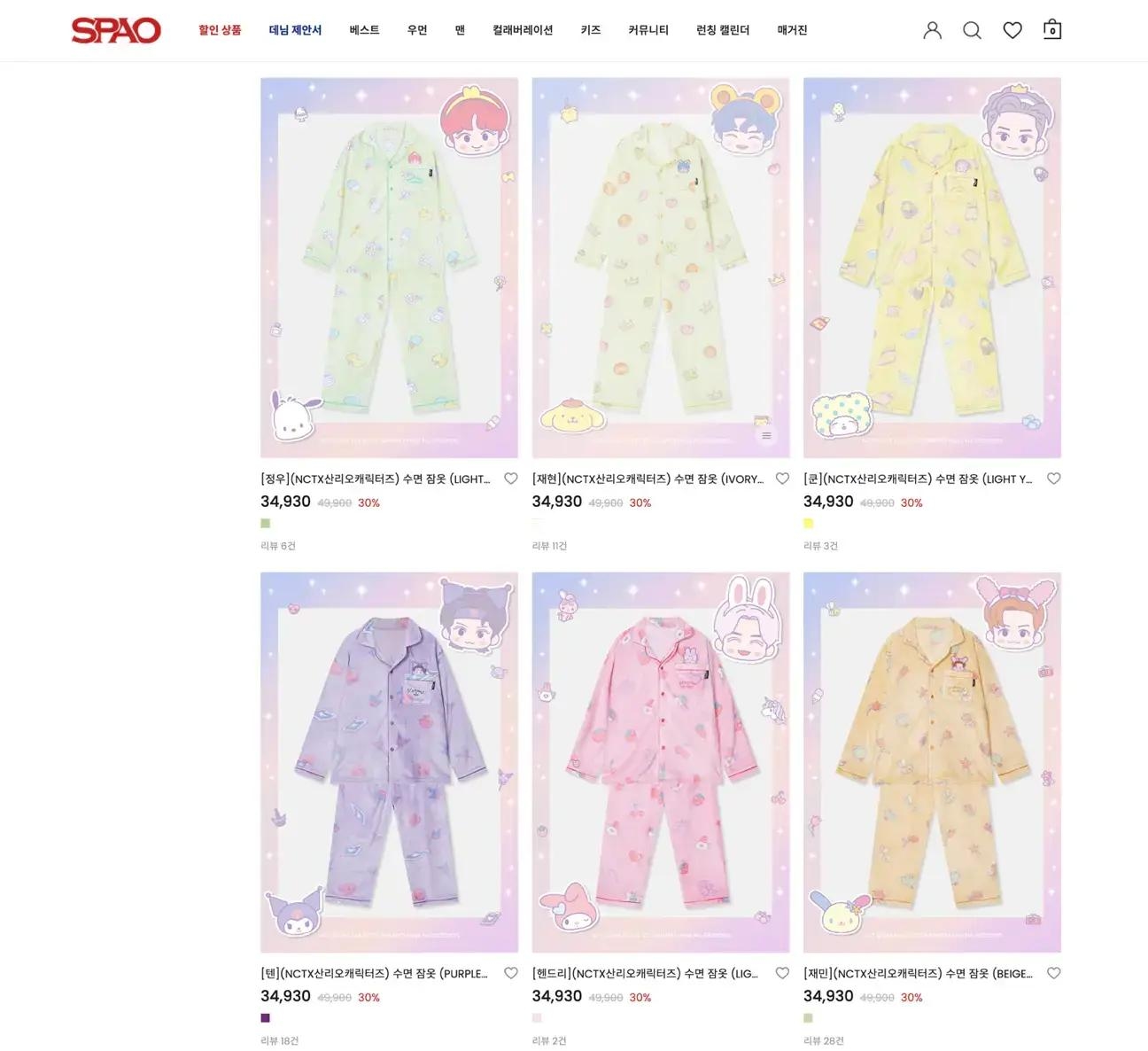 SPAO Size
You can easily find the size specifications for SPAO products at the bottom of each product page. Navigate to the "My Fit Size" section, and you will see a table with detailed size information. Additionally, you can cross-check the clothing sizes using our Korean Buddies' Korean size chart to get an idea of how they correspond to your country's measurement system.
It's always a good idea to refer to the size chart provided by the brand to ensure you select the right size for your clothing. By following these steps, you can be confident in selecting the correct size when shopping for SPAO products.
Shipping Options
While SPAO does have offline stores in foreign countries, they currently do not offer international shipping options directly from their website. However, you can still get your SPAO package shipped to you by using a Korean shopping service. It's a great option for international customers who want to enjoy the products from SPAO and other Korean websites.
By using KoreanBuddies, you can have the flexibility to shop at multiple Korean websites and have all your goods sent to you in one package. To get started, you can check out our order form guide. This guide will walk you through the steps and provide you with all the information you need to place an order. You can also check out our instant quote and shipping rates.
Not a member? Sign up to get started. Have any questions? Contact us at support@koreanbuddies.com and one of our friendly team members will get back to you soon.