Guide to Shopping for Traditional and Modern Hanbok
Are you looking to purchase a Korean hanbok? Here, we provide you with essential tips and advice on everything you need to know before buying a hanbok. From where to buy a traditional hanbok and wedding hanbok, to where to find a modern hanbok, and what to keep in mind when shopping — we've got you covered.
So let's get started on your hanbok shopping journey!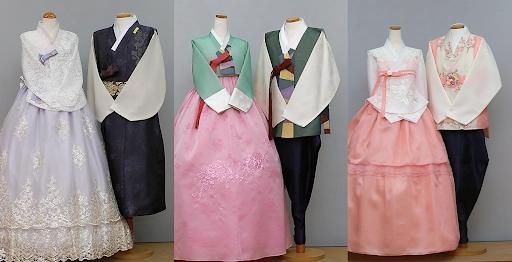 Source: Adapted from https://blog.naver.com/manho3131/223017522435
Traditional Korean Clothes: Hanbok
Hanbok is an incredible part of Korea's history and culture. It's the traditional clothing of Korea, and was worn exclusively by Koreans before the introduction of foreign clothing. It has been a symbol of the country's culture and identity for generations, and still stands as a symbol of our proud heritage.
The National Archives of Korea explains that: "Hanbok is the unique clothing of Korea. It embodies the style and spirit of our people's thoughts, customs, behaviors, and skills [translation]."
Wearing hanbok is a way to honor our past and to celebrate our culture today. It is a reminder of our collective identity and a source of pride for all Koreans.
A typical full set of hanbok for men is made up of a jeogori (a type of upper garment) and pants, with a vest or durumagi (overcoat). For women, it generally consists of undergarments, jeogori and skirt, and a baeja or durumagi (see the table below for details).
Modern hanbok (생활 한복 or 개량 한복) is a modified version of the traditional hanbok which allows for comfortable everyday wear. You may see some stores using the term "fusion hanbok" (퓨전한복) interchangeably, but this refers to modern hanboks which have been combined with Western fashion elements, such as formal suits.
Below are some terms you may come across when shopping for hanboks.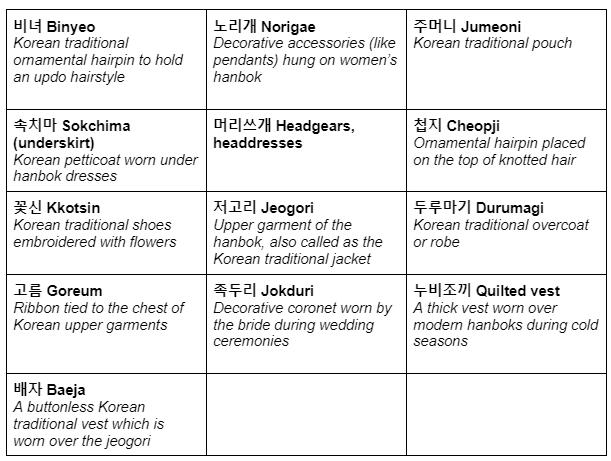 Things to Consider When Buying Hanbok
Cotton count (seasonal options)
When it comes to hanboks, manufacturers generally provide three types, one for each season: summer (여름), winter (겨울), and autumn and spring (봄가을 or 춘추).
For a more detailed selection, some manufactures offer late spring and early autumn (늦봄/초가을) options, as well as early spring and late autumn (초봄/늦가을).
The distinction between the types lies in the cotton count (e.g., 20, 30, 40, etc.). To put it simply, the higher the count, the finer the fabric.
Here's a handy guide to help you choose the right hanbok:
A 30's count (30수) is perfect for summer (May to August), and 20's (20수) is great for spring and autumn (April to June, and August to October).
Keep in mind that these recommendations are tailored to the seasons in Korea.
Pre-dyed (선염) vs. Post-dyed (후염)
Hanboks can come in two different forms: pre-dyed and post-dyed.
Pre-dyed hanboks will provide a more consistent, vibrant color that will stay true to the intended hue. Plus, you don't have to worry about color bleeding as much if you go with pre-dyed.
On the other hand, post-dyed hanboks come with a bit more of a gamble. While the colors can be just as vibrant and true to their original hue, there is a chance that the dye may bleeda bit in the wash. To avoid this, you will want to wash it separately 1–3 times before washing it with the rest of your laundry.
Where to Buy Traditional Hanbok
Nowadays, traditional hanboks are largely worn during special occasions like weddings and baby's first birthdays. However, purchasing a full set of hanbok can be costly and require a lot of care. That's why many people are turning to clothing rental services to get their hanbok.
If you're looking to purchase your own traditional hanbok, then Yebok.com is the perfect destination for you. They have an extensive selection of hanboks, including wedding hanboks, kid's hanboks, men's hanboks and women's hanboks, as well as various hanbok accessories to go along with them.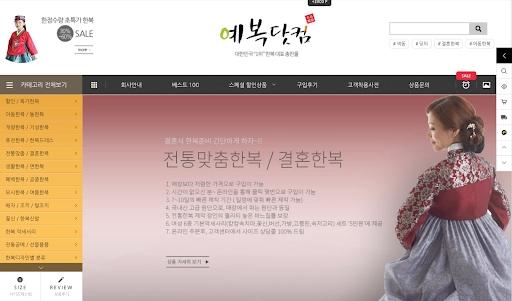 Source: Yebok.com
Now, although they ship worldwide via EMS post, navigating through their website might be a challenge for English-speaking users as it is only available in Korean. Fortunately, Yebok.com is accepting queries in English through their bulletin board, so don't hesitate to reach out if you have any questions.
Plus, our friendly, informative staff at Korean Buddies are always ready to help you so that you can shop with confidence.
Where to Buy Modern Hanbok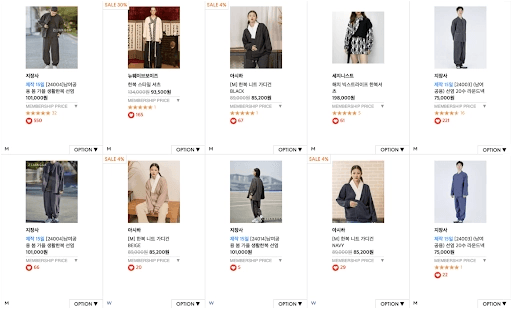 Source: MUSINSA
MUSINSA is your go-to destination for all Korean fashion! Not only is it the largest online fashion store in Korea, it has more than 7,000 brands, including modern hanbok brands like ZIJANGSA and DANHA. ZIJANGSA is the brand behind the popular "BTS Jungkook hanbok" while DANHA is well-known for creating BLACKPINK's hanbok for their "How You Like That M/V."
The number of brands on MUSINSA continues to rapidly expand, so make sure to check back frequently. There are sure to be even more stylish hanbok brands joining the list soon!
Are you and your furry friend ready to make some special memories? MUSINSA also has hanbok for dogs, so you both can dress up for traditional Korean holidays like Chuseok (Korean Thanksgiving). It's the perfect way to show off your unique style and create lasting memories with your beloved companion.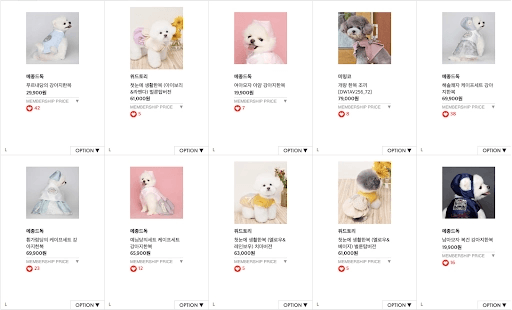 Source: MUSINSA
For more information, feel free to check out our post on MUSINSA.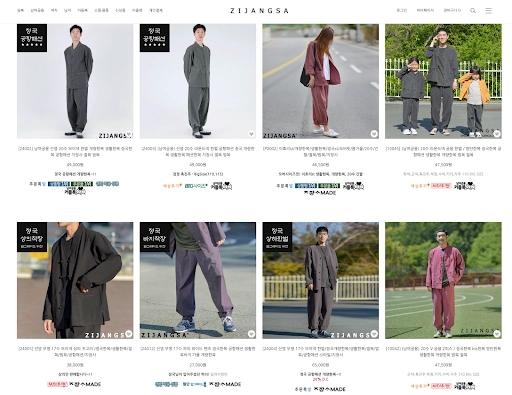 Source: ZIJANGSA
As you may already know, Zijangsa has gained a lot of attention as the "BTS Jungkook hanbok" brand, and their products were even donned by BTS V and Lee Hyori. Zijangsa hanboks have since become a favorite for comfort and versatility that fits in with different lifestyles.
The selection of hanboks at Zijangsa is vast, ranging from buddhist monk robes to unisex hanboks, male hanboks, female hanboks and dresses, hanbok for kids, and even hanbok accessories.
To make sure that you get the perfect fit for each item, size information for each product page is provided at the bottom, along with helpful images showing how to measure different areas (limited to some product pages)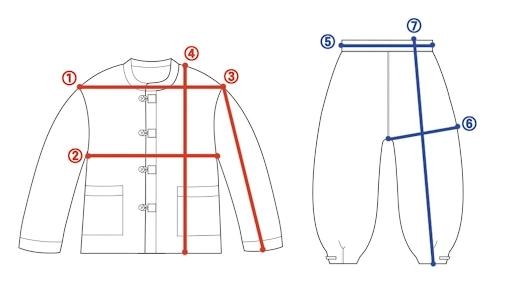 Source: ZIJANGSA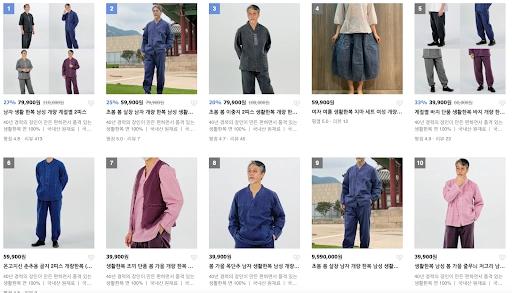 Source: Ongozishin
If you're looking for a true Korean hanbok experience, then Ongozishin is the place for you! Their hanboks are 100% Korean-made with naturally dyed cotton, and crafted by a master craftsman with more than 40+ years of experience. They may have a smaller variety of modernized hanboks compared to other shops, but each one is made with the utmost care and attention to detail.
What sets them apart from other modern hanbok shops is their commitment to using only Korean-made materials. Ongozishin doesn't cut corners by using materials from other countries, even if it costs more for them. They believe that hanbok is a unique part of Korean culture, so all the materials should be sourced from within Korea. This means that their modern hanboks will deliver a distinctive, richer cultural experience that is truly unique to Korea.
Ongozishin specializes in making hanbok for men,but they also offer the perfect women's hanbok (V-neck vest + pants) that you can wear comfortably on a daily basis. Ongozishin recommends opting for gender-specific sizes and avoiding unisex modernized hanboks, as the standardized shoulder width and arm length won't offer the perfect fit.
It's easy to select the right size, too. You can find the size chart at the bottom of each product page, along with images showing the measurement guideline. These are self-explanatory, so you should be able to understand the sizes easily. But if you have any questions, you can refer to the terms below.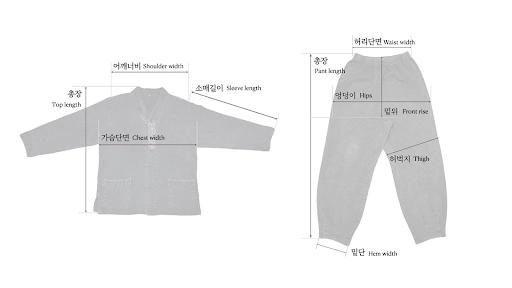 Source: Adapted from Ongozishin
! Ongozishin is only available in Korea, but that is where we, Korean Buddies, enter the picture. We understand that not everyone can access the products exclusively available in Korea. That's why, we're dedicated to diversifying our shopping guides and making sure that location doesn't hinder anyone's shopping experience.
If you're looking for the latest and most stylish modern hanbok dresses and skirts, then check out our Where to Buy the Best Modern Hanbok Dresses Online list. We've included two top fashion hanbok brands, LEESLE and DANHA.
Many popular KPOP artists have been seen wearing and even collaborating with these brands, such as BTS Jimin at the 2018 Melon Music Awards, KAI's "Peaches", VIVIZ's "Bop Bop!" performance, Mamamoo, KARD, Chungha's 2022 Season's Greetings and BLACKPINK's "How You Like That" and OhMyGirl's "2021 Golden Disk Awards."
Korean Buddies provides personal shopping services and strives to provide a seamless online experience when buying products from Korea. All you need to do is list everything you want to buy, and our experienced team will do the shopping, inquiring, packing, and shipping for you. You can sit back and relax after placing your order (check out our instant quote page — completely free to use and highly accurate).
Not a member? Sign up to get started.
Have any questions? Contact us at support@koreanbuddies.com and one of our friendly team members will get back to you soon.