Webtoons and Manhwa themed merchandise
What are webtoons?
Webtoons are digital comic books that originated in Korea. The word webtoon contains the Korean word 웹 meaning web and 카툰 meaning cartoon. Comic books are released digitally as they are meant to be easily readable on your phone on webtoon sites such as Lezhin and Bomtoon. Their popularity has grown exponentially overseas and nowadays also manhwa (Korean comics) are released in webtoon versions. As a result of their popularity and thrilling stories, many Korean dramas and series are nowadays based on webtoons. At KoreanBuddies, we help fans every day get their favorite manhwa books and webtoon merch!
In this article, we are gonna look at popular stores where you can get merchandise and unique goods from your favorite webtoon characters. If you're interested in buying comic books, you can check out our article about Korean online bookstores.
Some of the items in the following stores may not be visible unless you have an account registered with a Korean phone number to verify your age. If you have any questions about the products or prices, don't hesitate to contact us and we will take a look for you!
Webtoon Stores
If you are a big fan of webtoons, reading the books wouldn't be enough though, would it? Wouldn't it be great if you could get all kinds of items with your favorite characters?
In this article, we'll walk you through some of our customers' most loved web shops when it comes to webtoons and manhwas. Here you will be able to find items related to the most popular BL webtoons too. Amongst these: "Painter of the Night" (야화첩), "Dangerous Convenience Store" (위험한 편의점), "Even If You Don't Love Me" (나를 사랑하지 않아도), "Love or Hate", "BJ Alex", "Cherry Blossoms After Winter" (겨울지나벚꽃).
Mofun Store
MoFun's mission is to create "fun and value" through the creative use of various IPs such as games, animations, cartoons, and novels. Goods on the Mofun Online Store are making character products with license agreements with partner companies such as KONAMI, Rayark, Crypton Future Media, Smilegate, and TALES SHOP. On top of that, they actively participate in cultural events such as performances, games, and animation fairs, and are also running entertainment facility businesses such as theme cafes and game centers. Check out their newly released "Dangerous Convenience Store" themed items!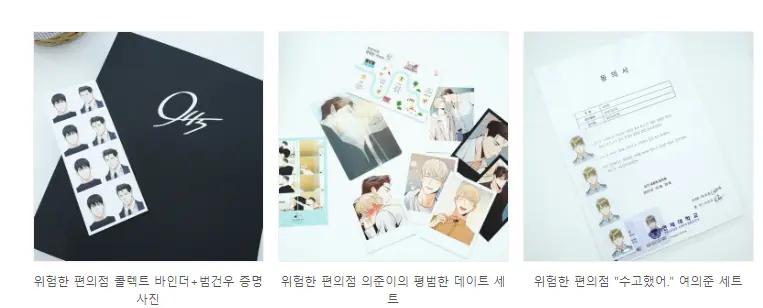 J-Meeshop
We at KoreanBuddies get orders for J-Meeshop daily and they even made it into our Top 10 Most Popular Stores for 2022. They are selling official books and merchandise from famous BL webtoons and manhwas, often with exclusive gifts and inclusions. For this reason, their releases often get sold out quickly, but with our prompt service, you can rest assured that we will do our best to get them for you before they are gone! Their most popular releases recently? Definitely "Painter of the Night" and "Love or Hate" books and merchandise.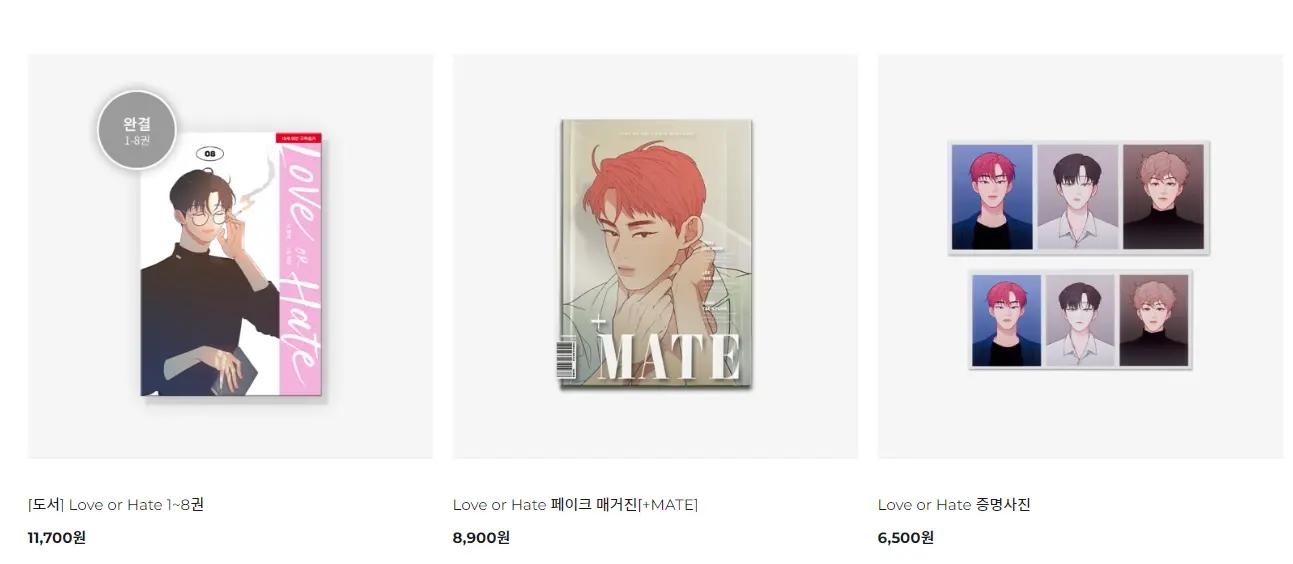 Webtoonshop
Webtoonshop is another place where you can look for any item you can think of related to webtoons. Keyrings, photocards, phone cases, calendars, and many more are here and their designs are so cute! Their selection is really wide and compared to other sites, you can find the most diverse merchandise from various webtoon genres here. Romance, BL, Fantasy, and Action among other themes so no wonder it is the most popular webtoon store in Korea.
Webtoon Friends
Webtoon Friends is a piece of heaven for any webtoon fans. Their merchandise stands out for its colorful and cute character designs. Their webtoon calendars were definitely one of the best-selling items for us last year. With their calendars, you can decorate your desk with your favorite webtoon characters for a really reasonable price. Another hit was their romance webtoon-themed mood lights, the perfect interior item to create a romantic atmosphere in your room.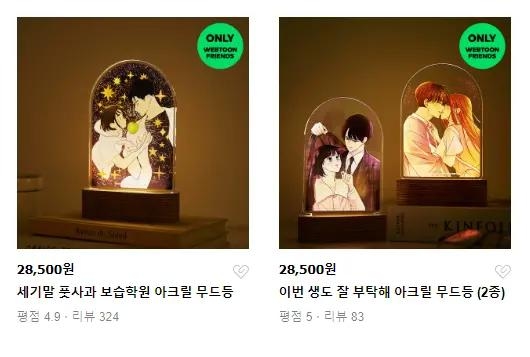 Ready to start shopping for Korean products online? Try making a quote for your order on our Get a Quote page. Then, create an account on our website to place your order (no commitment, you can always change your mind!) and start shopping with us. We are ready to help you if you need assistance or have questions about our service.