Ready to Shop 'Til You Drop? Top 12 Y2K Fashion Websites
Y2K Fashion is a style that is all about embracing the futuristic and colorful aesthetics of the early 2000s fashion era. These 12 Y2K fashion websites serve as virtual time capsules, taking us back to an era filled with low-rise jeans, neon colors, crop tops, and chunky sneakers. They are for anyone seeking to relive the magic of a bygone fashion era and who want to incorporate its unique flair into their modern-day wardrobes. So buckle up and let's dive into this captivating fashion!
Looking for bold and innovative fashion that breaks free from clichés? Well, look no further than Leey, the independent fashion brand based in Seoul. With a specialization in hip female clothing, Leey's designs embody the essence of Y2K fashion that will awaken your inner trendsetter. The brand is always pushing boundaries to introduce new and creative styles and designs without losing their unique identity — probably why so many customers stay loyal to this brand. Due to their skyrocketing popularity, their collections often sell out in the blink of an eye, so stay up-to-date with their latest updates and releases.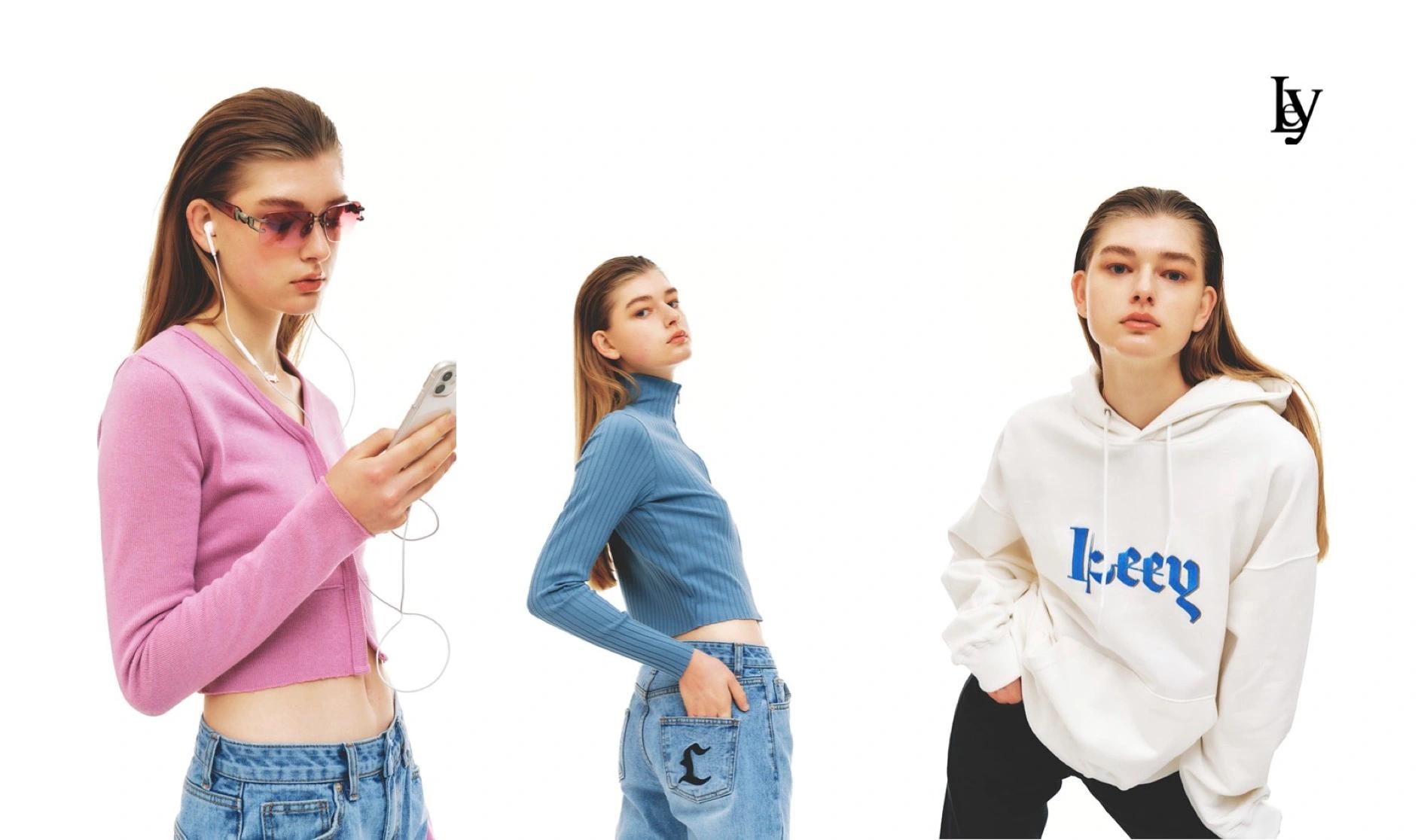 Source: Adapted from Leey
Yuse is a Korean designer brand that offers a unique and creative approach to women's clothing. Their seasonal designs are always fresh and innovative, capturing the essence of the high-teen Y2K look while also making bold statements. Despite their preference for subtle colors, Yuse's clothes are playful and photogenic, thanks to their use of graphic prints. Their collection includes a variety of trendy pieces such as cute Y2K tube tops, baby tees, feminine boleros, and low-rise wide pants, catering to a diverse range of fashion preferences. Overall, Yuse is a brand that embodies a youthful and fun aesthetic while maintaining a high level of quality and style.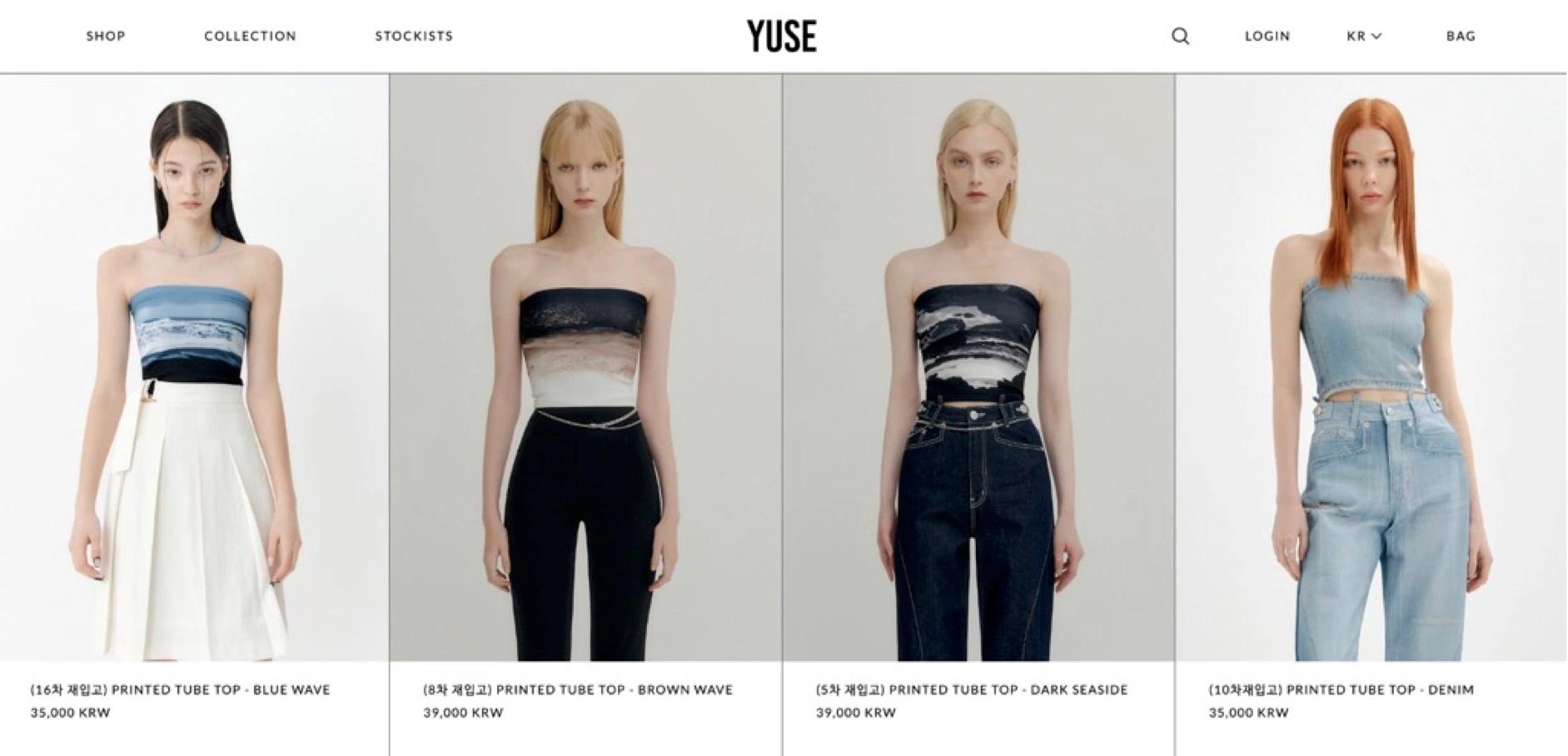 Source: Yuse
As If Calie is a Korean clothing brand that takes inspiration from the laid-back and serene vibes of California. Their fashion-forward Y2K style and quirky clothing designs offer a unique and unforgettable experience. Despite the rapidly changing fashion trends, As If Calie adds its own distinct street style, demonstrating their passion and commitment to staying up-to-date. Their high-quality materials and innovative ideas ensure that they always have something new and exciting to offer. For a trendy and stylish look, you can pair one of their popular Y2K baby tees with their signature parachute cargo pants. Overall, As If Calie is a brand that embodies a youthful and carefree aesthetic while maintaining a high level of quality and creativity.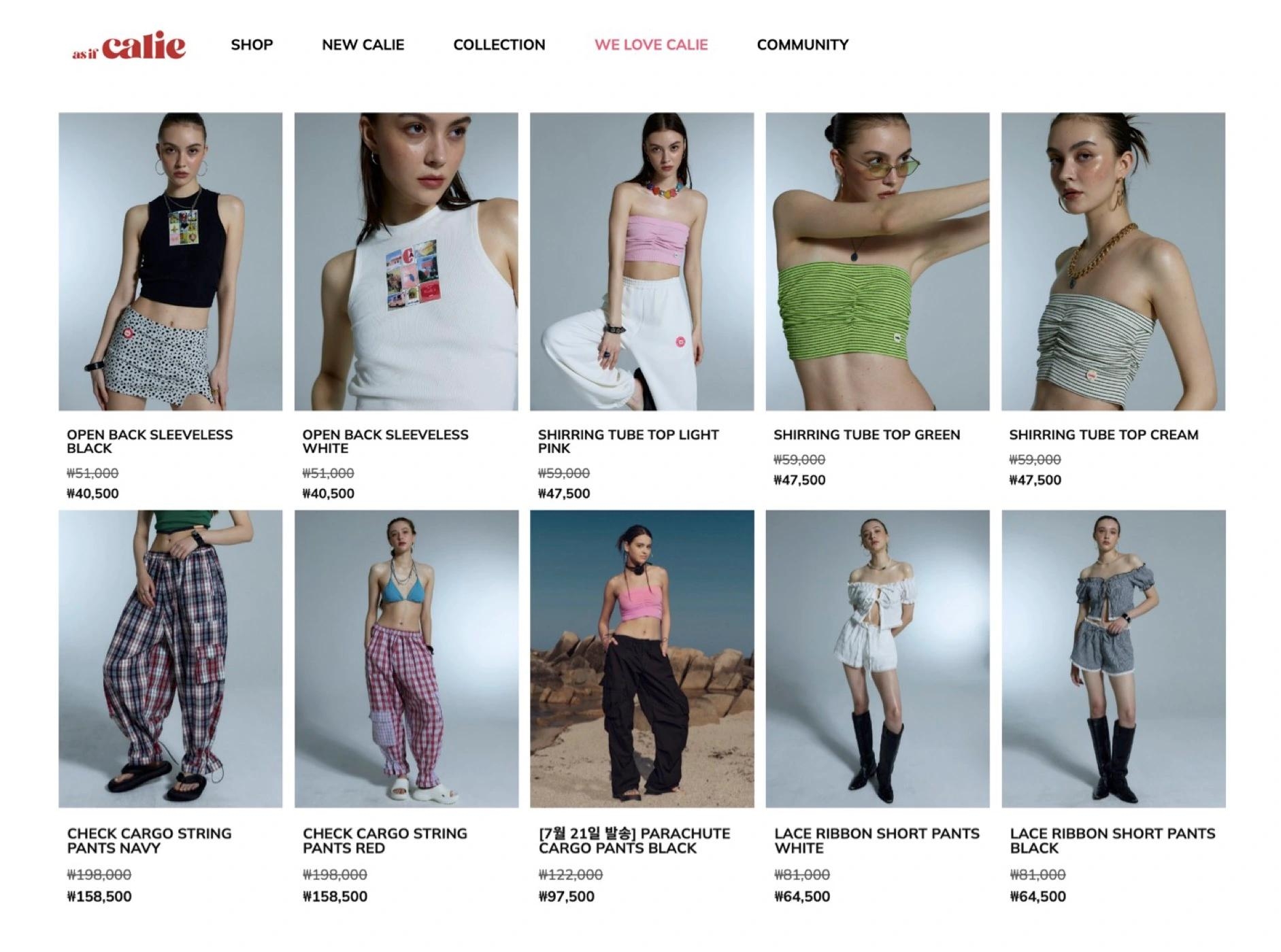 Source: Adapted from As If Calie
Crank is a Korean fashion brand that prides itself on being unconventional and unique. Rather than following the latest trends, Crank strives to showcase the lives of extraordinary and quirky individuals. Each design has a specific motif — a disorderly student from a high-teen movie is one of the many. This attention to detail sets Crank apart from other brands and has earned them a dedicated following among females in their teens and twenties. Their bold identity and innovative designs continue to attract new fans. Big letterings and bright colors, Crank is the perfect place to shop for the high-teen Y2K look.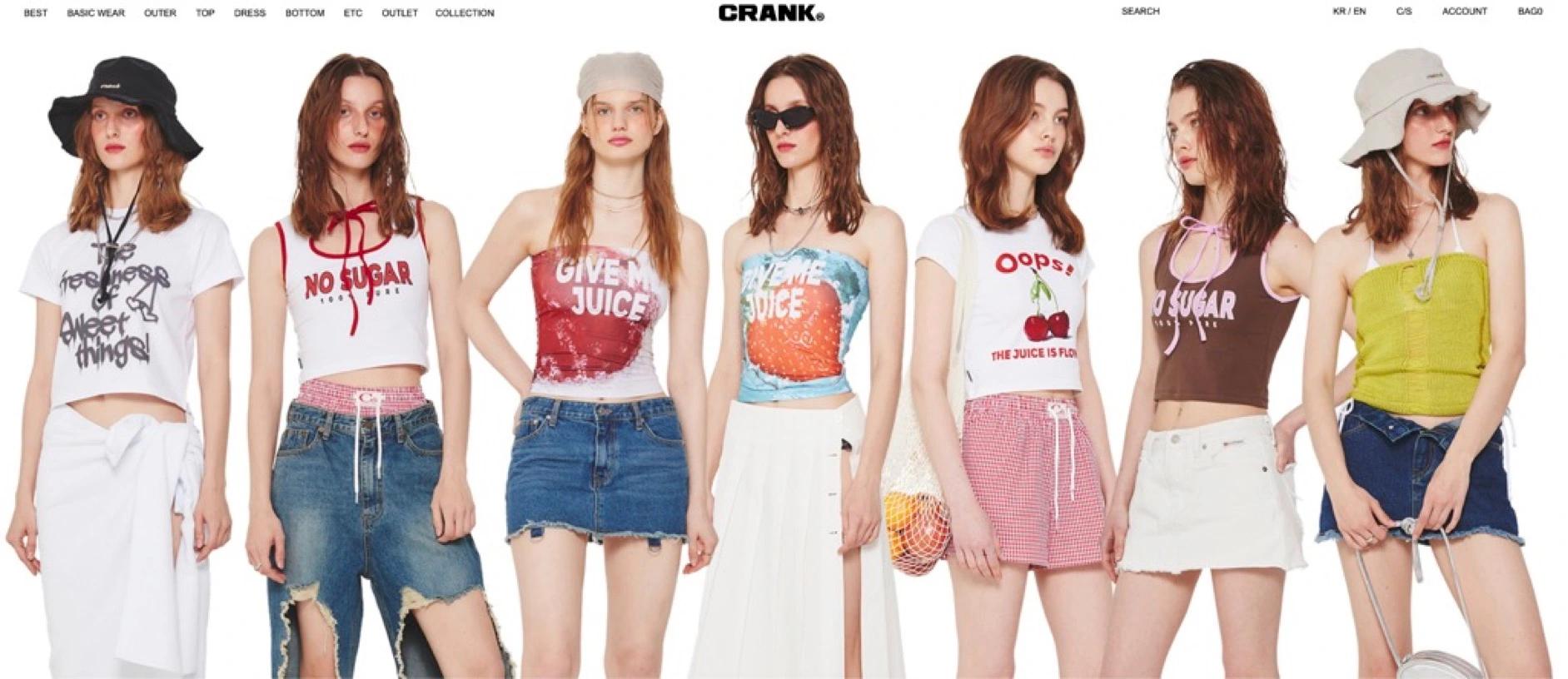 Source: Crank
Did you know that Hatu has become one of the most sought-after fashion brands for Y2K and kitschy aesthetics? Not only that, Hatu has also managed to garner recognition from K-pop girl groups such as Aespa and Kepler. You can expect top-quality apparel from this brand's LA-influenced designs. What sets Hatu apart from other brands is their ideology of "following your heart" and "loving what you wear", which is encapsulated in the name Hatu itself. In fact, Hatu is derived from the Korean pronunciation of "heart". It's inspiring to see a brand that not only focuses on style but also encourages people to be true to themselves.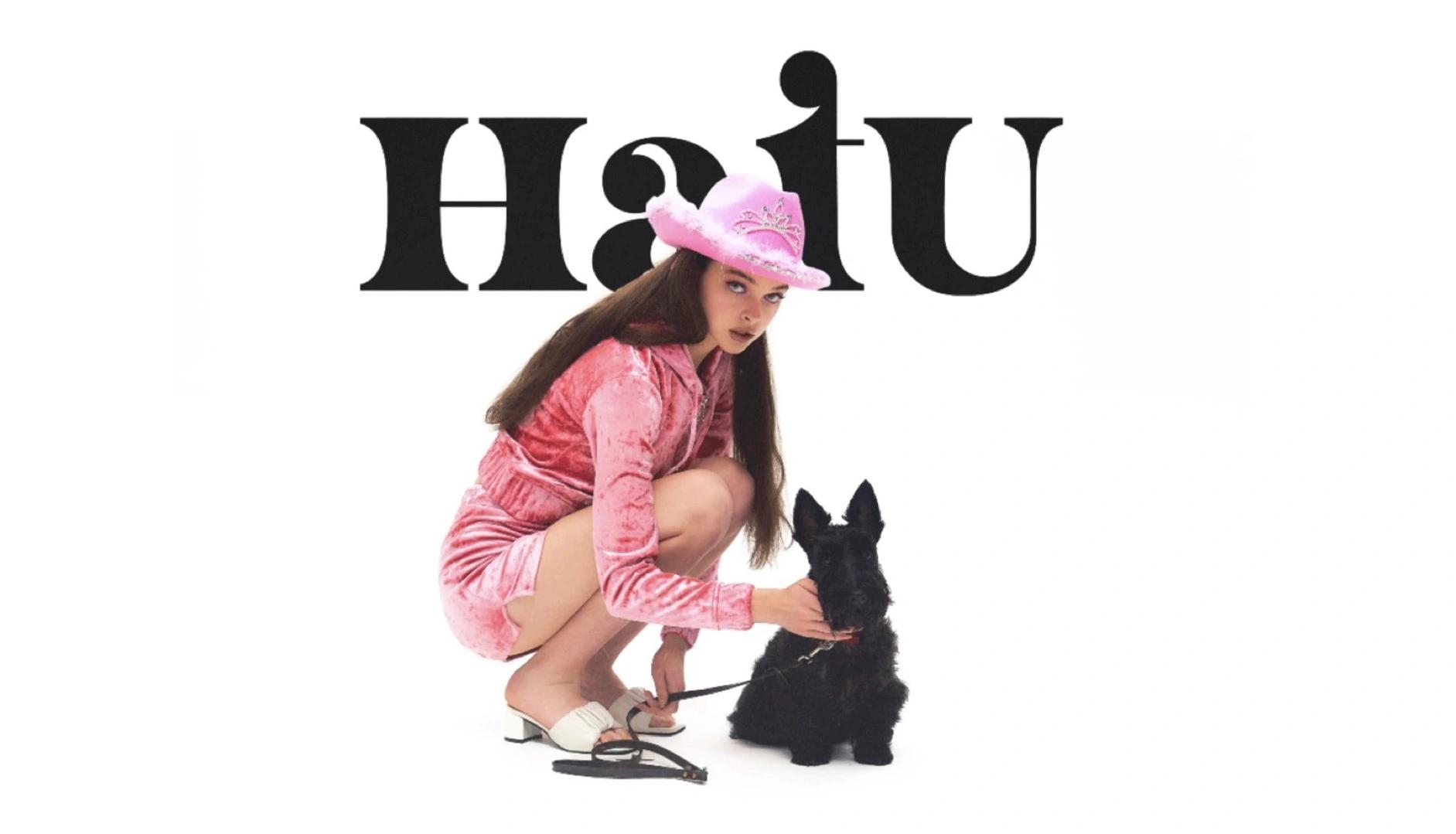 Source: Hatu
Expired Girl is a Korean clothing brand that specializes in recreating the Y2K pop culture trend with a modern twist. They offer a variety of clothing, but the focus is on comfortable and casual pieces that allow people to express themselves. Although they offer tracksuits that accentuate the feminine silhouette, their main focus is comfortable clothing that exemplifies the early 2000s "easy wear" fashion. Expired Girl's designers are well aware of the iconic trends that defined Y2K fashion, such as velour tracksuits. As such, their first collections were created around this iconic look, leading to a stronger brand image. Today, Korean female consumers looking for a Y2K style brand immediately think of Expired Girl.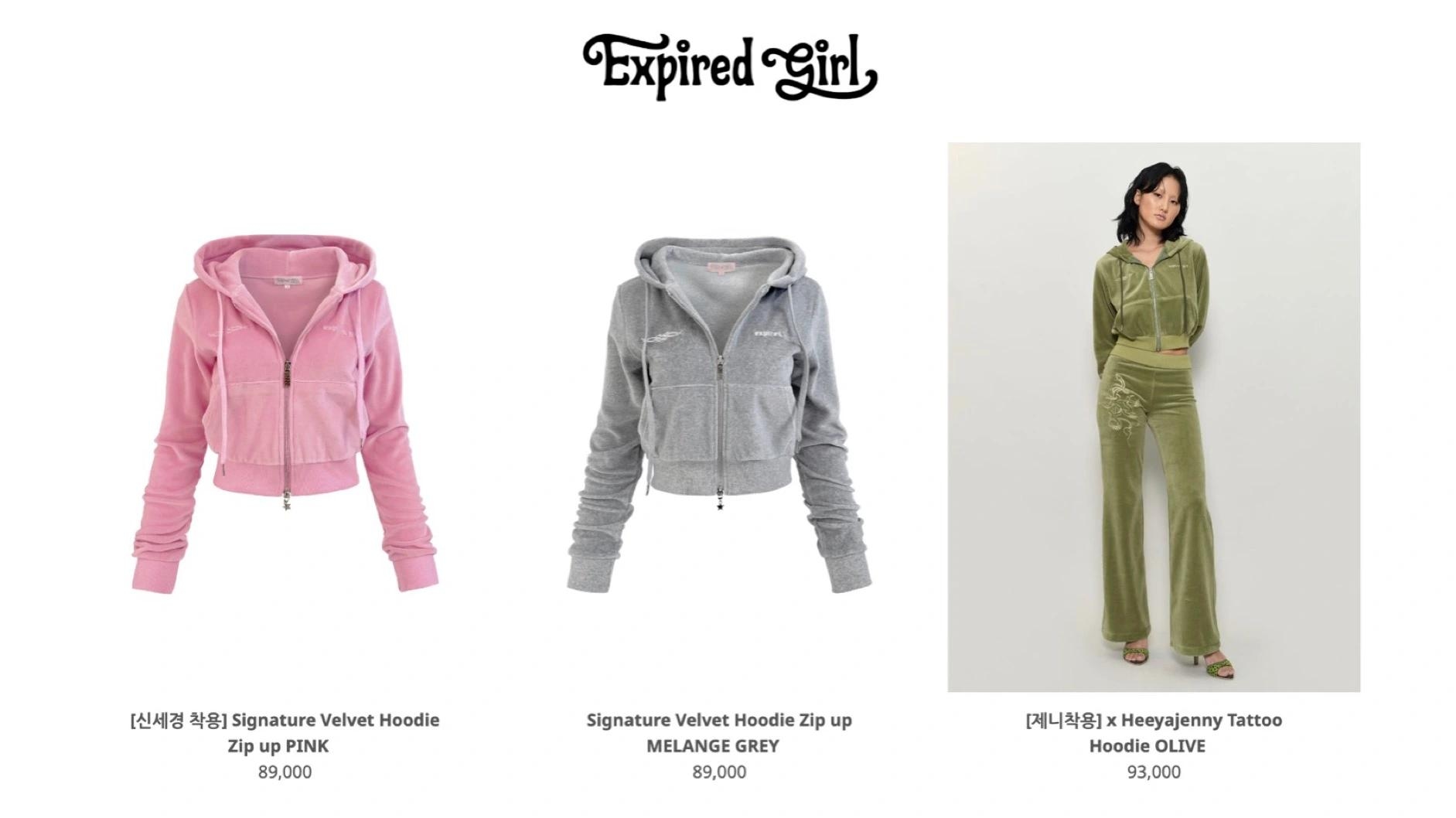 Source: Expired Girl
Pain or Pleasure is a designer fashion brand based in Seoul, catering to women who want to flaunt their feminine figures while keeping things casual and comfortable. The brand has gained a reputation for standing out among its competitors with its ballerina-inspired look and Y2K style clothing. One thing that sets Pain or Pleasure apart is their color choices — they seamlessly blend the Y2K aesthetic with modern trends, utilizing bright yet gentle colors. If you want to subtly but confidently stand out from the crowd, Pain or Pleasure is an excellent choice.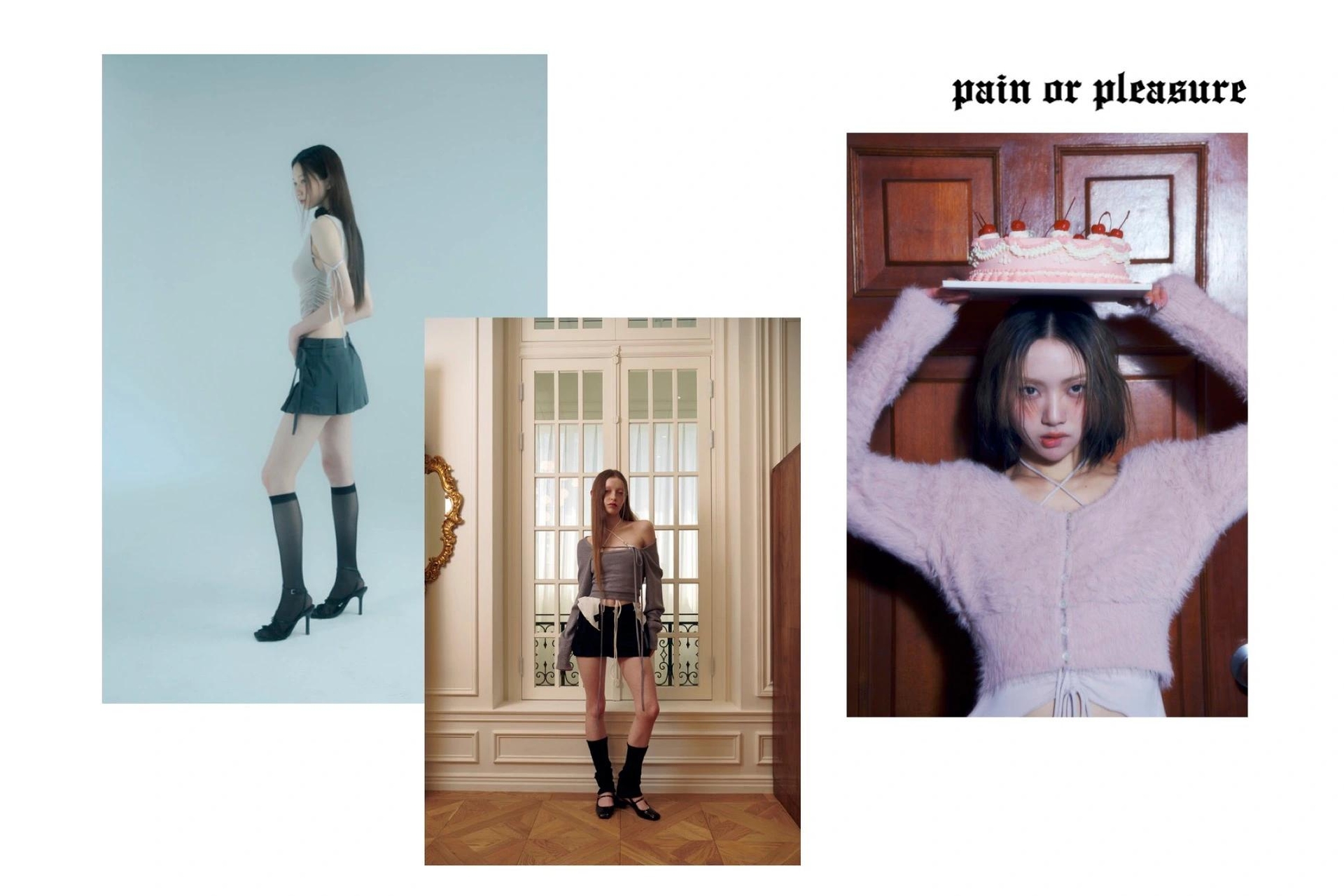 Source: Adapted from Pain or Pleasure
Millioncor is an authentic and passionate contemporary fashion brand that prides itself on staying true to its roots in denim. In its efforts to provide affordable high-quality clothing that leaves its customers feeling confident and inspired, Millioncor has established a reputation for catering to a wide spectrum of fashion styles, from chic to bubbly. This brand has mastered the art of keeping their customers satisfied, their attention to detail and commitment to staying on-trend are truly on point. Millioncor is the perfect brand for those on a treasure hunt for Y2K clothing, especially if you are on the hunt for quality denim items.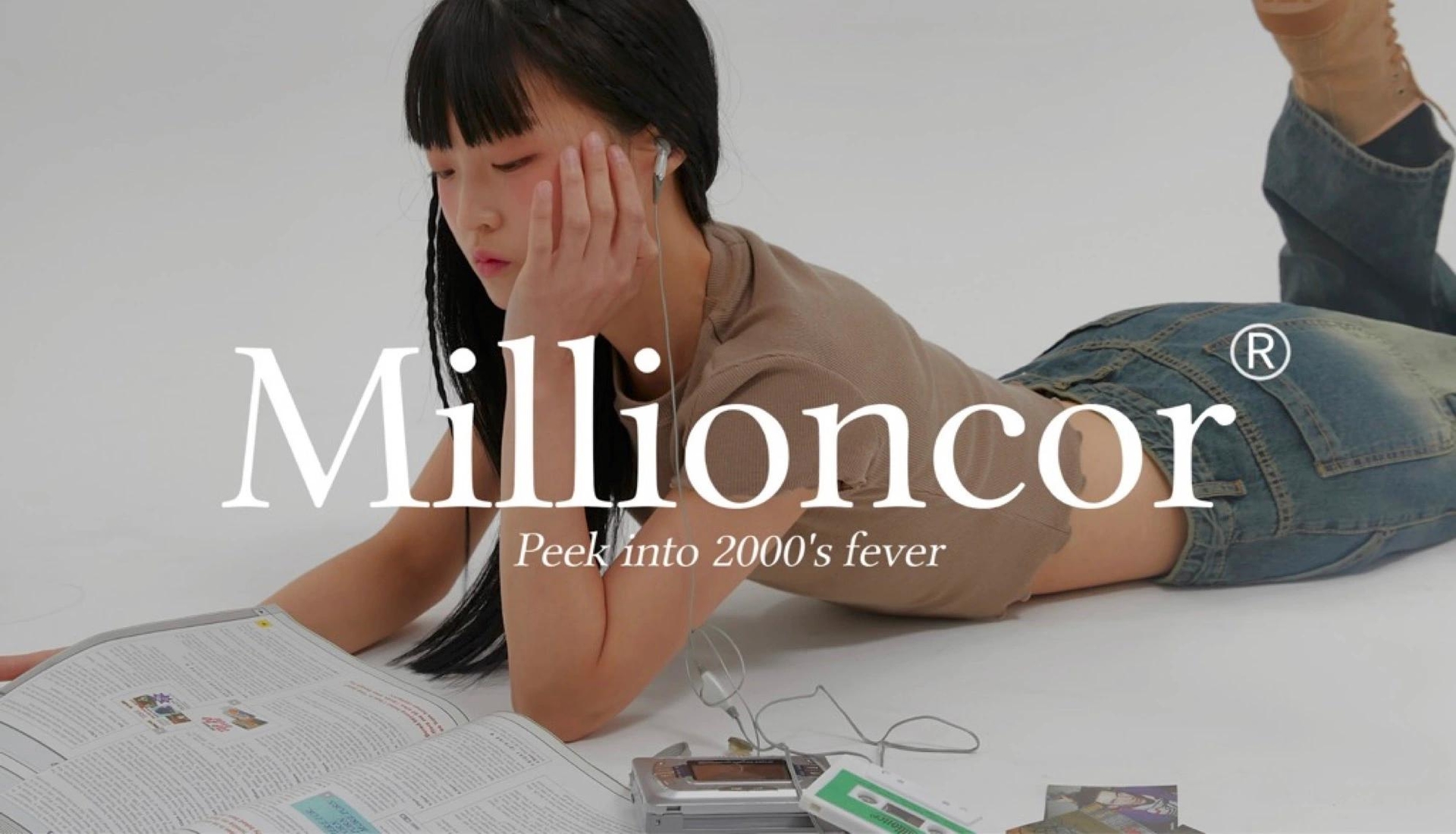 Source: Millioncor
2000 Archives, as the name implies, is an iconic retro brand that captures the very essence of Y2K fashion. The founders were taken aback by the explosive fashion trends of the early 2000s — a time when creativity and vibrancy thrived, surpassing even the renowned styles of the 1990s. Drawing their inspiration from the flourishing brands of that era, Diesel in particular, 2000 Archives strives to embody the adventurous and unique spirit of the MZ generation. Whether you're in search of low-waist skirts or pants, vintage ball caps, or baby tees, 2000 Archives has everything you need to embrace the fashion-forward nostalgia of  the early 2000s.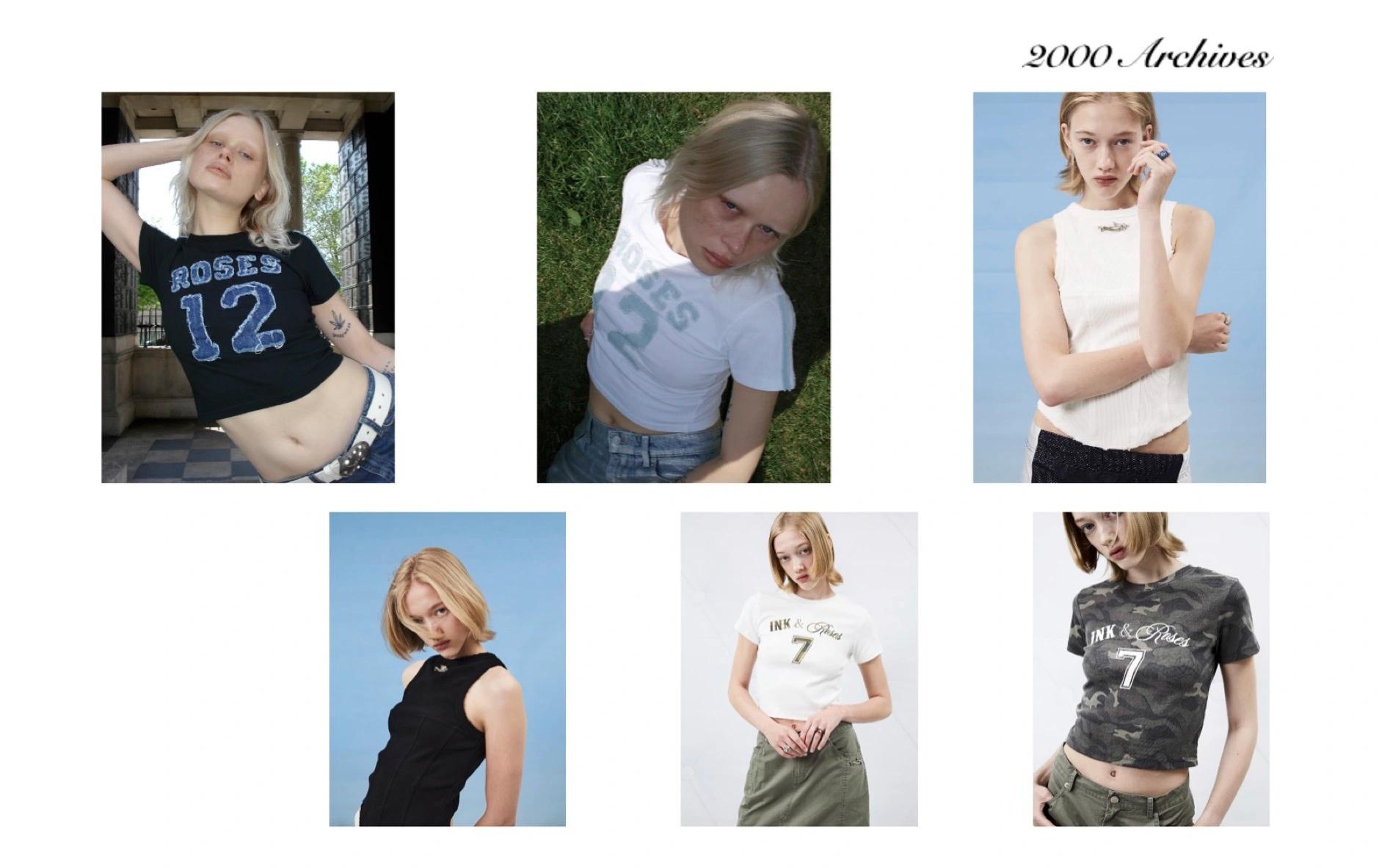 Source: Adapted from 2000 ARCHIVES
LUV IS TRUE is inspired by minimalist colors and offers contemporary wear with a touch of wit that brings excitement to every season. The brand's Y2K street-inspired looks blend lovely and chic styles, making them favorable among fashion enthusiasts. Their success lies in their ability to capture the essence of modern fashion with an added touch of luxury and uniqueness. The brand has gained immense popularity in the Y2K scene and is increasingly becoming a favorite brand among fashion celebrities. If you want to create a kitschy makeup look that complements LUV IS TRUE clothes, check out their collaboration with Etude.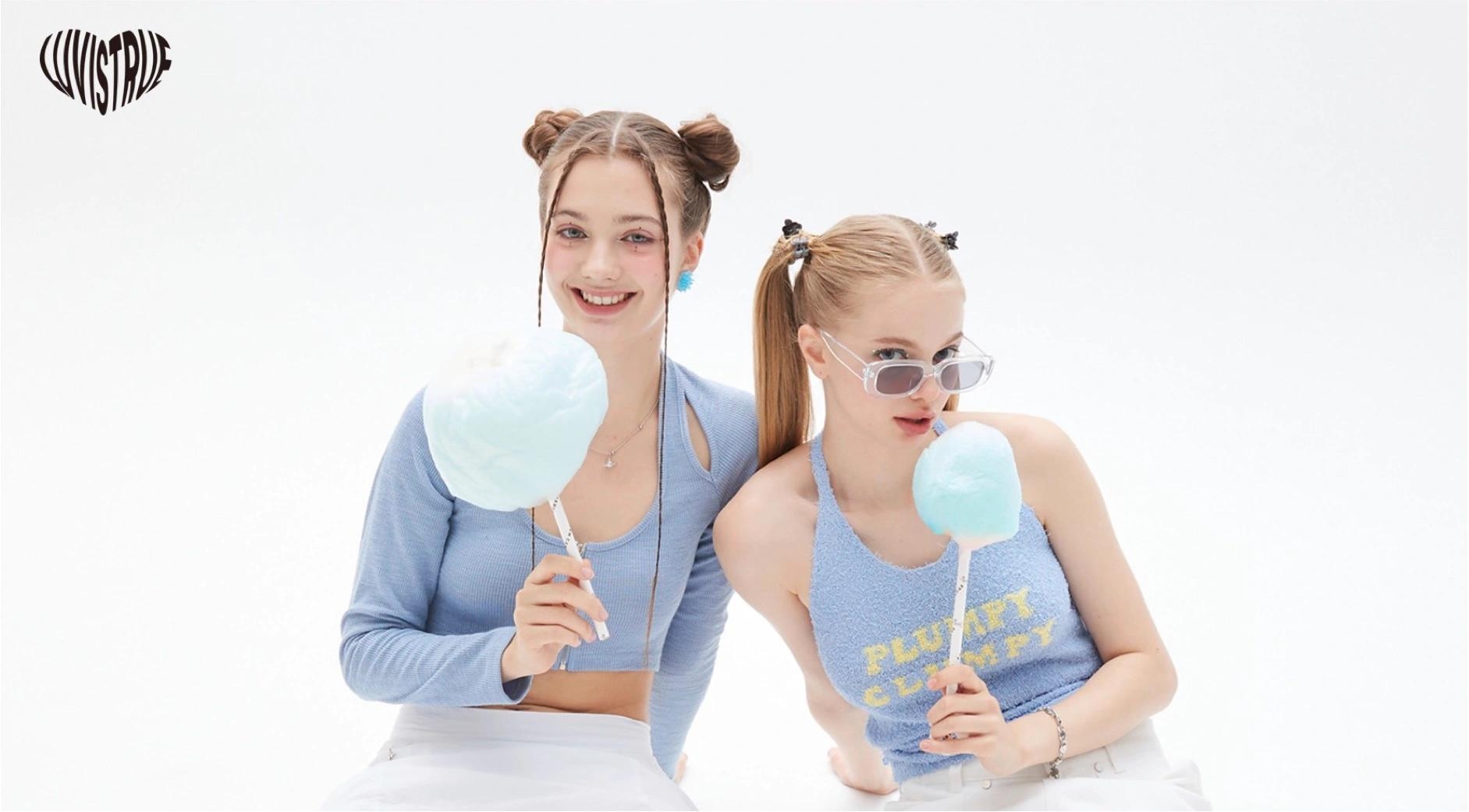 Source: LUV IS TRUE
WHYNOTUS is a brand that embodies the 90s pop culture essence, much like the Y2K fashion trend. Drawing inspiration from 90s B movies, American indie music, and experimental paintings, WHYNOTUS transforms these influences into unique and innovative products. Despite facing increasing competition with the rising demand for Y2K style clothing, the brand stands out by consistently delivering aesthetic looks that also evoke a sense of nostalgia. It's worth mentioning that Aespa's Ning Ning wore a Whynotus shirt as part of one of her most iconic looks, underscoring the brand's significance and popularity.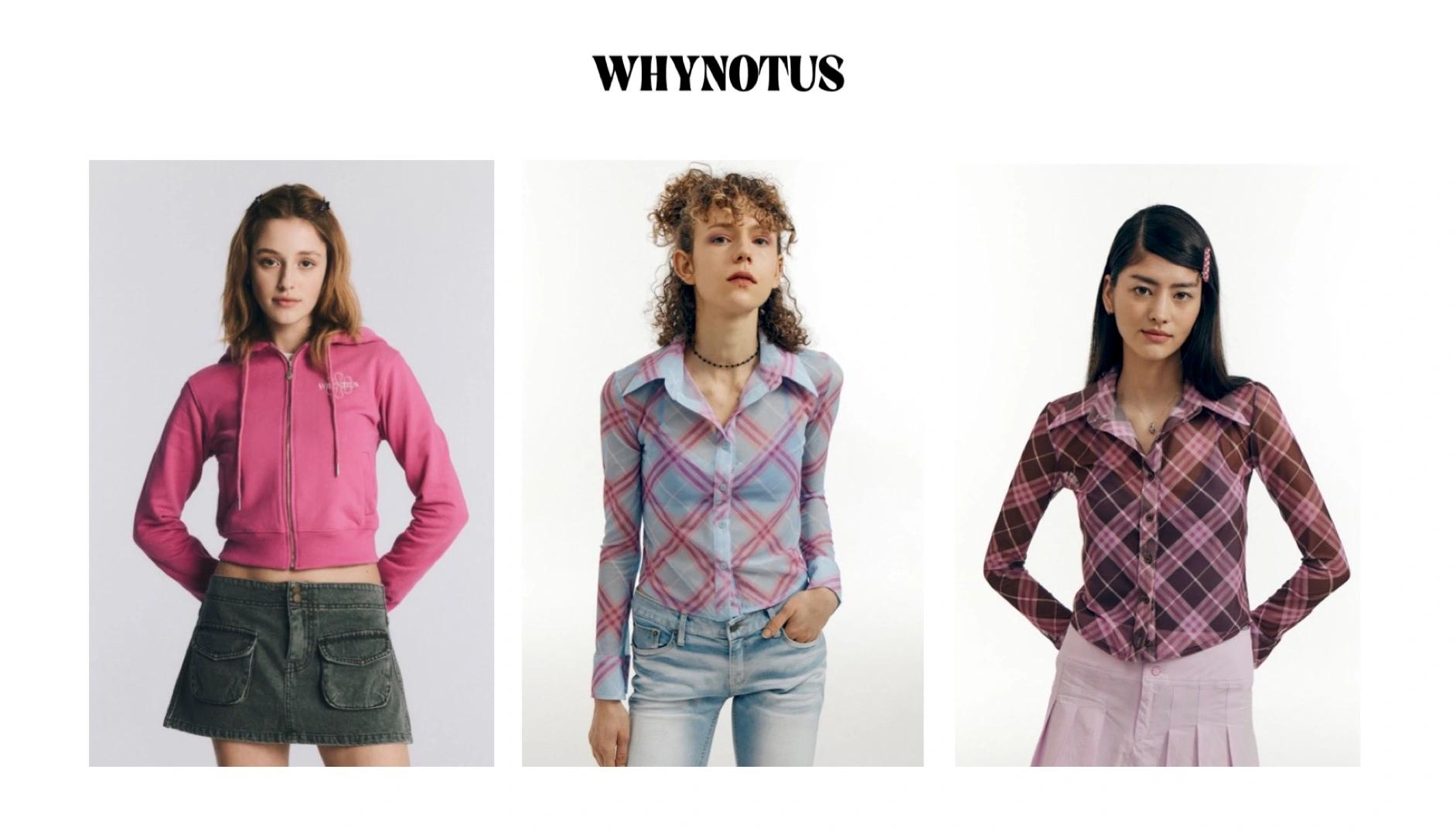 Source: WHYNOTUS
Noirinine is a brand that believes in clothing that exudes both comfort and beauty. Their selective range of hand-picked items reflects this ethos, allowing customers to blend their inner chic with casual styles. Drawing inspiration from vintage European fashion, their items are perfect for pairing with the Y2K style. In the brand's pursuit to empower women to love themselves through fashion, you'll notice that each piece is crafted with care, showcasing attention to detail and allowing customers to express their unique selves with effortless style.
SOURCE: Noirnine
These Y2K fashion websites are available on Musinsa as well, so head over to discover other brands alike. Whereas, if you're in search of the Y2K grunge aesthetics, you might want to check out Raucohouse!
Korean Buddies provides personal shopping services and strives to provide a seamless online experience when buying products from Korea. All you need to do is list everything you want to buy and our experienced team will do the shopping, inquiring, packing and shipping for you. You can sit back and relax after placing your order (check out our instant quote page — completely free to use and highly accurate).
Not a member? Sign up to get started.
Have any questions? Contact us at support@koreanbuddies.com and one of our friendly team members will get back to you soon.