What is Y2K Fashion? Breakdown of The Bold And Daring Look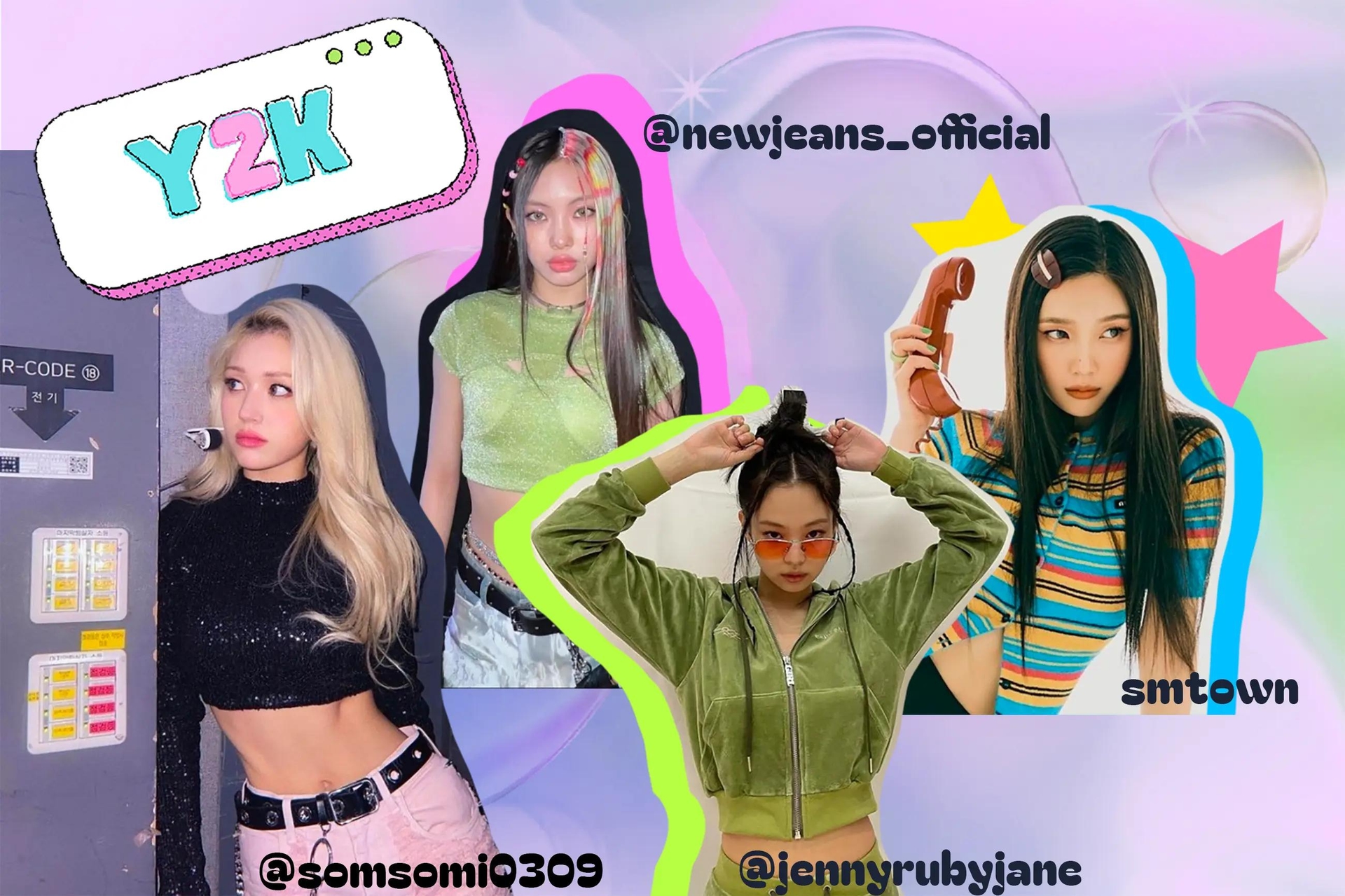 What's Y2K Fashion?
Y2K fashion refers to the fashion trends that were popular in the late 1990s and early 2000s. Think bright colors, flashy accessories, low-rise jeans, crop tops, platform shoes, and tracksuits. The Y2K look is all about being daring and confident, with an overall playful and youthful feel.
What influenced Y2K Fashion?
The Y2K (Year 2000) fashion started in the late 1990s. This era was marked by a mixture of enthusiasm and anxiety as people prepared for the new millennium — and fashion reflected that. Bold colors and flashy accessories were everywhere, people's imaginations were going wild. They were radically changing how they expressed and styled themselves. Much of this was influenced by the music and cultural factors that were trending during those days: cyberpunk, science fiction, and rave culture etc. Celebrities like Britney Spears, Christina Aguilera, and Paris Hilton were known for their Y2K fashion choices, and their influence helped to make these trends even more popular.
So, what caused the revival of this look?
We know that fashion is cyclical. Trends come and go, and what was once old can become new again. Y2K fashion is making a comeback for a few reasons. Firstly, nostalgia is a powerful force. Many people who grew up in the late 90s and early 2000s have fond memories of the fashion of the time, and are now looking to relive that era. Additionally, there has been a resurgence of interest in early 2000s pop culture, which has brought Y2K fashion back into the spotlight. But these reasons are just the tip of the iceberg.
If we dig in deeper, we know that people choose what they wear as a form of self-expression, and that it also brings psychological and behavioral consequences.
Here's what a McKinsey report said in projection of the fashion industry in 2023:
"Often it's the case during times of crisis, people revert back to shiny fabrics, bright colours, clothing that can inspire happiness...If you look at the 2008 [global financial] crisis, a couple of years after that, there was the trend starting to really gain traction in terms of bright clothing, almost clothing inspired by toy colours [p.50]."
Although no one really knows why Y2K fashion returned, one author suggests that it could have been due to our "inability to express ourselves" during the pandemic. Of course, it could simply be people's desire to dress-up and get together again in the post-pandemic world. One thing for sure, whether it's a small essence of Y2K fashion, or the full look, people are into the trend because they are seeking the positive energy that comes from memories and bright colors.
Characteristics of Y2K Style
Here are some of the characteristics that define Y2K Fashion:
1. Large, visible logos
2. Sportswear and streetwear
3. Bold colors and print
4. Crop tops and low-rise pants
5. Velour tracksuits
6. Lace strings
7. Metallics and reflective fabrics
Korean Y2K: What's Different?
We've talked about Y2K fashion in general, so what about the Korean Y2K trend? Some of you might  have noticed that the Korean Y2K fashion is less bold, and a bit closer to the "Mean Girls" high-teen look. Crop tops fall just around the rib cage, and low-rise skirts or pants loosely sit above the pelvic bone. Vivid colors are softly adapted to blend in and metallics are worn in moderation. For Koreans, the Kpop girl group "New Jeans" gives the nostalgic Y2K vibes.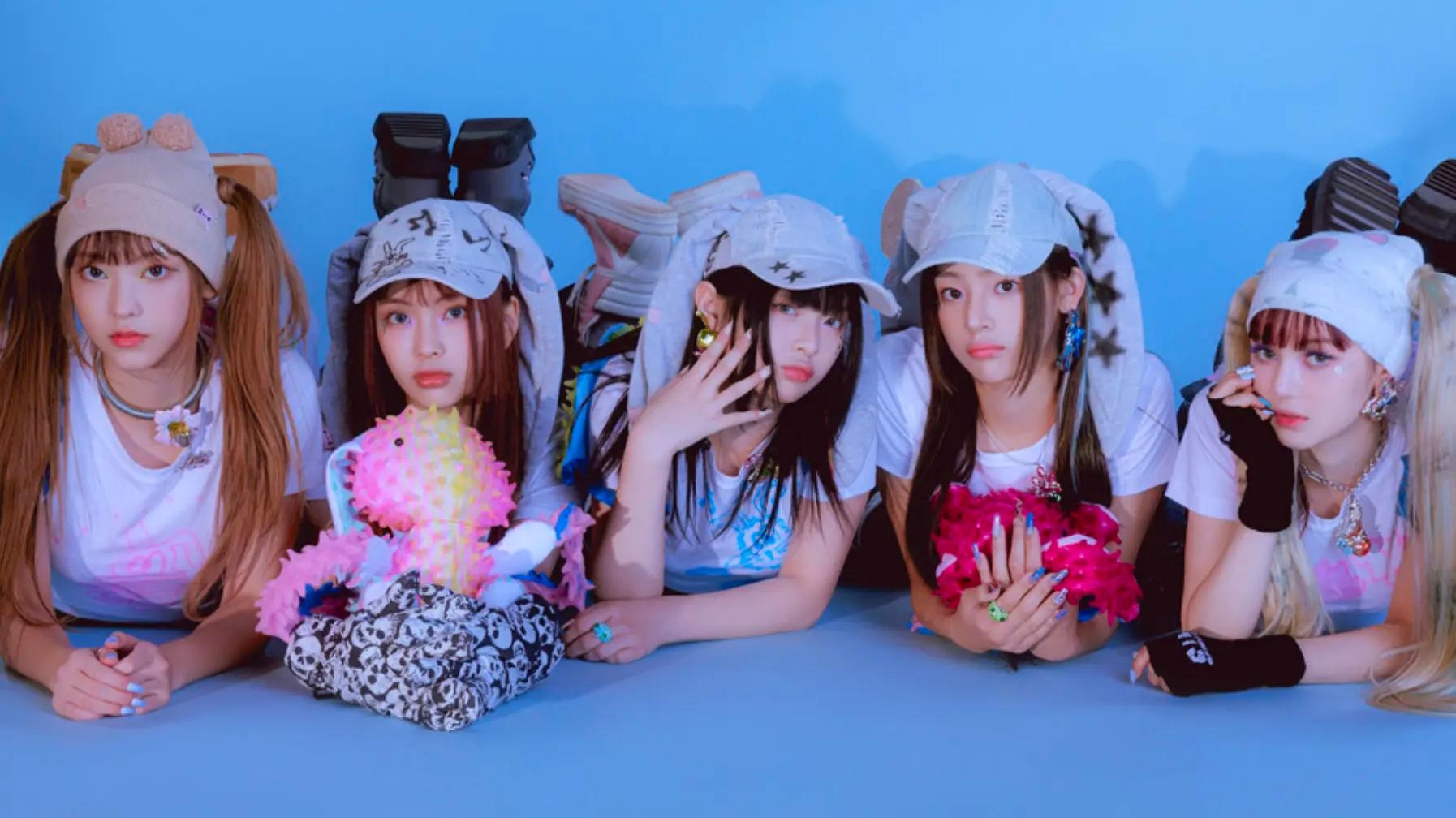 Source: ADOR.
Where to shop for Korean Y2K Fashion?
Here is a list of some of the best places to start.
1. MUSINSA
Musinsa is your go-to online fashion platform when shopping from Korea online. It has its own entire fashion ecosystem with more than 7,000 brands under their partnership. This website offers a vast selection of clothing items, shoes, and accessories for men and women, ranging from casual wear to formal wear, as well as trendy and unique pieces.
If you're keen on exploring new Korean Y2K fashion brands, simply type "Y2K" into their search bar and the site will do the rest. You can also refer to Musinsa's original content or user-generated contents to take your shopping experience even further.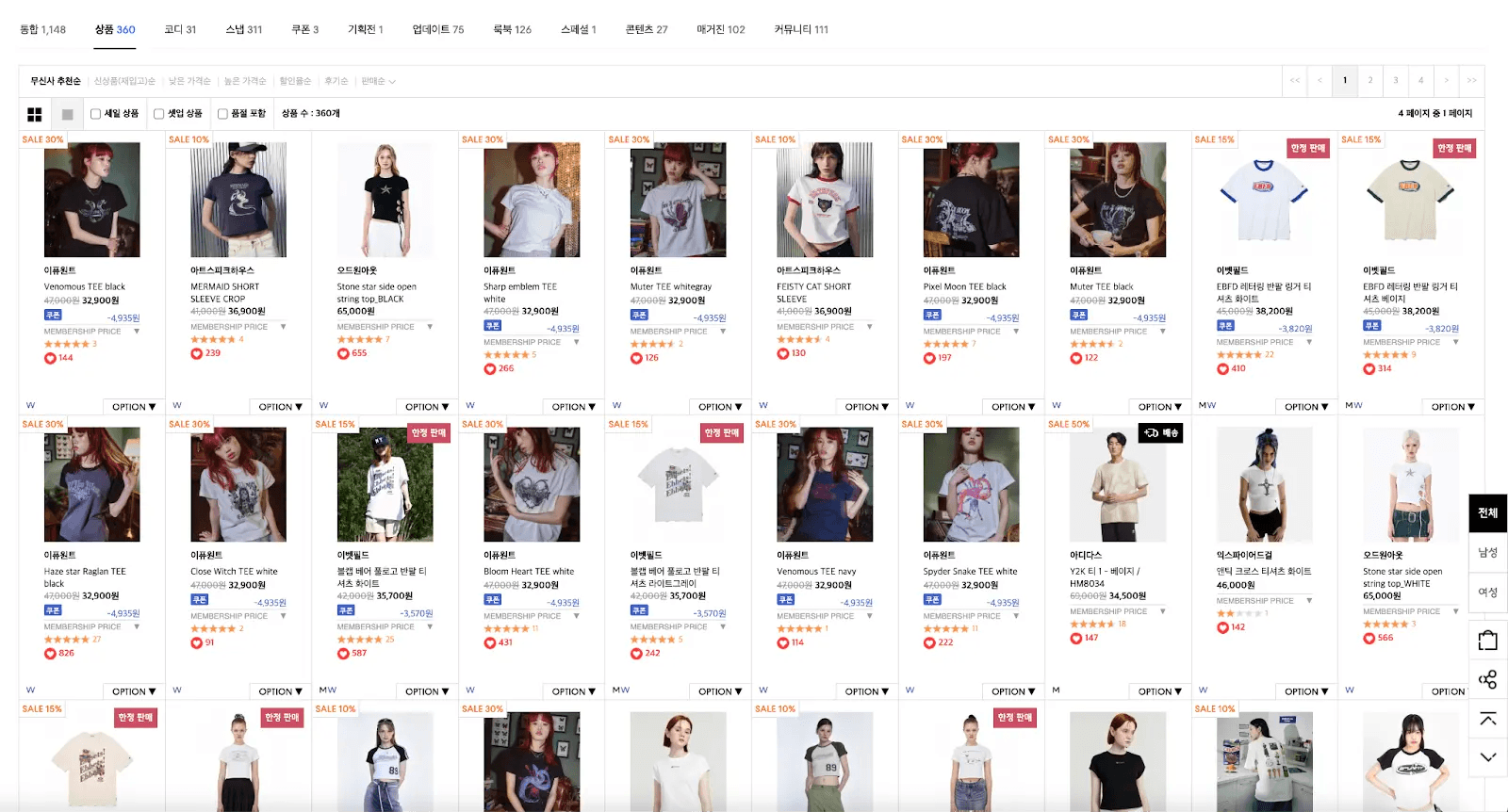 Source: MUSINSA
2. ACUBI CLUB
Acubi Club sells unique vintage and kitschy clothes that are popular among younger demographics. The brand offers various items, such as baby tees, mini-skirts, oversized cargo pants, and even cute skin-tight dresses. Moreover, their colorful designs and flashy garments will make you fall in love with retro-style clothes. Acubi Club is a great place to shop even if you aren't shopping for Y2K fashion.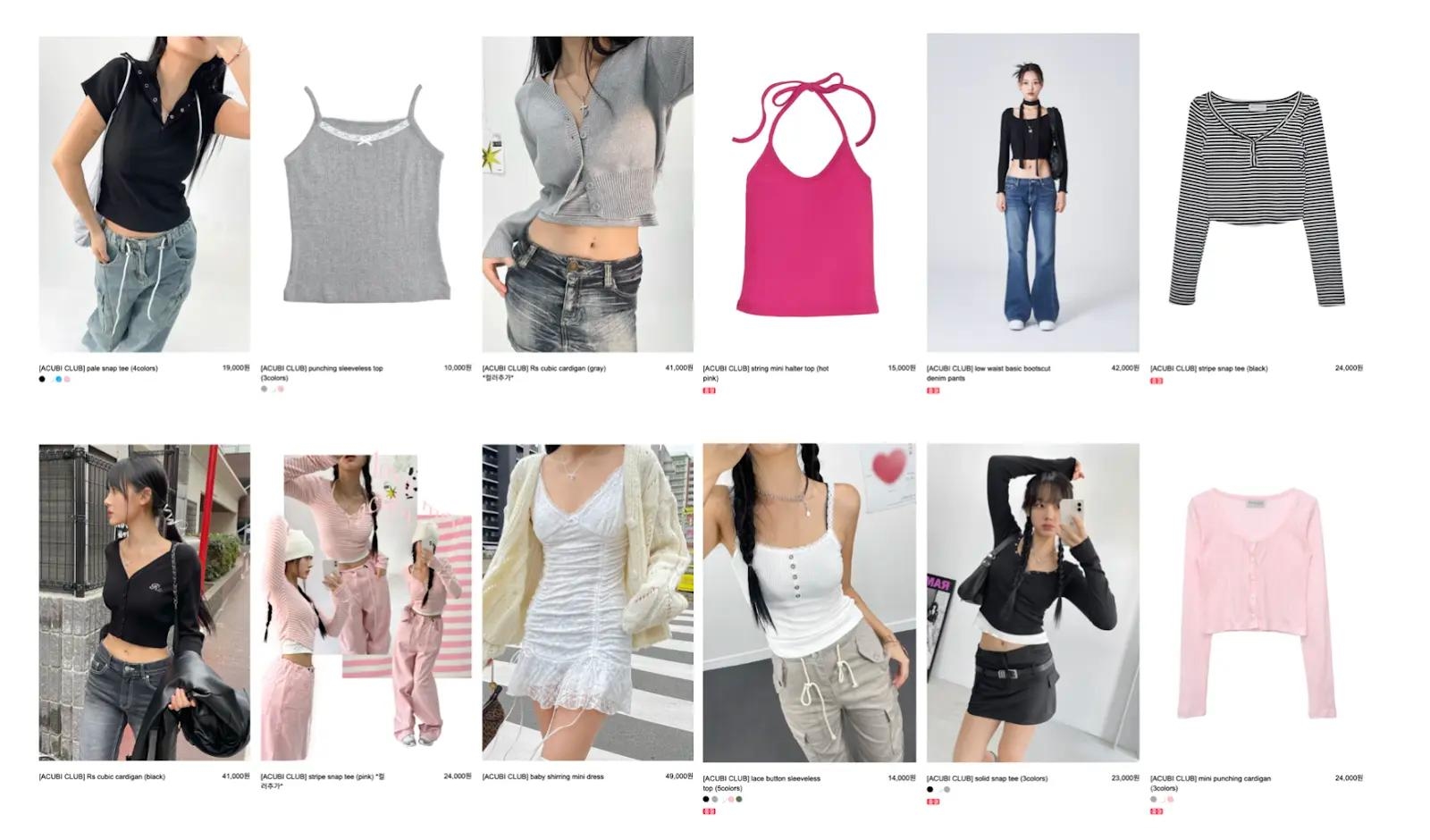 Source: Adapted from ACUBI CLUB
3. NERDY
Nerdy is one of the most popular Korean street fashion brands among people in their 20s and 30s. Their bright color and retro-style tracksuits, large visible logos, and bold color prints make it easy for customers to relive the Y2K streetwear. Their clothes are also perfect to mix-and-match with other clothes to create a whole new Y2K style.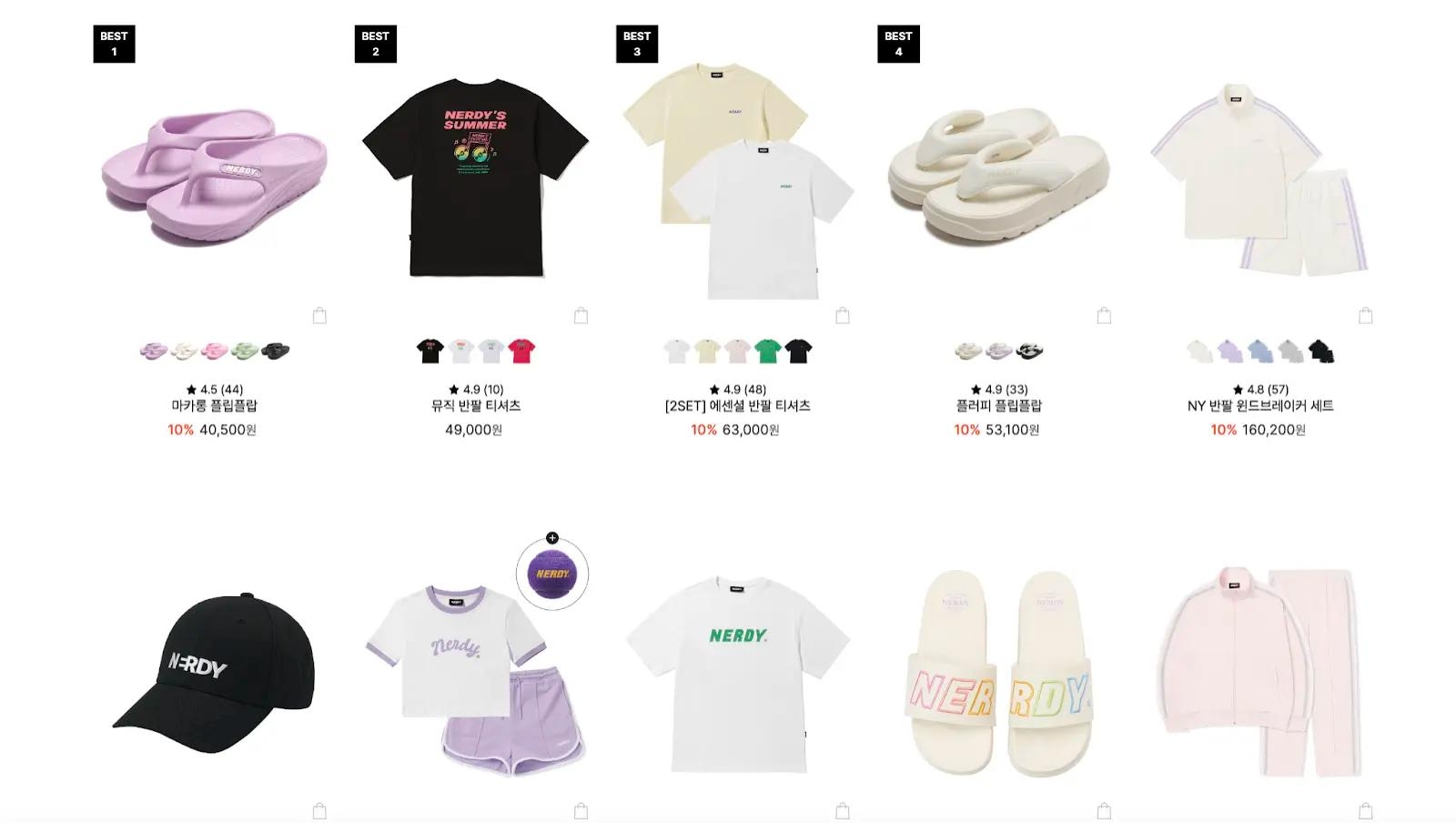 Source: NERDY
These three apps are currently the most competitive mobile fashion platforms that specialize in Korean women's fashion. They are accessible on PC websites as well, so you get to choose when and where you shop. However, due to the nature of multi-brand platforms, you will need to do some searching and navigating to find clothes that fall into a set category. Nevertheless, if you are looking to shop for Y2K style clothes, these three mobile apps/websites are great places to start as well.

If you need help shopping at Korean websites that don't support English or other languages, you can always refer to our definitive shopping guide!
Korean Buddies provides personal shopping services and strives to provide a seamless online experience when buying products from Korea. All you need to do is list everything you want to buy and our experienced team will do the shopping, inquiring, packing and shipping for you. You can sit back and relax after placing your order (check out our instant quote page — completely free to use and highly accurate).
Not a member? Sign up to get started.
Have any questions? Contact us at support@koreanbuddies.com and one of our friendly team members will get back to you soon.